Baseball mourns loss of one of game's best hitters
'Mr. Padre' a symbol of greatness on and off the field to everyone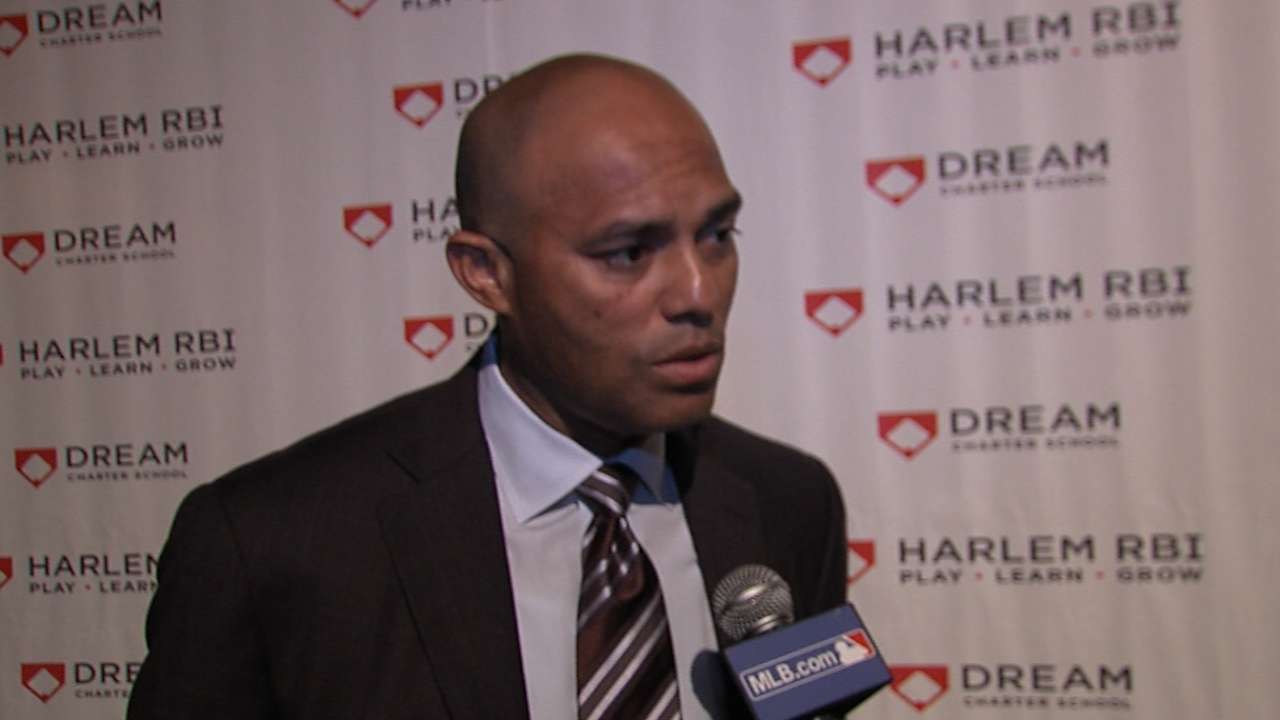 With a level of heartfelt appreciation equal to the grace and utter majesty of a line drive carved artfully into short left field, words and emotions flowed from around the baseball world upon hearing the news Monday that Tony Gwynn had passed away at age 54.
The Hall of Fame hitting maestro, who was known as "Mr. Padre" to generations of San Diego baseball fans and as one of the true gentleman superstars in the history of the game, succumbed to cancer early Monday. Within minutes of the news, sadness could be felt in every corner of the baseball landscape from those who played with or against him, those who worked with him and so many fans who considered him a member of their family.
But none of the reactions could be more poignant than the one shared by the only person in the world who shares his name, and so much more: Tony Gwynn Jr., outfielder for the Phillies and devoted son.
"Today I lost my Dad, my best friend and my mentor," Gwynn Jr. posted on Twitter. "I'm gonna miss u so much pops. I'm gonna do everything in my power to continue to...Make u proud!"
Love u pops!

- Tony Gwynn Jr. (@tonygwynnjr) June 16, 2014
Few players, if any, could inspire similar emotions from so many athletes with whom he shared the diamond or a clubhouse, be it with the Padres or in any of the 15 All-Star Game appearances he made through his career. But Tony Gwynn was that admired.
"For more than 30 years, Tony Gwynn was a source of universal goodwill in the national pastime, and he will be deeply missed by the many people he touched," Commissioner Bud Selig said in a statement.
The stream of tweets and quotes from Hall of Famers compelled to share their feelings on No. 19 was overwhelming, and it included fitting words from the man who entered the hallowed hall alongside Gwynn in 2007.
"This is an extraordinarily sad day," Cal Ripken Jr. posted on his Facebook page. "Tony was a Hall of Fame ballplayer but more importantly he was a wonderful man. Tony always had a big smile on his face and was one of the warmest and most genuine people I've ever had the honor of knowing. Like all baseball fans, I will miss him very much and my thoughts are with his family today."
Ripken never got to play with Gwynn, or really even against him other than in All-Star Games. The ones who did, they have another level of appreciation for the Padres' star of stars.
Trevor Hoffman, the all-time great closer whose first nine years were Mr. Padre's last nine, said: "For me, it was fun to watch the greatest do it on a day-to-day basis. To see greatness on a daily basis was amazing."
To Steve Garvey, who came in as a star free agent early in Gwynn's career, the potential for greatness was there. "I think he was the consummate professional both on and off the field," Garvey said. "He was one of those rare athletes who was infectious. And it started with that smile. Only a few have it. Magic [Johnson] has it. I was fortunate to play his first five years with [Gwynn] in San Diego. After that he grew and matured and became a statesman of the game."
That admiration permeates the Padres organization to this day, as evidenced by the tribute on Twitter from current closer Huston Street: "Athletes are supposed to be heroes and inspire greatness. Tony Gwynn, Mr. Padre, will live beyond today in our hearts."
Then there are the opposing pitchers, the guys who would throw the perfect pitch only to see Gwynn flick it out to the outfield and stand on base with that cherubic grin, probably waving to the crowd after yet another milestone achievement.
It might be hard to find kinder words for a hitter than what Gwynn received from some of the most competitive pitchers of all time, including the two who will join his legacy in Cooperstown, both sending their thoughts out via Twitter.
Greg Maddux (@gregmaddux): "Tony Gwynn was the best pure hitter I ever faced! Condolences to his family."
Tom Glavine (@Tom_Glavine): "So sad to hear of Tony Gwynn's passing, great player, great man... Prayers to his family."
As for hitters, those who knew the art of swinging a round bat at a round ball knew this was one of the best anyone had ever seen. His bat control and ability to hammer out base hits was reminiscent of Rod Carew, who was another in a long line of Hall of Fame talent saddened by the news.
"I loved him," Carew said in a statement released by the Angels. "We had a great relationship. He was simply the best, as a player [and] a person."
Fellow 3,000-hit club member Craig Biggio noted it was a sad day on top of another recent one with the loss of Don Zimmer, another gregarious personality of the game. Biggio crossed paths with Gwynn much of his career, and he appreciated Mr. Padre for his love for the game, which extended to his second career as baseball coach at San Diego State.
"Tony was a good guy, and he contributed on and off the field with what he did at San Diego State," Biggio said. "He was changing lives for those kids out there. It's a huge loss for our game. My thoughts and prayers go out to his wife and his kids."
As a hitter, Biggio says there was none better than Gwynn.
"You play the game for 20 years, so I've seen a lot of good players, and he's the best hitter, as far as putting the bat on the ball and hitting it consistently hard every time," Biggio said. "He's the best pure hitter I've ever seen."
Others who were among the greats who shared the field with Gwynn also chimed in:
Roberto Alomar (@Robbiealomar): "Tony Gwynn 'Mr. Padre' you will be missed. So much respect for this man throughout my career. Thx for all you did for me. Love to his family."
Ozzie Smith (@STLWizard): "#tonygwynn Toughest hitter I ever had to play defense against. Great player who never got credit for his defensive skills…"
Mike Piazza (@mikepiazza31): "My Deepest prayers and condolences to the family of Tony Gywnn. No player carried himself with more class, dignity, and kindness."
The modern era of ballplayer gets it, too: Tony Gwynn was special, a man to be admired, and emulated.
Mike Trout (@Trouty20): "Baseball lost a great hitter and a better man today. Thoughts and prayers to the Gwynn family."
San Diego State product Addison Reed (@Areed43): "Wow, R.I.P Tony Gwynn. Lost a great person today..gonna miss you coach!! . . . Even though I didn't hit in college, he taught me how to play the game the right way and how to be a professional on and off the field."
Cancer survivor Jon Lester (@JLester31): "Saddened to hear of the passing of Mr. Padre, Tony Gwynn. Another legend's life cut short by the hands of cancer. Rest in peace 19. #NVRQT"
"The baseball world is going to miss one of the greats, and the world itself is going to miss one of the great men of mankind," longtime Padres teammate Tim Flannery, now the San Francisco Giants' third base coach, told The Associated Press. "He cared so much for other people. He had a work ethic unlike anybody else, and had a childlike demeanor of playing the game just because he loved it so much."
Obviously, it's a loss felt deeply to the very core of the sport. But perhaps nobody feels it quite like the Major League player who grew up in San Diego following the Padres and, by extension and practically by natural law, adoring Mr. Padre.
Adrian Gonzalez (@AdrianTitan23): "Tony Gwynn was the one ballplayer I always looked up to. I will always remember him. My prayers go out to the Gwynn family. RIP Tony."
Indeed, it's in San Diego where hearts are hurting the most. Gwynn was a star in both baseball and basketball at San Diego State, drafted in both sports. He became a star, an icon, a part of the very fabric of San Diego, and certainly the smiling face of a franchise.
It's a loss shared by millions, but nowhere more deeply than in San Diego, where flowers are being piled at the foot of a statue at the ballpark located along Tony Gwynn Drive.
Said Padres executive chairman Ron Fowler: "Today, we mourn the loss of a man who shared our great pride in this city and who made us all proud to be San Diegans. For more than a generation, the only thing more dependable in San Diego than sunshine was Tony Gwynn. No player ever has or ever will put on a Padres jersey without feeling the spirit and passion of #19."
John Schlegel is a national reporter for MLB.com. You can follow him on Twitter at @JohnSchlegelMLB. Reporters Barry Bloom, Corey Brock and Brian McTaggart contributed to this article. This story was not subject to the approval of Major League Baseball or its clubs.