Brewers use late six-pack to down D-backs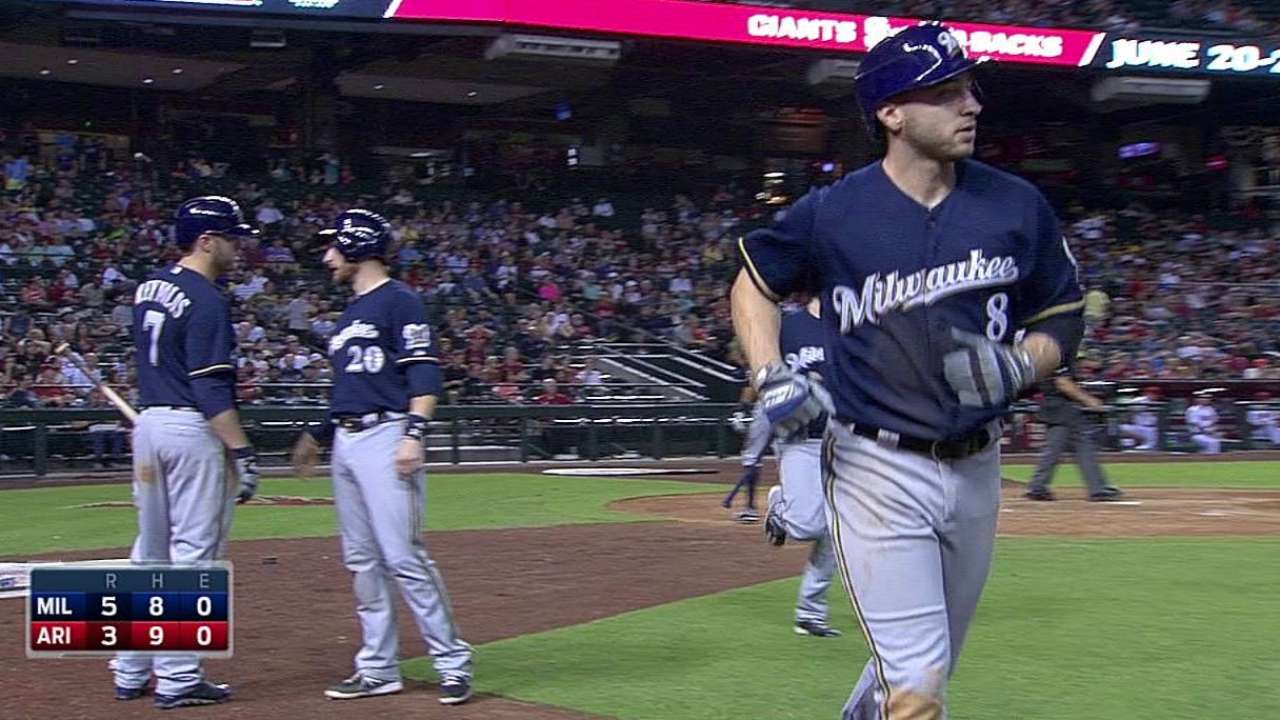 PHOENIX -- The Brewers beat the D-backs, 9-3, on Monday, and if you were looking for things the teams could agree upon afterward, they pretty much ended right there.
While the Brewers were celebrating a big win to open a tough westerly trip, the D-backs were seething over a series of close calls that went against them. A check swing in the eighth inning allowed the Brewers to score three go-ahead runs, and a hit batsman and a stolen base in the ninth aided three more, producing a final score that belied an otherwise tense ballgame.
"We've been on the other side -- we've been on the wrong side of some umpires' decisions," said third baseman Aramis Ramirez, author of both the critical check swing and the go-ahead hit. "That's the game."
"Over the course of a season, there's plenty that happens that way, and both ways, for you and against you," said Ryan Braun. "You know how it is. It's a crazy game."
This was a crazy game. It began with a flurry of runs against starting pitchers Wily Peralta and Brandon McCarthy, continued as a pitcher's duel throughout the middle innings and then turned into a rout when Ramirez delivered a go-ahead two-run double in the eighth inning and Braun punctuated the ninth with a two-run triple.
The runs came in time for Peralta to win his third straight start after pitching seven quality innings, and for the Brewers to maintain their 3 1/2-game lead over the Cardinals in the National League Central.
The baseball gods began to side with the Brewers with Ramirez at the plate and the score tied at 3 in the eighth, after D-backs reliever Will Harris issued consecutive two-out walks to Braun and Jonathan Lucroy. Up next was Ramirez, who began to offer at a 2-and-2 curveball down and away but was able to check his swing, per first-base umpire Ted Barrett.
That call kept the at-bat alive for Ramirez to pull the next pitch, another curveball, over third base for a go-ahead two-run double. Khris Davis followed with a single that deflected far enough from shortstop Chris Owings for Ramirez to score an insurance run.
Suddenly, the check swing was a key moment. It was so close that Braun broke from second base when the pitch hit the dirt, believing it might have been a dropped third strike. Ramirez said that he had yet to view the replay.
Manager Ron Roenicke empathized with the difficulty of the call.
"Listen, the check swing is probably the hardest thing, the most controversial thing that umpires do," Roenicke said. "Every single night, I think, somebody swung and it was called they didn't, or I think somebody did swing and they didn't. It is really hard to call. So to make a judgment on something like that, it's really tough."
In the ninth, two more judgments went Milwaukee's way. After Elian Herrera doubled off Arizona's J.J. Putz, plate umpire Paul Schrieber ruled that Martin Maldonado was hit by a pitch that appeared instead to hit only the catcher's mitt. D-backs manager Kirk Gibson briefly argued, but he'd already used his replay challenge and was unable to act.
Gibson argued again moments later when Herrera was ruled safe at third base on a steal. This time the umpires reviewed the play to see if Herrera's foot had come off the bag, as stadium replays appeared to show. When the call stood after a lengthy look, Gibson rushed back to the field and was ejected.
"I'm a big fan [of the replay system, but] I don't know how you could get that call wrong, which is a fairly important juncture," McCarthy said.
Again, the Brewers cashed in. Herrera scored on Scooter Gennett's single, and Braun followed with his triple.
"A lot of times, you feel like you create your luck as a team by playing hard all the time," Braun said. "When you're constantly running out ground balls, going about playing the game the right way, I feel like you create your own luck, and you're in the right place at the right time. You never know when a team is going to bobble a ball. You never know whether an umpire is going to get one right or wrong. Play hard, and hope that you're able to create some luck. And over the course of a season, things tend to even out."
Gennett, who also homered, was among four Brewers with two RBIs. His solo home run in the third inning tied the score, 3-3, before Peralta and McCarthy gained control.
McCarthy retired eight batters in a row from the third inning through the sixth, and kept the Brewers to three runs on seven hits in seven innings. Peralta retired 10 straight in one stretch and also allowed three runs in seven innings.
Peralta didn't walk a batter and struck out six to win his third straight start.
"I was able to keep the team in it," Peralta said. "After those three runs in the second inning. I was able to stop it."
Adam McCalvy is a reporter for MLB.com. Read his blog, Brew Beat, and follow him on Twitter at @AdamMcCalvy. This story was not subject to the approval of Major League Baseball or its clubs.