MLB.com Columnist
Roger Schlueter
MLB Notebook: Price's command in top form
Rays' ace joins impressive company with three-start stretch; Iwakuma dominating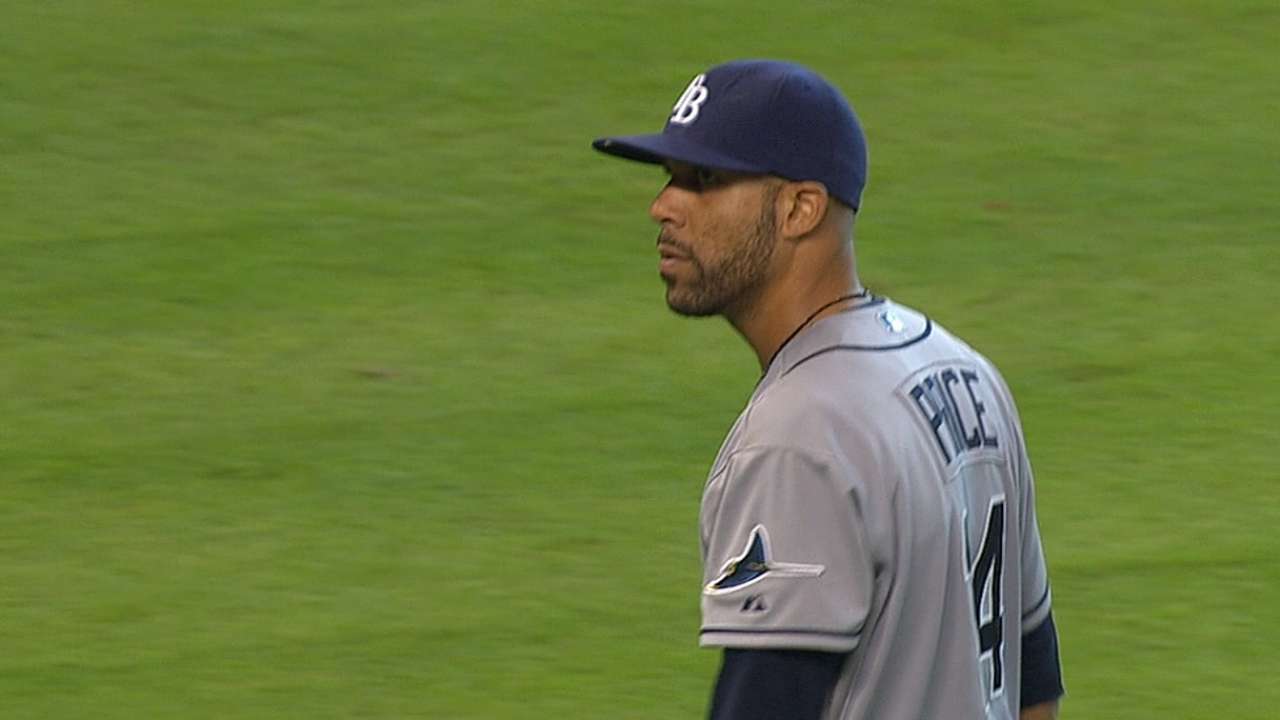 In May 1925, Brooklyn's Dazzy Vance dazzled with a three-game stretch in which he fanned 33 batters and issued only two walks. With that run, Vance -- who would finish the year with 3.35 strikeouts for every walk (the best figure in the Majors) -- became the first pitcher in the live-ball era with three straight games of 10 or more strikeouts and no more than one walk. No other pitcher would match that feat until 1965, when Sandy Koufax did it.
In the ensuing half-century, three-game streaks of this nature have increased in volume, but the names are still pretty notable: Denny McLain, Mickey Lolich, Kevin Brown, Randy Johnson, Pedro Martinez, Curt Schilling, Johan Santana and Clayton Kershaw. That had been it -- a list nicely bookended by a pair of hurlers doing their work for the Dodgers franchise -- until David Price came along in 2014.
Price fanned 10 with no walks and picked up the win in the Rays' 4-3 victory over the Astros on Sunday. The effort gave Price his 20th career double-digit strikeouts game -- the most in franchise history (he had been tied with James Shields). The lefty's line also had significant reverberations in other areas.
Here's a look at Price's past three starts: 11 K's with no walks and five runs allowed; 10 K's with one walk and three runs allowed; 10 K's with no walks and three runs allowed. Price became the 14th pitcher since 1914 (and first since Kershaw in 2011) to record three straight games with at least 10 strikeouts and no more than one walk. Price is the fourth straight southpaw to do it (following Kershaw and two three-game streaks by Santana).
Price is the second pitcher since 1914 -- after Schilling in June 2002 -- to have three straight games with 10 or more K's, no more than one walk and at least three runs allowed. Price now has six double-digit strikeouts games this year, tying for the most in any single season in Rays history. Scott Kazmir (2007), Price ('11) and Shields ('12) were the three previous hurlers to record six in a season.
In each of his double-digit strikeouts games this year, Price has not issued more than one walk. Those six games at this point in the season (by team games) tie Price with Schilling (1998) for the second most for any pitcher since 1914. In 2002, Schilling had seven through his team's first 70 games, and he finished the year with 13 such peformances -- the most for any pitcher in the past 101 seasons.
Iwakuma among elite
Hisashi Iwakuma gave the Mariners eight innings of one-run ball and came away with the victory as Seattle dropped Texas, 5-1. Iwakuma has recorded six games since the start of the 2013 season in which he has worked at least eight innings and allowed no more than one run. That ties him with Chris Sale, Max Scherzer and Yu Darvish for the second most by any American League hurler, with Iwakuma's teammate Felix Hernandez having recorded 11.
In Sunday's outing, Iwakuma allowed six hits and no walks and dropped his WHIP to 0.939; he owns a 0.991 WHIP since the start of the 2013 season. Among all Major League pitchers with at least 250 innings since then, Iwakuma's WHIP is the third lowest, behind Kershaw's 0.944 and Sale's 0.987.
Solid Goldschmidt
Paul Goldschmidt hit his 15th home run in a 1-for-3, one-walk day, and his D-backs defeated the Dodgers, 6-3. Since the start of the 2013 season, Goldschmidt owns a 160 OPS+, an 11.4 extra-base hit percentage and a 12.5 walk percentage. Since 1901, among first basemen with at least 1,000 plate appearances in their age-25/age-26 seasons combined, there are:
• Sixteen to have an OPS+ of at least 150
• Twenty-one to carry a walk percentage above 12 percent
• Fourteen to hold an extra-base-hit percentage better than 11 percent
If he can maintain his numbers in these three categories, Goldschmidt would become the eighth player to have a place on all three lists. The seven who are already there: Jimmie Foxx, Frank Thomas, Lou Gehrig, Johnny Mize, Albert Pujols, Joey Votto and Ryan Howard.
Here and there
In the Tigers' 4-3 walk-off win over the Twins on Sunday, Victor Martinez doubled, singled and walked twice. Martinez has 34 extra-base hits this season (17 doubles and 17 homers) and has struck out 17 times. There have been 36 switch-hitters in the modern era to post a season in which they qualified for the batting title and finished the year with at least twice as many extra-base hits as strikeouts. Pete Rose (1978) is the most recent to do it, and among the group, Red Schoendienst hit the most home runs, collecting 15 in 1953 and '57.
The Royals doubled up the White Sox, 6-3, and with the victory swept Chicago to improve to a Major League-best 10-3 in June. The Royals franchise -- which debuted in 1969 -- has never owned the best record in the Majors for June of any season.
In the Mets' 3-1 win over the Padres, Curtis Granderson -- leading off for the first time in 2014 -- opened the first inning with a homer (his first leadoff jack since Sept. 27, 2009). Granderson is the 23rd player in history to hit at least 25 leadoff homers, and he's one of five left-handed hitters to reach 25. In the more exclusive club, Granderson joins Brady Anderson (44 leadoff home runs), Ichiro Suzuki (37), Kenny Lofton (29) and Johnny Damon (27).
In Baltimore's 5-2 loss to Toronto, Orioles starter Chris Tillman finished his seven innings with zero walks and zero K's. Tillman is the second pitcher this season to have an outing of at least seven innings and no walks or K's, and he's just the 26th pitcher to do it in the past 10 seasons. In the previous 10 seasons (1995-2004), there were only 11 such efforts, but in the 10 years before that (1985-94), there were 49. The most such games in any one season since 1914 occurred in '27, when there were 37. That year, a right-hander named Hal Carlson had five of these games and finished the year with 248 innings, 45 walks and 40 strikeouts. Getting back to Tillman, he is the sixth pitcher to do it for the Orioles franchise since it began playing ball in Baltimore (1954), joining Jack Fisher ('61), Rudy May ('77), Jeff Ballard (twice in '89) and Jimmy Key ('97). O's pitchers have gone 4-2 in such games.
In Cleveland's 3-2 victory over Boston, Michael Brantley homered and singled while also drawing a walk. Brantley, whose 159 OPS+ ranks fifth among qualifiers in the AL, has 49 runs scored and 45 RBIs this season to go along with his 29 extra-base hits. Brantley is one of five players this season to have reached those totals in those categories, joining Goldschmidt, Josh Donaldson, Jose Bautista and Troy Tulowitzki.
Roger Schlueter is senior researcher for MLB Productions. This story was not subject to the approval of Major League Baseball or its clubs.