The Week Ahead: Healthy aces could shake up races
With Gio and Waino on the mend, Nats and Cards looking to gain ground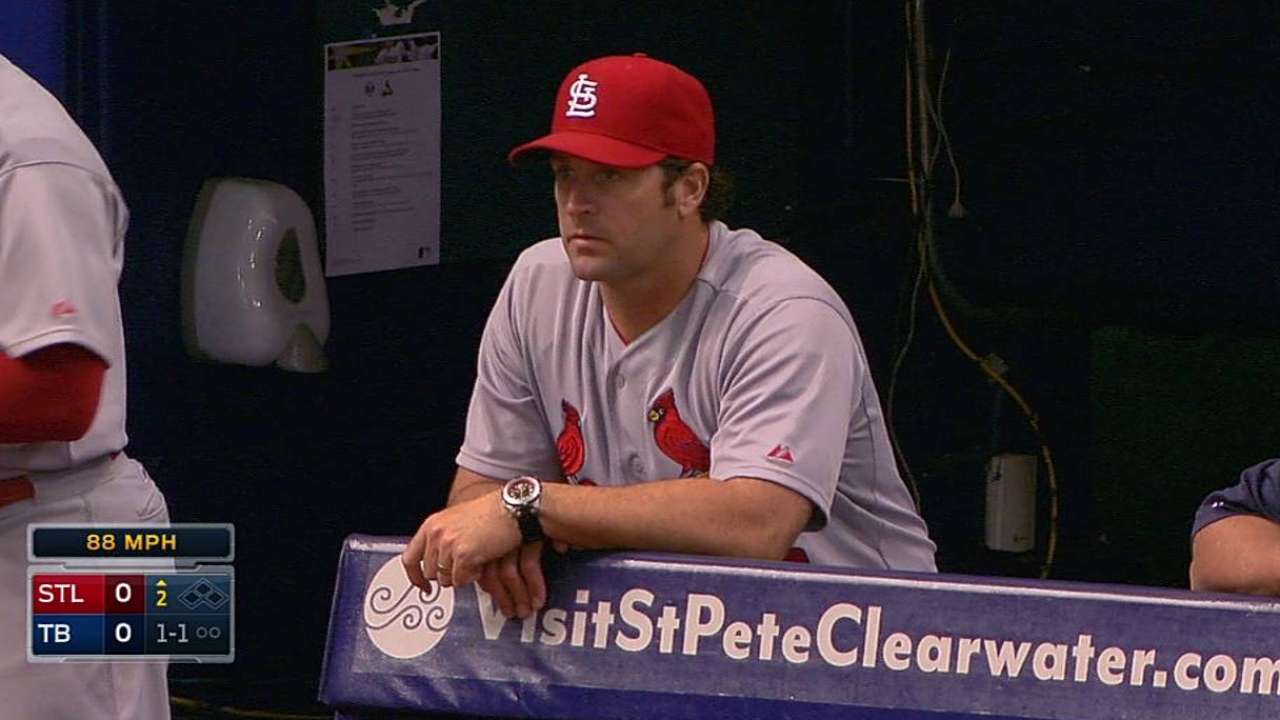 This week, Major League Baseball's players officially become The Boys of Summer again.
The Week Ahead is the week of the solstice, and the temperature throughout the American and National Leagues is being turned up across the standings with three weeks remaining until the All-Star break.
In other words, it's a good time to get hot, and no team seems to understand that better right now than the Kansas City Royals.
The Royals won again Sunday, beating the White Sox by a score of 6-3 to notch their seventh consecutive victory. After an inconsistent early part of the season, Kansas City is starting to roll and has cut the Detroit Tigers' lead in the AL Central to 1 1/2 games. The timing couldn't be better, because the Royals start The Week Ahead with a four-game series at Comerica Park beginning Monday night, so they could have first place all to themselves by late Tuesday night.
The biggest reason? Well, the pitching and defense have been there for the Royals all year long -- and now the bats are catching up.
"It's always fun when you're winning and got some big innings put together, some big innings lately," Kansas City first baseman Eric Hosmer said. "The way the starters have been pitching, and we're finally playing complete games right now. This team's dangerous when it's firing on all cylinders."
In the NL East, things are even tighter.
The Atlanta Braves are no longer cruising atop the division, with the Washington Nationals and Miami Marlins right on their heels, both one game back.
The drama should pick up late this week, when Atlanta visits Washington for a pivotal four-game set that could alter the standings by the time the weekend is over.
The Nationals could get a huge boost if left-handed starter Gio Gonzalez returns as planned. He's been on the disabled list since May 18 because of shoulder inflammation, but he proclaimed himself ready to be inserted back into the rotation for his next turn after his latest rehab outing.
"I'm ready to go," Gonzalez said. "I'm ready to slot myself back in there. Arm feels great, and I feel like I'm ready to go up there and do my part as a starting pitcher."
The Cardinals are hoping that their ace, Adam Wainwright, is feeling as good as Gonzalez claims to be, and this week will be an important one in determining the immediate future of the right-hander. Wainwright, who is battling tendinitis in his right elbow, was scratched from his scheduled start Monday but the team is expecting him to pitch Saturday.
Wainwright has had a Tommy John surgery, but he expressed relief that his current ailment appears to be a problem that can be worked through.
"I really want people to know that my elbow, structurally, that you could see my ligament on the tape," Wainwright said. "It's as thick as an oak tree and strong as can be. I just want to clear the air there. It has nothing to do with my ligament whatsoever."
Elsewhere in the NL Central, the Pittsburgh Pirates still have a ways to go to move past the Cardinals and up to the division-leading Milwaukee Brewers, but the addition of 22-year-old outfielder Gregory Polanco has already provided a huge spark. Polanco capped off a huge week with a 2-for-5 game on Sunday, and he should continue in the leadoff spot for his first full week in the big leagues following his much-anticipated debut last Tuesday.
The Week Ahead also appears likely to include some additional happy returns for teams waiting on injured players to get back on the field.
The A's could activate lefty reliever Eric O'Flaherty, who has not pitched for Oakland after being signed in the offseason while recuperating from Tommy John surgery. O'Flaherty had become a standout situational reliever for the Braves from 2009-13.
The Blue Jays, who are still in first place in the AL East, could get stronger by doing the same with outfielder Colby Rasmus, who continued his rehab from right hamstring tightness with a Triple-A game on Sunday.
The Red Sox will spend the week determining whether they can soon activate outfielder Shane Victorino (hamstring strain) and infielder Will Middlebrooks (broken right index finger) while also monitoring starter Clay Buchholz, who has been on the DL with a hyperextended left knee.
"One of the things we'll have to consider is the number of pitches that he's currently built up to and what he'll be required or likely asked to do once he's back in our rotation," Red Sox manager John Farrell said of Buchholz. "That's the one thing we've got to kind of work through right now."
And rotation reinforcement could be on the way in Seattle, where the club eagerly awaits the arrival of right-hander Taijuan Walker, who hasn't pitched all season because of shoulder woes. But he has been ramping up his workload in Triple-A and could be ready to strengthen an already solid starting five for a Mariners team that finds itself a game above .500 and in the thick of the playoff hunt.
Doug Miller is a reporter for MLB.com. Follow him on Twitter @DougMillerMLB. This story was not subject to the approval of Major League Baseball or its clubs.