Another year, another fascinating class of rookies
This season, like the last four, has showcased a slew of successful youngsters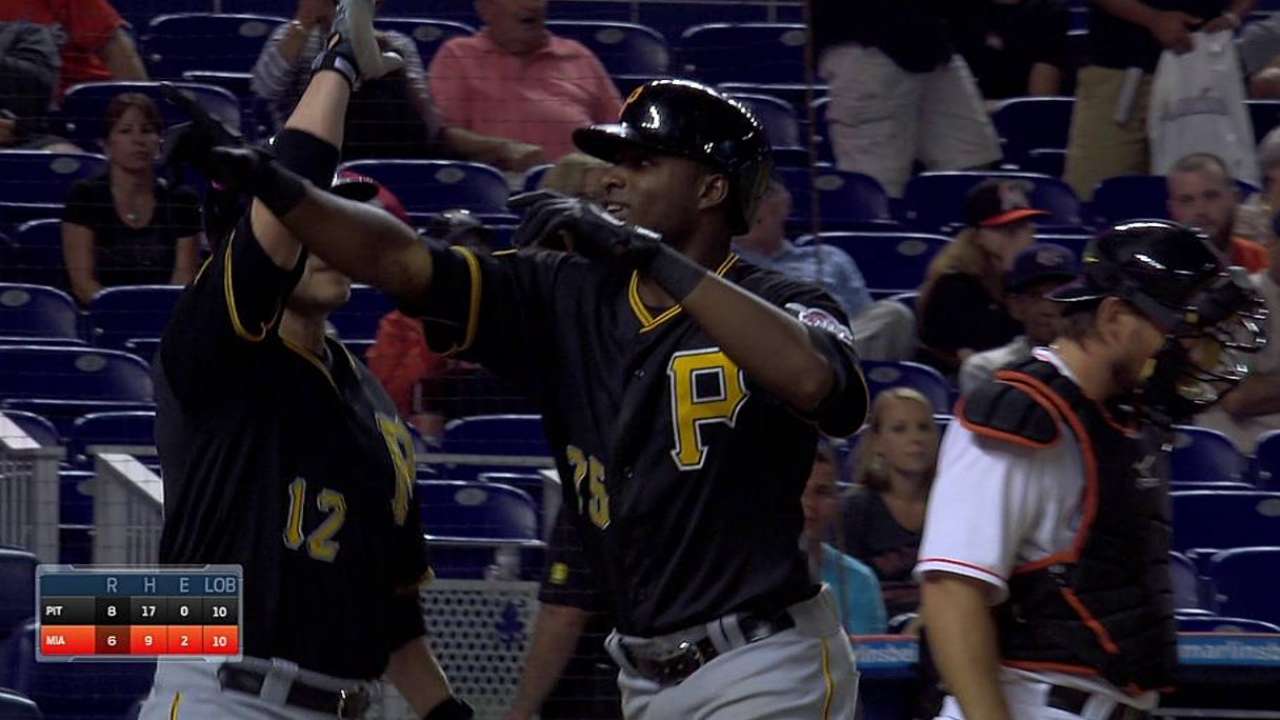 The circle of life in Major League Baseball ensures that a new batch of young players enters the game every year, each influx of rookies bringing the promise of good things to come.
In recent years, there have been some really great things so many youngsters have delivered right out of their career gates.
The latest to burst onto the scene is the Pirates' Gregory Polanco, whose arrival had been anticipated by Buccos Nation for months and whose introduction to the bigs was nothing short of spectacular. He had five hits in his fourth MLB game Friday, capping the extra-innings affair with a two-run, game-winning homer.
"This is my best game ever," Polanco said afterward.
Well... yeah. It was one of the best games you can have.
Polanco's fantastic first week is another starburst in a Major League sky full of them this season. From the finely honed mound presence of the Yankees' Masahiro Tanaka to the power displayed by Jose Abreu of the White Sox and George Springer of the Astros, this has been another vintage year for splashy career debuts.
In fact, the last five years have been nothing short of rookie-remarkable, a veritable rookie-o-rama.
There's the 2010 arrival of the Giants' Buster Posey, winning the Rookie of the Year Award, then adding a Most Valuable Player Award and a second World Series title in his first three seasons. Posey entered the scene with Braves outfielder Jason Heyward and Nationals phenom Stephen Strasburg, both showing staying power as top-notch Major League players years later. The next year saw the first full season for the Braves' Craig Kimbrel, a closer who by '14 would already become the team's all-time saves leader. And then the new wave of young talent was really cresting.
In 2012 came Mike Trout, whose rookie season and first two combined conjured the names of Joe DiMaggio, Ted Williams, Albert Pujols and, well, nobody else, ever. Trout's '12 classmate Bryce Harper of the Nats also made a big splash, while that year also brought us the Rangers' Yu Darvish and the A's Yoenis Cespedes -- a couple of extraordinary arms.
Last year, we saw the arrival of Jose Fernandez, whose rookie season was among the most dominant in history, and the can't-turn-away introduction to the Dodgers' Yasiel Puig, leaping into the sport's spotlight with his talent and, shall we say, je ne se quois. Braves ace starter Julio Teheran and Rockies third baseman Nolan Arenado also established a quick foothold as Major Leaguers with talent and credentials to be among the elite.
This year, more of the same, led by three dandy debuts in particular:
• Tanaka has recorded quality starts in each of his first 13 in the big leagues. According to Elias Sports Bureau, he is one of only two pitchers to go six innings with three or fewer earned runs that many starts at the outset of his career in baseball history (the Expos' Steve Rogers went 16). Tanaka's 103 Ks through his first 13 starts are the most in modern baseball history.
• Abreu leads MLB rookies in all the big-bopper categories, and his 19 homers through 55 games match Mark McGwire for the second most in as many games in baseball history (Wally Berger, 21 in 1930).
• Springer's 10 homers in May tied him for third in MLB history for a rookie during the month -- the most since McGwire hit a record 15 in 1987 and strung together seven in seven games. And now he's got another rookie with a dangerous bat alongside him in Jon Singleton, who became the second player in Astros history to hit four homers in his first 11 games.
The hits just keep coming from the first-year phenoms.
Others making a mark quickly include Reds speedster Billy Hamilton, Yankees hitting sensation Yangervis Solarte and the Twins' Danny Santana. Xander Bogaerts is making his regular-season mark after an October splash for the Red Sox last season, and Chris Owings got off to a strong start in Arizona. On the mound, Yordano Ventura has been impressive for the Royals, as has Roenis Elias for the Mariners.
The Braves' Tommy La Stella, the Tigers' Eugenio Suarez, the Cards' Kolten Wong, the Cubs' Mike Olt, the Yankees' Dellin Betances, the Mets' Jeurys Familia -- they're all among those making names for themselves.
Of course, not everything works out right away, and there are always detours. Exhibit A: Oscar Taveras, the Cardinals prospect with high expectations, had a beautiful debut with a homer but wound up struggling after that, ending up back in the Minors. Also, Fernandez got off to an intriguing start to his sophomore season but wound up needing Tommy John surgery, following the same road traveled by Strasburg. The AL's top rookie last season, Wil Myers, has taken a step back so far this year, and Harper and Arenado are both battling injuries.
We still don't know what the recent run of remarkable rookies will do in their careers, or even the rest of this year.
What we do know is that with Polanco's effort on Friday night, we saw yet another command performance so very early on in a player's Major League journey. Chalk it up as another dandy debut in a year or five rife with them.
Tanaka. Abreu. Springer. And now Polanco.
Posey to Trout to Puig.
Stay hot, rookie.
John Schlegel is a national reporter for MLB.com. You can follow him on Twitter at @JohnSchlegelMLB.
This story was not subject to the approval of Major League Baseball or its clubs.