Angels bested after allowing decisive rally in sixth
Santiago sharp early, but departs in middle of costly four-run frame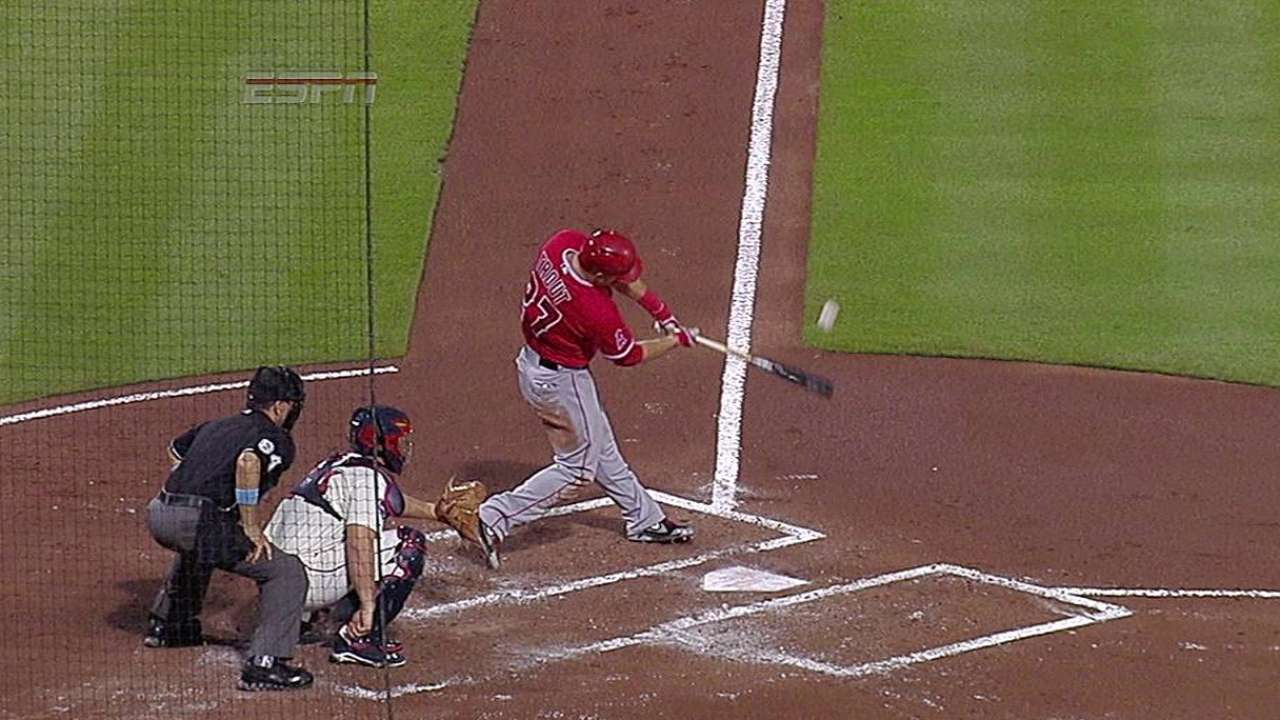 ATLANTA -- For five innings on Sunday night, Hector Santiago was nearly unhittable. Unfortunately for the Angels, there were still four innings to be played.
The left-hander's two-hit gem unraveled in the sixth as the Braves notched their third four-run inning in as many nights en route to a 7-3 win and a series victory. Tommy La Stella's two-run double off Kevin Jepsen in the sixth sealed Santiago's defeat.
Los Angeles has dropped nine of its past 13 road contests and has not won a series away from home since sweeping a two-game set in Philadelphia from May 13-14.
Santiago allowed only three baserunners before putting the final four Braves he faced on the basepaths, setting the stage for La Stella's heroics.
"Luck turned their way," Santiago said. "I felt like the better pitch I made, the luckier they got. I made some really good pitches right there, and I can't do anything about that. I mean, I feel like I made some really, really good pitches right there and it just went their way."
Angels manager Mike Scioscia added: "Things unraveled a bit, but I still think Hector pitched a really strong ballgame."
The Halos appeared headed for a victory after plating three runs through three innings with solo homers off the bats of Erick Aybar, who left the game with a sore left hip, and Mike Trout, who finished 7-for-14 with two homers and two doubles during the three-game series.
However, the Angels only got one run after following Trout's solo shot with three consecutive singles from Albert Pujols, Josh Hamilton and Howie Kendrick, a missed opportunity that loomed large once Santiago's night went out of control.
Ten days earlier, Santiago had struggled through a difficult start for Triple-A Salt Lake. He gave up six runs on 11 hits in six innings against Triple-A Sacramentio, a Minor League affiliate of the A's.
But through five innings on Sunday night, Santiago appeared well on his way to a second consecutive scoreless outing. He held Oakland's big league club to only three hits in six scoreless innings on Tuesday.
He faced only two more than the minimum during his first two trips through the Atlanta lineup, letting only Freddie Freeman advance past first base with a two-out double in the bottom of the first. The first five frames required only 72 pitches.
"We hadn't seen Santiago," Braves manager Fredi Gonzalez said. "So the third time through the lineup, I thought we had a better read on him and had better at-bats."
Santiago's problems began after he retired Jason Heyward, who homered off Cam Bedrosian in the seventh, on a popup following a 10-pitch battle. B.J. Upton, who scored another run on a wild pitch by Bedrosian in the seventh, worked a seven-pitch walk.
"For the most part, I still feel like I threw the ball well in that inning," Santiago said. "I mean, that walk right there [to Upton] was kind of battle, battle, battle, and you can only throw so many strikes in a row and you just lose one."
The next three hitters worked much more quickly in the batter's box as Freeman, Evan Gattis and Justin Upton hit consecutive singles on three of Santiago's final five offerings before giving way to Jepsen with a 3-2 lead with two men on base.
Chris Johnson made it four consecutive singles when right fielder Collin Cowgill could not handle his slicing liner, paving the way for La Stella's two-run double.
The defeat dropped Santiago to 0-7, largely a product of compiling a 5.19 ERA in his first seven starts of 2014. But after a short stint in the Minor Leagues, Santiago's past two turns have given the Angels plenty of reason to believe he is improving.
"The beginning of the year was really tough luck," Santiago said. "It was a couple of games that didn't go my way, but that [sixth] inning right there was a lot better than what I did early in the year. I still had control of all my pitches."
Joe Morgan is an associate reporter for MLB.com. This story was not subject to the approval of Major League Baseball or its clubs.