La Stella keys decisive rally as Braves take finale
Offense comes to life with four-run sixth that delivers rubber match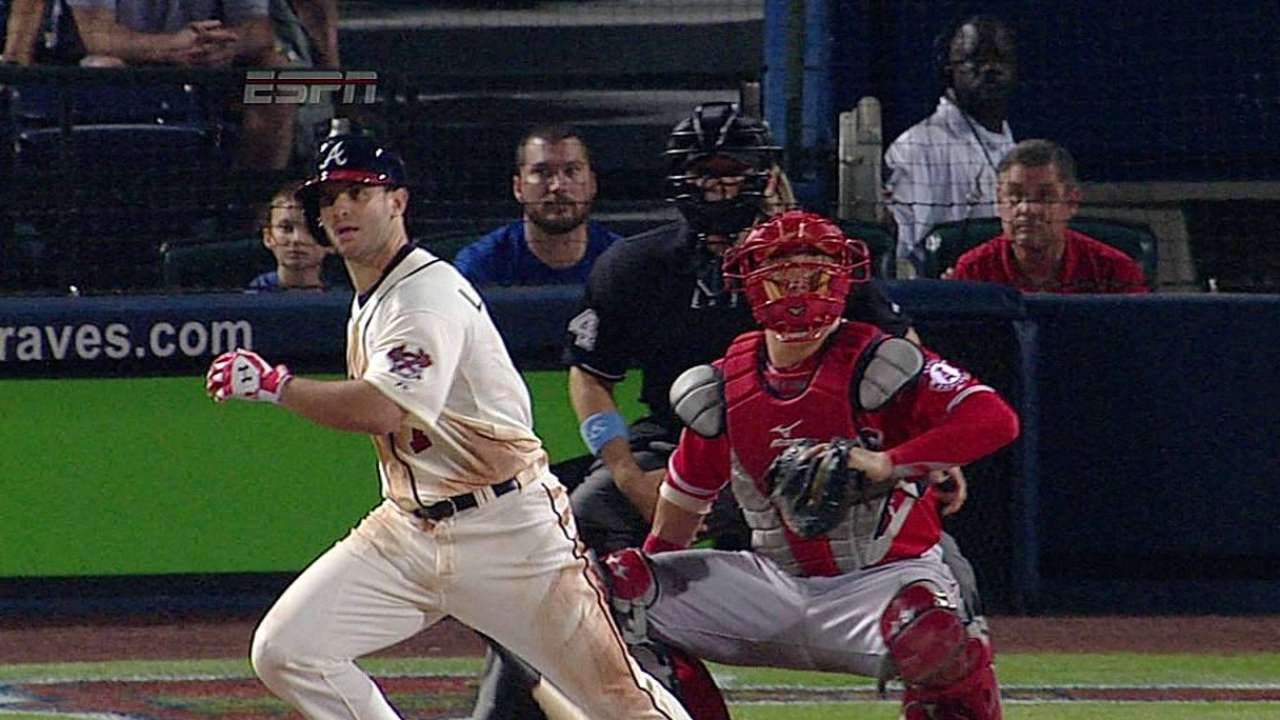 ATLANTA -- Less than three weeks into his Major League career, Tommy La Stella has already proven that he is unfazed by the bright lights of the big stage. More importantly, he has lived up to the expectation that he would be the consistent-contact element the Braves lineup sorely needed.
A night after seeing a four-run ninth inning rally go to waste in a 13-inning loss, the Braves concluded a three-game series against the Angels with Sunday night's 7-3 victory. La Stella highlighted his first career three-hit performance with a go-ahead double that capped a decisive four-run sixth inning.
"I think La Stella thinks there's another league the way he carries himself," Braves manager Fredi Gonzalez said. "It doesn't surprise me that he's this comfortable, the way he carries himself."
Though he has played just 16 games dating to his Major League debut on May 28, La Stella has already recorded more hits (23) while playing second base than any of the other Braves players who have manned the position this year. But it's safe to say the crown jewel of this collection was created when he came to the plate with the bases loaded during Sunday's sixth and sent his decisive two-run double into the right-center-field gap.
Unfazed by his first chance to play in front of a national television audience, La Stella savored the chance to stir the home fans with his second career extra-base hit.
"It was pretty awesome," La Stella said. "It was one of the cooler things I've been blessed to be a part of."
While La Stella was improving his batting average to .411, Freddie Freeman was feeding off the momentum created by the game-tying double he registered in Saturday's ninth inning. Freeman doubled in the first inning and fueled the decisive sixth with a single that provided him just his second multi-hit performance in his past 16 games.
As Freeman has spent the past few weeks mired in a slump, the Braves have received consistent production from Evan Gattis, who extended his hitting streak to 15 games with a unique-looking single that accounted for the first of the four runs charged to Angels starter Hector Santiago in the sixth inning.
By the time the Braves completed their sudden assault on Santiago and Kevin Jepsen, they had erased all the damage incurred by Mike Minor, who managed to allow just three runs despite surrendering a career-high 11 hits in a second straight start.
"He competed and stayed in the game," Gonzalez said. "It's hard to give up only three runs on 11 hits. So, he was doing something right. He wasn't giving in."
Though he consistently pitched from the stretch during his five innings of work, Minor limited his damage to three runs, two of which came courtesy of solo home runs hit by Erick Aybar and Mike Trout. The early deficit looked menacing as the Braves produced two hits through the first five innings against Santiago, who was making just his second start since being recalled from the Minors.
Santiago's surprising dominance conjured memories of this past week, when the Braves struggled in Denver against Tyler Matzek during his Major League debut and Jhoulys Chacin, who entered Thursday's start with a 5.35 ERA. But this storyline proved to be different after Freeman notched the first of the five consecutive hits recorded by the hosts in the sixth.
Gattis' RBI single assumed the appearance of a billiards trick shot as it sliced off the end of his bat and plopped down in shallow right field. Justin Upton followed with a sharp RBI single that a diving David Freese prevented from reaching the outfield grass. Two batters later, La Stella brought the home crowd to its feet when he hit his double into the right-center-field gap.
"Luck turned their way," Santiago said. "I felt like the better pitch I made, the luckier they got. I made some really good pitches right there, and I can't do anything about that. I mean, I feel like I made some really, really good pitches right there and it just went their way."
Jason Heyward helped the Braves gain some cushion when he began a two-run seventh inning with a solo home run off Cam Bedrosian. Heyward, who has hit three of his eight home runs within a span of his past 10 games, also made two impressive catches to rob Trout of hits. The Braves right fielder made a head-first diving catch in the fourth inning and a went against the right-field wall to complete another defensive gem in the sixth.
"If Jason doesn't make those two plays, we might lose the game," Gonzalez said. "There were a lot of good things offensively and defensively."
Mark Bowman is a reporter for MLB.com. This story was not subject to the approval of Major League Baseball or its clubs.