In Kasem's honor, counting down baseball's best songs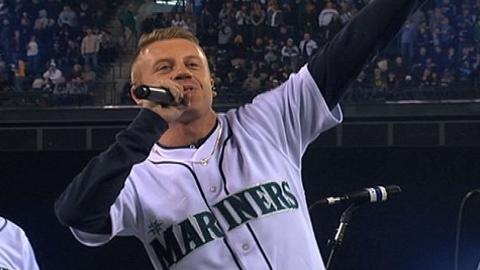 Casey Kasem passed away Sunday at the age of 82, and millions of radio listeners are mourning the loss of one of the great DJs of all time and the voice of the "American Top 40" countdown … not to mention Shaggy of "Scooby-Doo" fame.
Kasem helped create the playlists for many of our lives, young and old, and his unmistakable voice was playing in the background through pivotal moments. He told all of us to keep our feet on the ground and keep reaching for the stars -- great advice. What isn't so well-known about this media icon is that he wanted to play baseball in high school before the radio bug took over.
So in honor of Kasem, here's one man's MLB.com countdown of the Top 10 baseball-related songs of all time:
10. "Harvey Haddix" by The Baseball Project: No. 10, with a bullet, the side project of veteran rockers Scott McCaughey (Young Fresh Fellows, Minus 5, R.E.M.), Steve Wynn (Dream Syndicate) and Linda Pitmon (Golden Smog) has three albums all about baseball, so it's tough to pick. This track resonates by lamenting the former Pittsburgh Pirates pitcher's infamous lost perfect game while masterfully managing to crowbar the names of every pitcher who has thrown a perfecto in Major League history into the song. And yes, that has now been updated to include Mark Buehrle, Dallas Braden, Roy Halladay, Philip Humber, Matt Cain and Felix Hernandez, all of whom turned the trick after the song was initially recorded.
9. "Your Love" by The Outfield: This rocking staple of Best of the '80s compilations has nothing to do with baseball other than the fact that the band is called The Outfield and the album the song appeared on is called "Play Deep." But for some reason, it seems like it is about baseball. Also, the London-based band started out with the name, "The Baseball Boys." That's impressive in the land of cricket.
8. "Centerfield" by John Fogerty: It's been played at every stadium, maybe every night, since its release on the album of the same name in 1985. The man who brought us Creedence Clearwater Revival scores even more points for the Louisville Slugger bat/guitar he plays this number on when he performs it live.
7. "Glory Days" by Bruce Springsteen: Sure, it's overplayed, and sure, the video for the song shows that The Boss is a lot better at writing songs and singing than pitching, but it's got a great opening riff and a message we can all relate to. The "speed ball" line still can make a baseball fan cringe, though. Would it have killed him to write "fastball" or even "heater?"
6. "Talkin' Softball" by Terry Cashman: Cashman broke into the baseball-song-writing game with the ubiquitous "Talkin' Baseball," featuring Willie Mays, Mickey Mantle and Duke Snider. However, his self-parody version for the 1992 "Homer at the Bat" episode of "The Simpsons" is more of a classic because of its brilliant mention of every nuclear power plant-related malady that struck the Major League All-Star "ringers" on the company softball team. Best line: "Mike Scioscia's tragic illness made us smile/While Wade Boggs lay unconscious on the barroom tile."
5. "My Oh My" by Macklemore and Ryan Lewis: One of the only hip-hop anthems to the Grand Old Game is a very touching, personal elegy for legendary Mariners broadcaster Dave Niehaus by Seattle's rap sensation. Macklemore performed it at Safeco Field after Niehaus' death in 2010 and there were many teary eyes in the crowd.
4. "Paradise by the Dashboard Light" by Meat Loaf: A song all about coming of age and the angst that goes along with it veers into baseball-as-metaphor territory in classic fashion, with the adolescent meanderings of a boy and a girl set to the soothing tones of a Phil Rizzuto play-by-play.
3. "A Dying Cub Fan's Last Request" by Steve Goodman: The song, written by the late genius who gave Arlo Guthrie "City of New Orleans," reads just like the title, and it's a brilliant ode to a fan base alone in its struggle of 100 years without a World Series title. "Build a big fire on home plate out of your Louisville Slugger baseball bats/And toss my coffin in/Let my ashes blow in a beautiful snow/From the prevailing 30 mile an hour southwest wind/When my last remains go flying over the left-field wall/We'll bid the bleacher bums adieu/And I will come to my final resting place, out on Waveland Avenue." Sadly, Goodman died of leukemia in 1984 at the age of 36.
2. "Night Game" by Paul Simon: This deep-track gem on the 1975 classic album "Still Crazy After All These Years" is a tragic story of the death of a pitcher during a tied game but still has that classic Simon quirkiness and evocative imagery to it. "And they laid his spikes/On the pitcher's mound/And his uniform was torn/And his number was left on the ground."
And finally …
1. "Catfish" by Bob Dylan: Written in 1975 but released on a bootleg compilation in 1991, this is a perfect tale of a unique baseball man - Jim "Catfish" Hunter - told in typical Dylan style and co-written by Jacques Levy. Highlight lyrics: "Come up where the Yankees are/Dress up in a pinstripe suit/Smoke a custom-made cigar/Wear an alligator boot" and "Catfish, million-dollar-man/Nobody can throw the ball like Catfish can." Dylan also was prescient, correctly predicting that Hunter would make the Hall of Fame.
RIP, Casey Kasem. You will be missed.
Doug Miller is a reporter for MLB.com. Follow him on Twitter @DougMillerMLB. This story was not subject to the approval of Major League Baseball or its clubs.