Beltran's mistake leads to inning-ending DP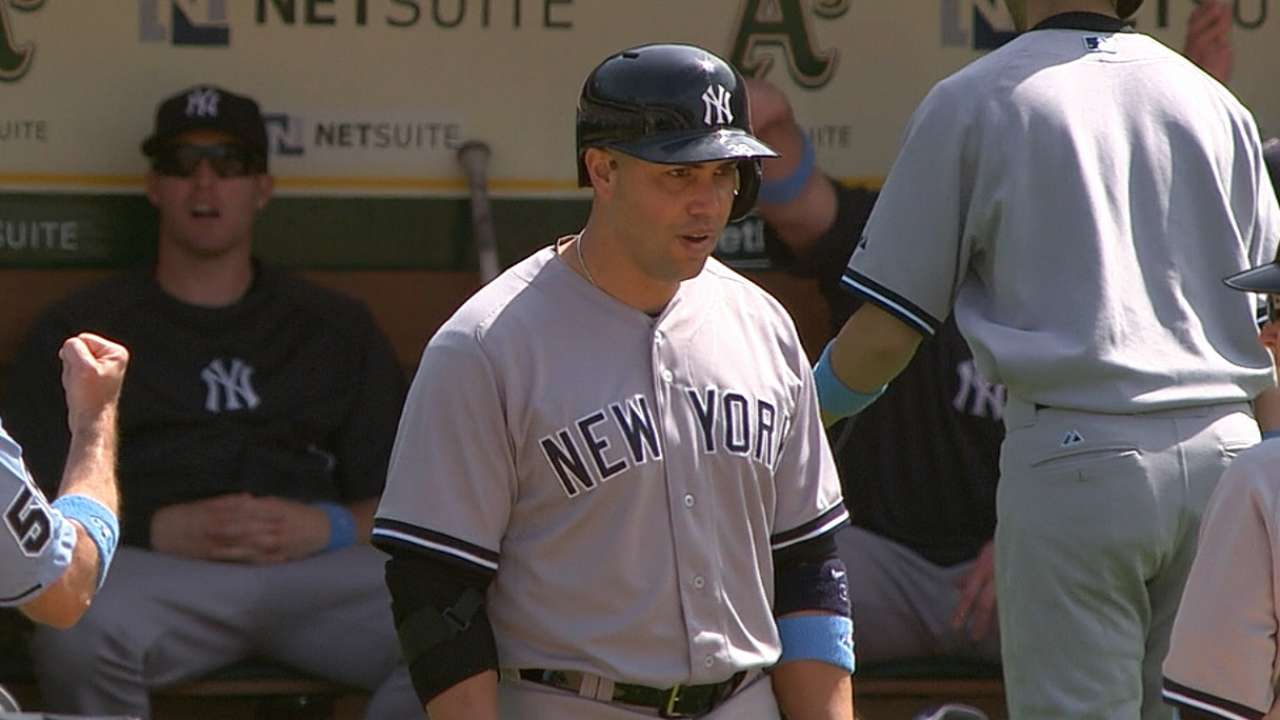 OAKLAND -- Carlos Beltran hit the ball hard in all four of his plate appearances on Sunday, which should represent a very encouraging sign for the Yankees. But his mood was soured by a mental lapse in the 10-5 loss to the A's.
With one out and a runner at first base in the eighth inning, Beltran hit a line drive that shortstop Jed Lowrie fielded on a hop, tossing to second baseman Nick Punto to force out Brian McCann.
Thinking there were two outs already, Beltran peeled off toward the first-base dugout. First-base umpire Dan Iassogna ruled that Beltran had abandoned the base and called him out, finishing off a most rare double play.
"It's an embarrassing play," manager Joe Girardi said. "It's probably happened to all of us. A lot of times, it's more that you slow up running to the bag as opposed to peeling off. It's a lot more glaring when that happens."
The Yankees were trailing, 10-3, at the time. Beltran said that something like that had never happened to him before, and that someone in the dugout had told him to get back to first base.
"It was too late to come back," Beltran said.
Beltran finished the afternoon 2-for-4, slugging a solo homer in the seventh inning off A's reliever Ryan Cook.
"The good thing about Carlos is he swung the bat well today," Girardi said. "He hit four balls on the screws. That's a good sign."
Bryan Hoch is a reporter for MLB.com. Follow him on Twitter @bryanhoch and read his MLBlog, Bombers Beat. This story was not subject to the approval of Major League Baseball or its clubs.