Homers not enough as bullpen falters in eighth
Four-run frame sinks Giants; Rockies' sweep caps 4-6 homestand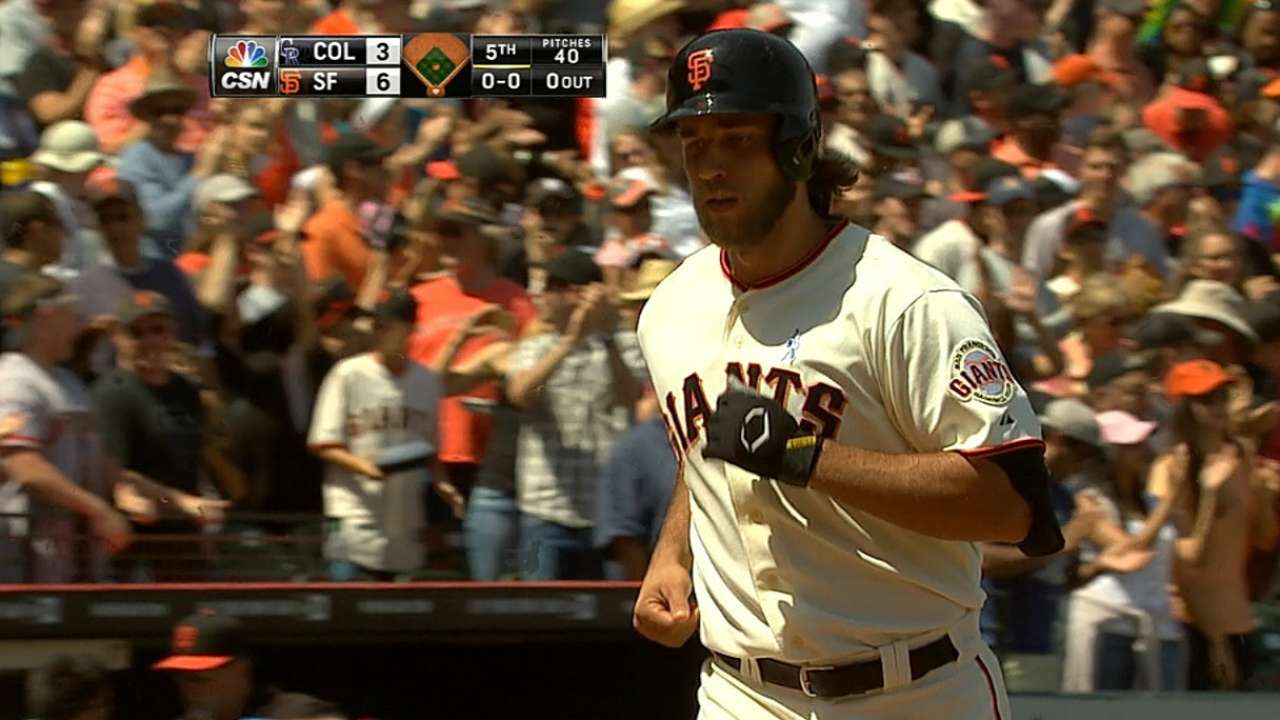 SAN FRANCISCO -- Rewind to last Sunday afternoon.
The Giants had just begun a 10-game homestand with a three-game sweep of the Mets to improve to a Major League-best 42-21, increasing their National League West lead to 9 1/2 games. "No, there's nothing I can complain about," manager Bruce Bochy said at the time.
Fast-forward to now -- Bochy hasn't had much to celebrate since.
Bochy was ejected in the ninth inning as the Giants blew a late-inning lead for the third consecutive game, falling, 8-7, to the Rockies, who handed the Giants their first sweep of the season.
A homestand that couldn't have started any better couldn't have finished much worse. The Giants lost six of the final seven games against Colorado and Washington to finish the 10-games-in-10-days stretch just 4-6.
Bochy is no longer complaint-free. He remains worry-free, though.
"I'm not concerned. You're going to have these tough times during the season," Bochy said. "What's important is how we deal with it and I was proud of how the guys came out and played.
"It just got away from us late in the game, and that was the case in all three games. This is why it's probably tough to take this series -- we're a few outs away from a sweep, and instead we get swept. That's never easy, but you got to put it behind you and push forward here."
They'll need to do it for nine innings at a time.
Juan Gutierrez entered a 7-4 game in the top of the eighth inning with an immaculate resume at AT&T Park this season, having not allowed a run in 16 innings at home this season. With two runs already across to blemish his home success, Gutierrez induced what looked like a threat-ending double play from DJ LeMahieu to end the inning, but bobbles by both Brandon Crawford and Ehire Adrianza granted LeMahieu enough time to beat Adrianza's throw to first, prolonging the inning. Lefty Javier Lopez came on to face the left-handed Justin Morneau; Morneau took this battle, roping the game-winning two-run double to left.
New day, same stunning result. Smoke, but no fire, they say.
"Everybody's going to have hiccups once in a while," Buster Posey said when asked to gauge the team's confidence in the bullpen, "and everybody in the clubhouse has tons of confidence each time any guy from the bullpen grabs the ball."
Added Madison Bumgarner, whose seven innings of four-run ball and fourth career home run weren't enough: "They've picked us up plenty of times, they can afford to have a bad game or two."
Such seems to be the thermometer reading for the team as a whole.
"This homestand was about as rough as it gets," Bumgarner said, "but we're still in pretty good shape."
The Giants still have baseball's best record, its largest division lead (6 1/2 games ahead of the Dodgers) and they play 10 of their next 15 games at home, with their next 12 coming against teams below .500.
So no alarms are being sounded in the Giants' clubhouse, not with how their recent games have transpired.
One inning away from a win Friday night. One pitch away from a win Saturday afternoon. One hit away Sunday.
An error and two walks loaded the bases with nobody out for the second consecutive inning in the third. The Giants botched the opportunity, as Bumgarner struck out and Gregor Blanco hit into an inning-ending double play, burdening the Giants with seven left on base through three innings. They finished with 12 runners left stranded.
Thanks in large part to their Sunday show of power with three home runs, including back-to-back shots by Hector Sanchez and Pablo Sandoval in the fourth, the Giants appeared set to salvage one weekend win.
"We were in a good position there," Bochy said. "A couple little things you could look at that didn't happen -- double-play ball, Pablo lines out with the bases loaded, they add up.
"What could go wrong went wrong late in the ballgame in this series. This day off [Monday] is probably coming at a good time. We got to regroup."
Added Bumgarner: "This stinks for us. We should've won a lot of these games that we lost this homestand. We're just going through a tough stretch right now. You know you're going to have some adversity throughout the year.
"We're not playing all that bad here, it doesn't seem like. We're just finding ourselves on the losing side."
Ryan Hood is an associate reporter for MLB.com. Follow him on Twitter @ryanhood19. This story was not subject to the approval of Major League Baseball or its clubs.