Miscues derail Dodgers' bid for series sweep
Beckett saddled with loss despite seven-inning effort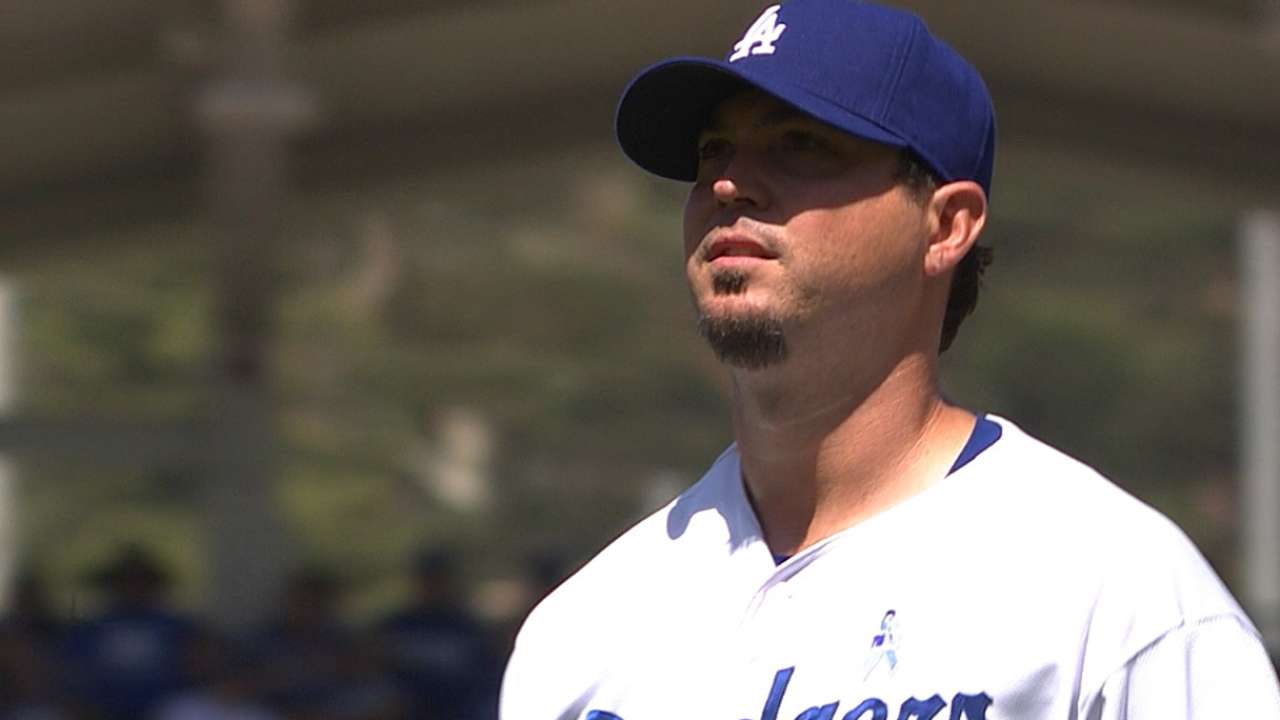 LOS ANGELES -- Fans allowed on the field for Father's Day catch at Dodger Stadium late Sunday put on a better display than the Dodgers did in losing to Arizona, 6-3, against a pitcher likely headed for the disabled list.
Regressing to April's sloppy play, the Dodgers missed a series sweep and snapped a season-high string of seven consecutive errorless games, with three of the D-backs' runs tainted by misplays.
Starter Josh Beckett, frequently left wanting for run support, this time was the victim of poor defense. His frustration was obvious in the dugout and the clubhouse.
"Everything that could go wrong, did go wrong," said Beckett, clearly annoyed.
Beckett (4-4) struck out six without a walk in seven innings. Bronson Arroyo (7-4) got the win, despite pitching only five innings, throwing no pitch harder than 85 mph and afterward saying he'll probably be disabled with a sore elbow.
"It's getting to the point where it's just too much pain and it's just too difficult to get big league hitters out with that velocity," said Arroyo.
Dodgers mistakes weren't limited to defense. Short-circuiting a potential comeback, catcher Drew Butera was caught overrunning third base on Justin Turner's RBI pinch-double off the fence in the seventh inning. Butera picked up coach Lorenzo Bundy's stop sign too late to return safely. It was the second time in the series that a Dodgers catcher wasn't aware of a Bundy stop sign.
"I was being too aggressive," said Butera. "I thought I could score and picked up the stop sign too late."
Paul Goldschmidt checked in with another first-inning home run, a solo shot on a hanging Beckett curveball. The Dodgers tied it in the second with a walk, an infield single and a pair of groundouts, Jamie Romak's cue-shot scoring the run. Romak started at third base because Turner's calf is still sore, and the thin bench proved especially vulnerable in the eighth inning, when manager Don Mattingly let Romak bat with one out, runners on the corners and Andre Ethier available after being left out of the starting lineup.
Romak, batting .083 at the time, grounded into an inning-ending double play.
Mattingly defended his decision not to bat Ethier for Romak.
"It was either going to be Romak or Butera, and we felt like Romak was really actually a pretty good matchup," he said. "He hits that low ball, he hits the ball that comes into him down there. We felt like he was a good matchup there. And then we'd have 'Dre right there in the next spot or even the pitcher's spot. We'd consider A.J. [Ellis] there, too."
Arizona reclaimed the lead in the fifth with a two-out double by David Peralta, who stole third without a throw when the Dodgers were caught sleeping. That cost a run when Butera couldn't corral Beckett's wild pitch. Further trouble was averted when a powerful assist from Yasiel Puig cut down Cody Ross trying to stretch a single into a double.
The Dodgers defense imploded in Arizona's two-run seventh. There was mass confusion on a slow ground ball Miguel Montero hit to second baseman Dee Gordon, with first baseman Adrian Gonzalez breaking for the ball, then stopping and not covering first, and Beckett's late break to cover the bag a futile exercise.
"I didn't see it off the bat, and then when I saw it, I thought it was going to be in between us," said Gonzalez. "So I went to it ... it was one of those that kind of sneaks by us because we went after it. You got to make one decision one way or another. My instincts went toward second base. I asked Donnie [Mattingly, former Gold Glove first baseman] afterwards, and he said if it's a ball to the right side, for the most part, pitcher's got to break there.
"I went and asked him. I said, 'How'd you see it? I didn't see it off the bat, and it broke. Should I have broken the other way?' And he said, 'No, because if your instincts say go after the ball and you go to first base and that ball gets through, then they look at you and say, 'Well, why didn't you go after the ball?'' You got to make the decision and just go with it."
Next, left fielder Matt Kemp didn't hustle for Aaron Hill's single to left, his late throw to third base allowing Montero and Hill to take extra bases. Gordon then booted Martin Prado's grounder with infielders in as two runs scored.
In the seventh, the first four Dodgers hitters reached base, with the injured Turner (.400 with runners in scoring position) delivering his clutch double. But compounding Butera's mistake, Hanley Ramirez struck out and Puig tapped back to the pitcher.
After the Dodgers squandered their chances, Arizona put the game away on Montero's two-run homer off Chris Perez in the ninth.
Ken Gurnick is a reporter for MLB.com. This story was not subject to the approval of Major League Baseball or its clubs.