Arroyo labors through five to hold off Dodgers
Veteran may need DL stint; Goldschmidt, Montero belt homers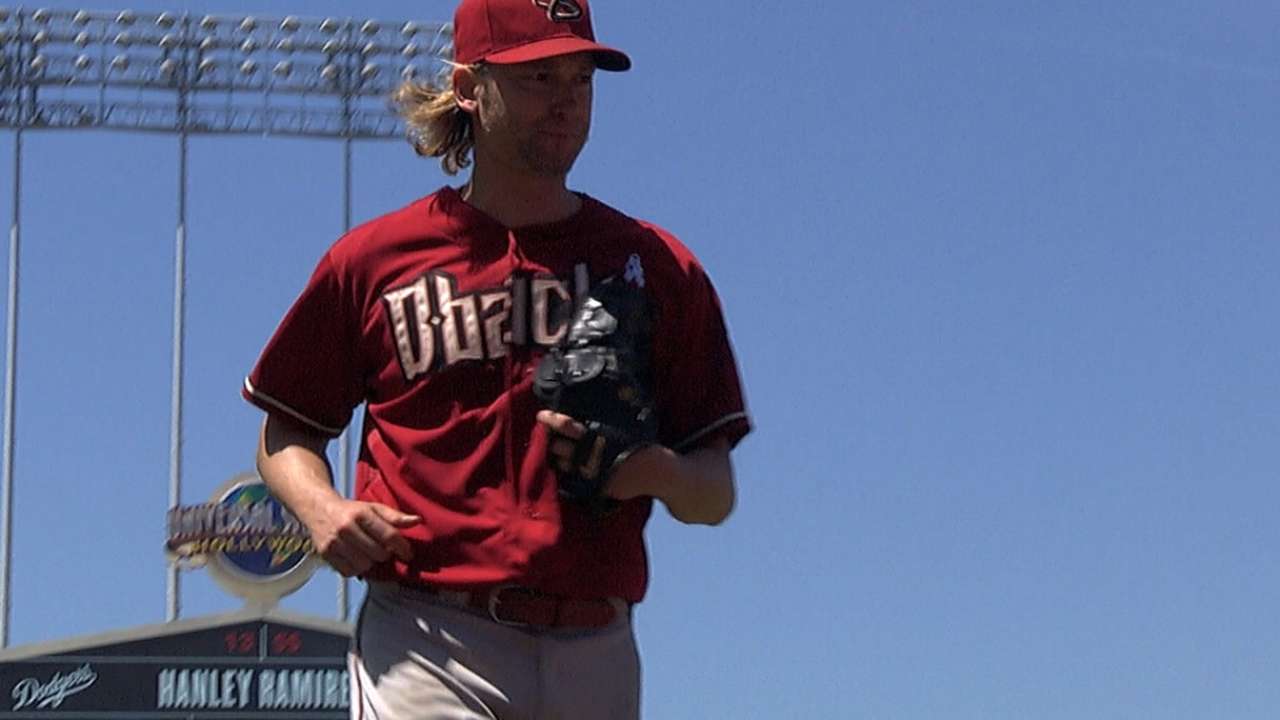 LOS ANGELES -- You couldn't see them out on the mound, but make no mistake, Bronson Arroyo is using smoke and mirrors to get by these days.
Battling an aching elbow and pitching with diminished velocity, Arroyo found a way to get through five innings as the D-backs beat the Dodgers, 6-3, on Sunday afternoon at Dodger Stadium.
"He used every bit of knowledge and wisdom he could to get through five innings for us," D-backs manager Kirk Gibson said.
The win allowed the D-backs to avoid a sweep in the three-game series and sent them home with a 1-4 road trip, which included an earlier stop in Houston.
"It was a nice win today to get out of here with at least one and not get swept by these guys," Arroyo said.
With a fastball that registered mostly in the low 80s, Arroyo (7-4) kept the Dodgers off-balance enough to hold them to just one run on five hits over five innings.
"It wasn't much fun, but I battled," Arroyo said. "Been going out there throwing the ball 80-84, and 84 is when I've been feeling sexy, which is ridiculous. I'm just getting outs on location and just being comfortable enough in that environment to throw a bunch of slop up there and get guys out."
Arroyo has been bothered by the elbow issues since his May 13 start against the Nationals and has tried every medication and treatment he could find to continue to pitch.
"That guy has more guts than anybody in this clubhouse," catcher Miguel Montero said. "He goes out there and I literally could catch him barehanded, and he's still going out there and giving you his best. He gives you all he's got that day to help the team to win a ballgame and that's why he's a winner. He's definitely a winner, and he's been a winner his entire career. He's a competitor. He goes out there and some way or another, he gets it done."
However, it appears likely that he will be headed to the disabled list for the first time in his 15-year big league career after he has his elbow examined Monday in Phoenix.
It's a bitter pill for Arroyo to swallow, given he has never missed a start in his career.
"We're going to take a look at my arm I think," Arroyo said. "It's just slowly sliding downhill. I might be facing the inevitable for the first time in two decades. It's getting to the point where it's just too much pain and it's just too difficult to get big league hitters out with that velocity."
But that's exactly what he did Sunday against the Dodgers.
The D-backs jumped on top in the first inning, when Paul Goldschmidt hit a solo homer to left off Josh Beckett (4-4).
"He stays within his zone," Dodgers first baseman Adrian Gonzalez said of Goldschmidt. "I think he's a guy that will attack middle-in pitches and stay in there. He's shown the ability to let himself get beat by fastballs away, but if that fastball ends up in the middle or middle-in, he's going to hit it hard. Good hitters do that -- they stay with their approach, and when you throw it in their zone, they take advantage."
Sloppy play by the Dodgers in the seventh allowed the D-backs to expand their 2-1 lead.
With one out in the inning, Montero reached first when he hit a grounder to second. Gonzalez had taken a couple steps to his right and was then too far off the bag to cover. Meanwhile, Beckett did not break off the mound on the play, leaving first base uncovered as Montero was able to reach.
Aaron Hill followed with a line-drive single to left field, and as Matt Kemp waited for the ball to get to him, Montero went from first to third on the play with Hill taking second.
The Dodgers then brought the infield in, but second baseman Dee Gordon let Martin Prado's grounder get under his glove for an error. Two runs scored on the play as the D-backs went up, 4-1.
"Everything that could go wrong, did go wrong," said Beckett, clearly annoyed.
Steve Gilbert is a reporter for MLB.com. Read his blog, Inside the D-backs, and follow him on Twitter @SteveGilbertMLB. This story was not subject to the approval of Major League Baseball or its clubs.