Rosario gets start at first base for Rockies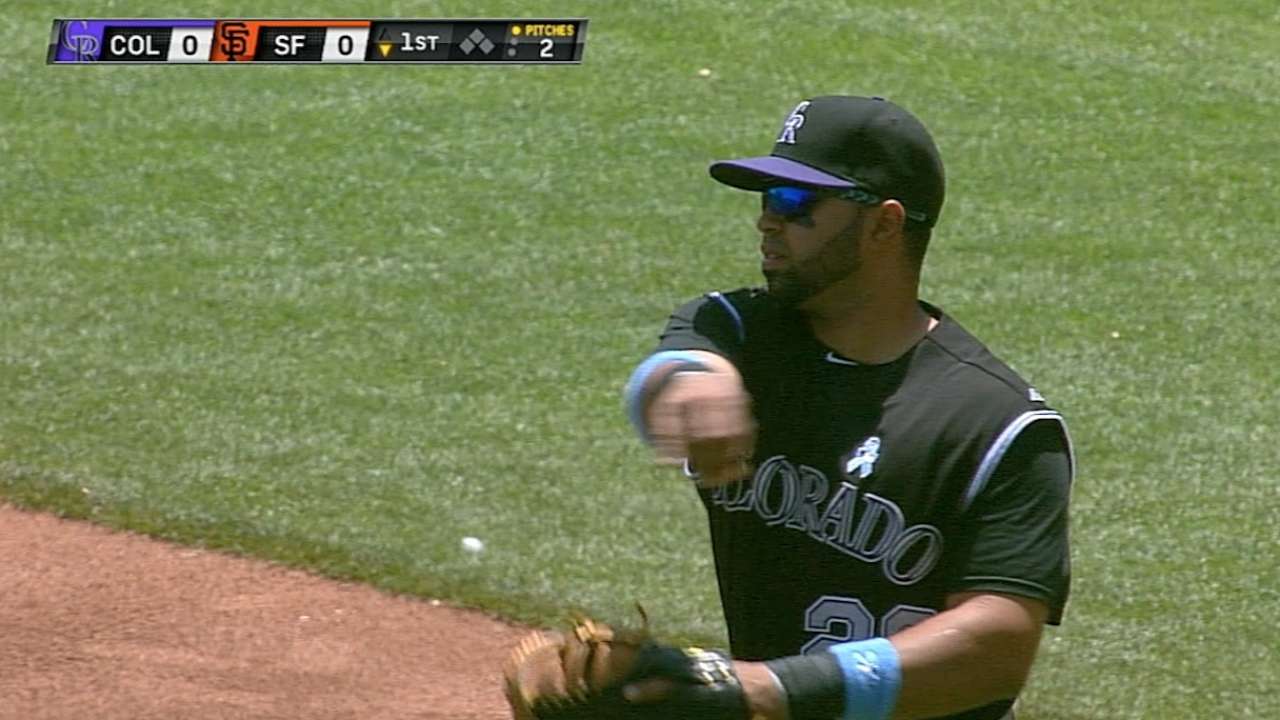 SAN FRANCISCO -- The Rockies rested first baseman Justin Morneau and put Wilin Rosario at first base Sunday for the first time this season to keep his right-handed bat in the lineup while saving some of the wear and tear from his usual catching.
Morneau (.299, 11 homers, 42 RBIs in 65 games) has had heavy usage because Michael Cuddyer, the usual right fielder who often spelled Morneau at first, is out with a fracture in his left shoulder socket. Manager Walt Weiss wanted to load the lineup with right-handed hitters against Giants lefty starter Madison Bumgarner, so he gave Rosario his fifth career start and sixth appearance at first.
Putting Rosario at first base to keep his power bat in the lineup was a frequent offseason discussion, and he played some first in Spring Training. But after the regular season started, the subject didn't come up until around the time Sunday's lineup was posted.
Rosario assured that he had a first baseman's glove in his equipment bag, but "I've got to find it."
Weiss has wanted backup catcher Michael McKenry working with recent callups Christian Bergman and Tyler Matzek, since McKenry worked with them at Triple-A Colorado Springs. As a result, Rosario started just seven of the 12 games going into Sunday. McKenry was 4-for-5 over his last two games, but eventually the Rockies will have Rosario catch the youngsters to make sure his bat isn't out of the lineup long.
"He'll catch the young guys plenty," Weiss said. "With Mac out there, I wanted to make sure they're comfortable in their debuts. But we have two or three young guys that are probably going to be in the rotation, so [Rosario] is going to catch them and catch them a lot."
The Rockies can't lean hard on Rosario at first base. He went into Sunday with three career errors and some generally awkward play at the position.
Thomas Harding is a reporter for MLB.com. Follow him on Twitter @harding_at_mlb. This story was not subject to the approval of Major League Baseball or its clubs.