Missed chances sting Nats in finale vs. Cardinals
Offense strands 10 runners on base; Fister gives up two homers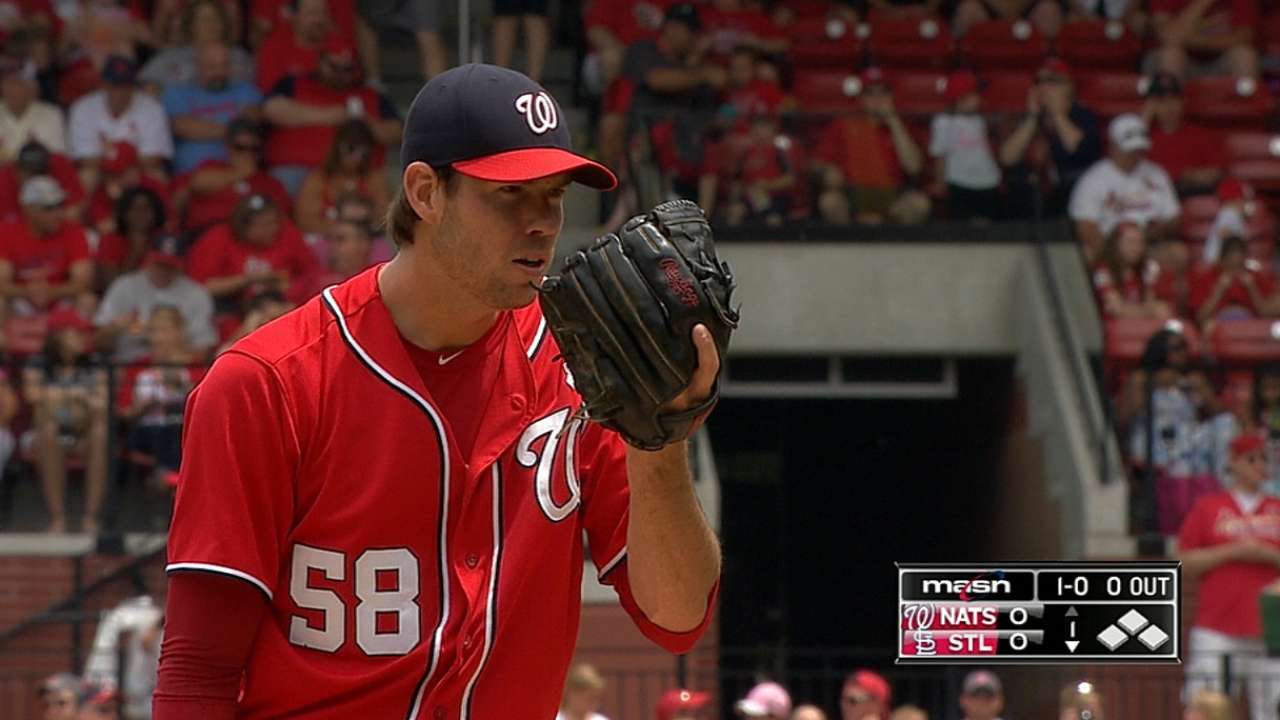 ST. LOUIS -- Washington's woes at Busch Stadium continued on Sunday.
The latest setback featured a sputtering Nationals offense and a power surge by the Cardinals -- who entered the game with just 38 home runs, 29th fewest in the Majors. It added up to a 5-2 loss for the Nationals in front of 45,325.
Washington starter Doug Fister, who had been lights-out of late, struggled in his first career start against the Cardinals. Fister, who entered the game with a 2.68 ERA, gave up four runs -- including two homers -- in six innings to fall to 5-2 and span a personal five-game winning streak.
"Basically it comes down to poor execution," Fister said. "I didn't do my job today. I got to do a lot better when it comes to crucial pitches, and that's essentially what it comes down to. Guys were out there, they were fighting for me, putting together some good at-bats and made a run for me late, and I've got to go out there and execute."
Counting the postseason, the Nationals are now 3-19 at Busch Stadium since 2008. They haven't beaten the Cardinals in St. Louis since Game 1 of the 2012 National League Division Series on Oct. 7, 2012.
"I don't know," manager Matt Williams said of the Cardinals' home dominance over the Nationals. "Again, I don't have that history, but they pitched well. We split with them at home, and they got us here. That's the secret to their team. They do well with guys in scoring position and they've got great starters and a back of a bullpen that can close games out. That's a pretty good formula for success. We had some chances, though. So we have to have a very short memory now, get on the plane, have the off-day and go get the Astros, who are playing well right now too."
Washington couldn't capitalize on an opportunity in the top of the second. Scott Hairston and Ian Desmond singled and Danny Espinosa was hit by a pitch to load the bases with one out. But Sandy Leon grounded into a fielder's choice when Cardinals third baseman Matt Carpenter threw home to get Hairston, and Fister struck out to end the threat.
Matt Adams supplied the power for the third day in a row for the Cards. Adams' 389-foot blast over the right-field wall in the second scored Allen Craig and made it a 2-0 game.
Matt Holliday's solo homer in the third pushed the St. Louis lead to 3-0.
"The home run to Adams, I was trying to put it in the dirt, and obviously that didn't happen," Fister said. "The one to Holliday, I was trying to get a strike and trying to get him to swing at it and get a ground ball. I got too much of the plate, and that's what he does and does well, and he made me pay for it."
Washington finally got on the board in the fifth when Jayson Werth drew a bases-loaded walk, scoring Espinosa to make it 3-1. Espinosa singled, Anthony Rendon walked and Nate McLouth legged out an infield single to set up Werth.
The Cardinals got that run back in the bottom of the fifth after Kolten Wong tripled and scored on a Holliday sacrifice fly.
St. Louis added another in the seventh on a Craig RBI double that scored Holliday off of reliever Ross Detwiler.
Cardinals starter Jaime Garcia went seven strong innings. The left-hander gave up a run on five hits while striking out six. Garcia improved to 3-0.
"We swept this really good Nationals team, they've been playing very good baseball the last couple of weeks, so we knew it was going to be tough," Garcia said. "It's a 'W.' It was a great game. My defense did an unbelievable job behind me and the offense did a great job. It was an overall team win today."
The Nationals tried to stage a two-out rally in the ninth, loading the bases and forcing the Cards to summon closer Trevor Rosenthal, who promptly walked pinch-hitter Adam LaRoche to make it a 5-2 game. But Rosenthal retired Werth to end the game and pick up his 20th save.
"We didn't take advantage of opportunities," Hairston said. "I don't know how many runners we left on base, and that can't happen. Their pitcher was good. He made his pitches, his changeup was on today, he hit his spots for the most part. And whenever we did hit a ball hard, it seemed like it was at somebody. It didn't go our way today."
After a road trip that started with the Nationals winning five of their first six, the team limps back home in the midst of a season-long four-game losing streak.
The offense has scored just four runs during that span. The Nationals stranded 10 runners on Sunday and left the bases loaded three times.
"It's ebbs and flows," Williams said. "It's that time of the year when heavy legs start to set in. The off-day will come at a good time for us. That's the way it goes sometimes. The offense the first two stops on the road trip was pretty good. This stop, it wasn't so good, but we'll regroup and get ready to go."
Joe Harris is a contributor to MLB.com. This story was not subject to the approval of Major League Baseball or its clubs.