Adams' surge continues as Cards sweep Nationals
First baseman homers for third straight game to back strong Garcia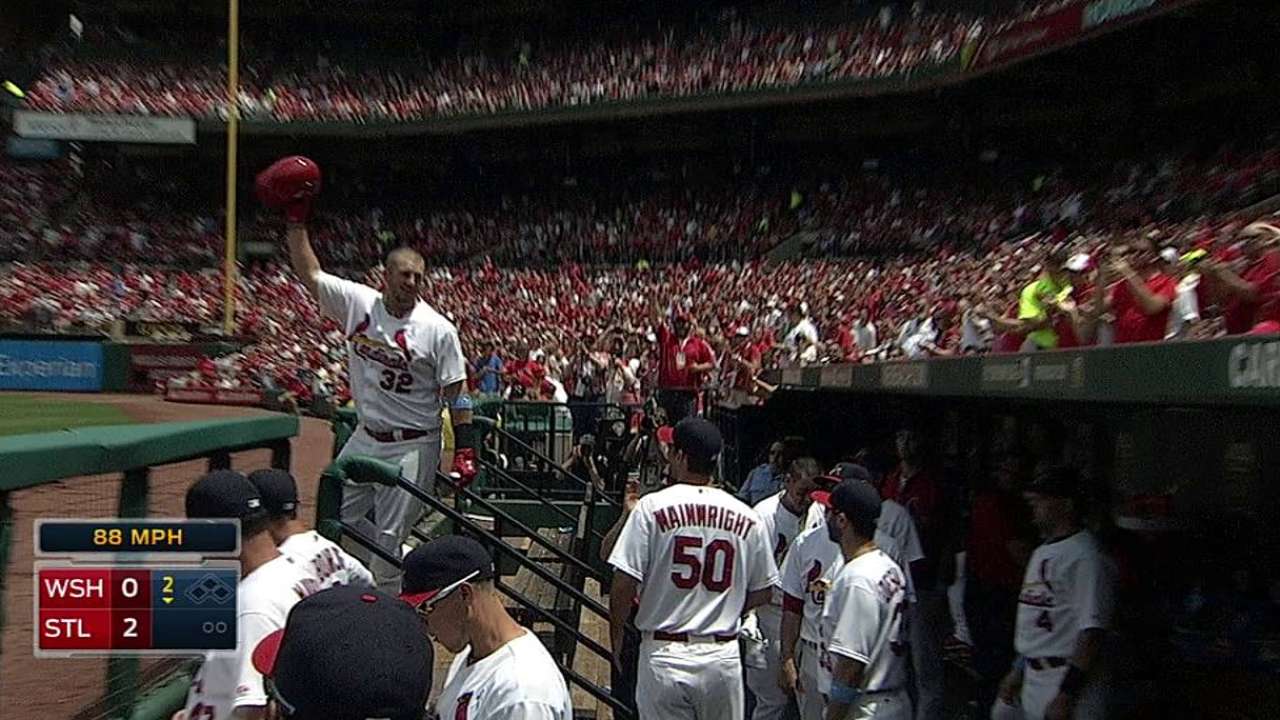 ST. LOUIS -- When Matt Adams was growing up in the small town of Philipsburg, Pa., his father would toss him balls and Adams would use his powerful left-handed swing to hit them.
Time has passed and the venue has changed, but as Jamie Adams watched his son from the Busch Stadium stands Sunday, a Father's Day was perfectly sealed with one of those memorable swings.
Adams' father arrived in St. Louis early for Father's Day on Friday and promptly watched his son provide all of the firepower in a Cardinals' win with a solo home run that Adams called an early gift. A night later, it was yet another solo shot that propelled the Cardinals to a victory -- an encore that brought a text message from his father encouraging him to keep playing hard.
"So we'll see where it goes," Adams said.
Where it went was over the right-field fence for the third time in as many games. Adams' second-inning homer gave the Cardinals an early two-run lead Sunday, and what was described as a team performance helped St. Louis to a three-game sweep of the Nationals with a 5-2 win in front of 45,325 at Busch Stadium.
There was the early gift followed by the text message. With just an hour to spare before his father would depart St. Louis, this time there might be tears.
"He might give me a big hug and start crying," Adams said. "He's an emotional guy."
Adams was activated from the disabled list Friday after missing 13 games with a left calf strain. His home run on the second pitch he saw was one of five combined hits in Friday's game and the lone run in a shutout by the Cardinals. He followed it up Saturday when he hit a 3-1 fastball into the right-field bullpen to give his team a seventh-inning lead.
On Sunday, Adams fell behind 0-2 in the second inning before hitting an 84-mph cutter over the right-field fence. Adams had three homers in his first 194 at-bats before going on the DL. With his father looking on, he doubled that total in his first eight at-bats back.
Adams' three hits, totaling 1,199 feet, all pushed the Cardinals to leads they never surrendered.
"We'll take them any day," Cardinals manager Mike Matheny said. "He just keeps going, he's putting together some good at-bats."
Matt Holliday joined in the action in the third when he hit a first-pitch fastball over the center-field wall to extend the Cardinals' lead to 3-0. The Cardinals, who rank 29th in the Majors in home runs, began making up ground with four during the weekend.
"It's not a surprise -- it's not like guys never hit any homers in their life," Matheny said. "I think everybody just thought we were either brainwashing them not to hit home runs or else they all lost it collectively -- and both of them are ridiculous. These guys are going to hit home runs."
Starter Jaime Garcia, fresh off his best start of the season in which he tossed seven scoreless innings, allowed one run on five hits in seven innings to record his third win in six starts. The outing didn't come without some tension.
After he allowed two one-out singles in the second, Garcia hit Nationals second baseman Danny Espinosa to load the bases. He would induce a grounder to third, which Matt Carpenter quickly fired home for the second out.
"A play like that, you never know exactly what an infielder might do," Matheny said. "That was absolutely the right play, and it came up and got us an opportunity to get to the pitcher. It was a very heads-up move by Matt Carpenter."
Nationals pitcher Doug Fister struck out after Carpenter's play to keep the game scoreless and set up Adams' fireworks.
In the fifth, Garcia would bend, but proved not to break. A leadoff single was followed up with a groundout and strikeout, but that's when trouble arrived.
A walk and a single followed to load the bases for right fielder Jayson Werth. Garcia walked Werth on five pitches to plate the Nationals' first run of the game, but a grounder to third ended the threat. The Nationals stranded 10 baserunners in the loss.
"The goal is to never give in, always continue to make pitches no matter what the situation is behind you," Garcia said. "I was able to do a good job of that. I probably didn't have my best stuff today, but at the same time you go out there and compete."
"We didn't take advantage of opportunities," Nationals left fielder Scott Hairston said. "Whenever we did hit a ball hard, it seemed like it was at somebody. It didn't go our way today."
The Cardinals got the run back in the bottom of the fifth. Kolten Wong tripled to begin the inning, and a sacrifice fly from Holliday -- bringing the veteran within one RBI of 1,000 for his career -- scored Wong. St. Louis added another insurance run in the seventh on a two-out RBI double from Allen Craig, which followed a walk by Holliday.
Jason Motte, Sam Freeman and Trevor Rosenthal came out of the bullpen to seal the sweep, with Rosenthal walking in a run in the ninth before retiring Werth for the final out, leaving the bases loaded.
The Cardinals' pitching staff combined to allow three runs in 27 innings against the Nationals. Washington arrived in St. Louis having won eight of its previous 10 games before the Cardinals swept.
The win nudged St. Louis five games above .500 and within 3 1/2 games of first-place Milwaukee in the National League Central.
It also capped a Father's Day Jamie Adams won't soon forget.
"He's very proud of me, and he likes how I go out and compete and work hard," Adams said. "That's something that he tried to instill in me when I was younger is the work ethic you need to be good at whatever you do. It's definitely paid off, and I thank him for that."
Alex Halsted is an associate reporter for MLB.com. This story was not subject to the approval of Major League Baseball or its clubs.