Burnett's strong start goes unrewarded as Phils fall
Righty gives up three runs in eight innings; Cubs' Wood stifles hitters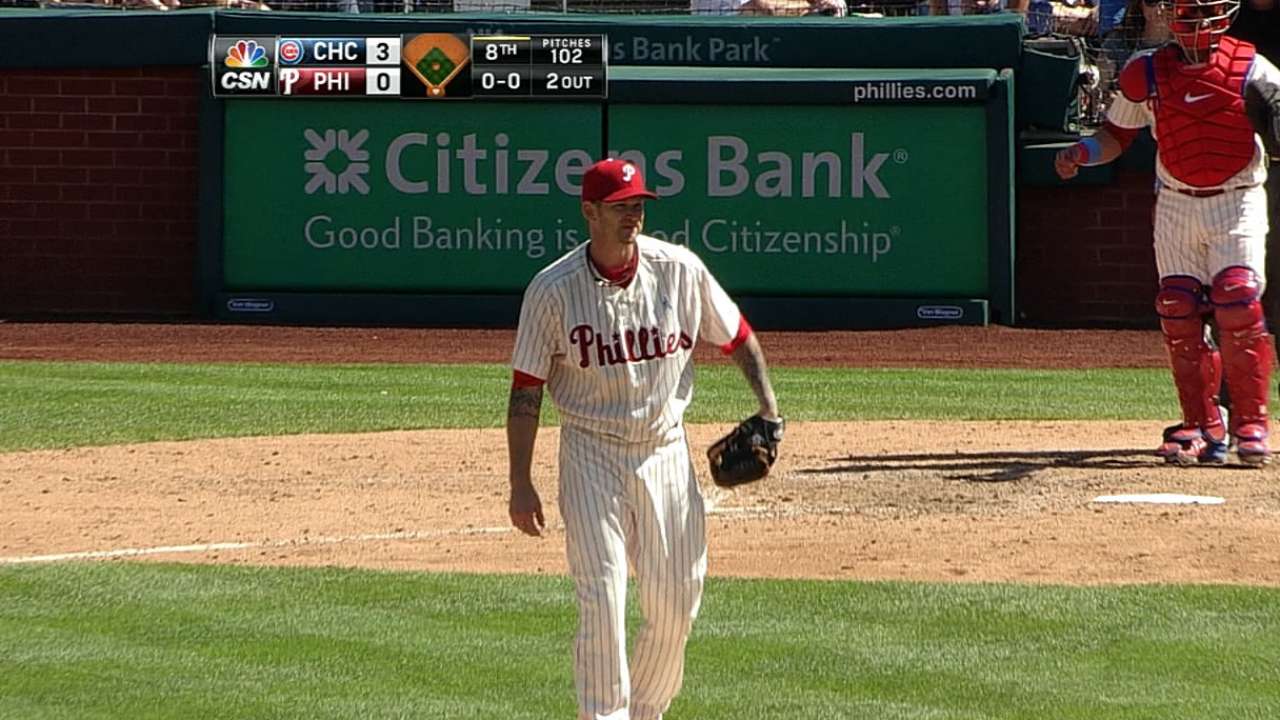 PHILADELPHIA -- Before Sunday's game against the Cubs, the Phillies took time to honor Hall of Fame pitcher Jim Bunning. Bunning came to Philadelphia to celebrate the 50th Anniversary of his no-hitter at Shea Stadium against the Mets on Father's Day in 1964. As a part of the festivities, Bunning took threw the honorary first pitch before the Phillies took to the field.
Actually, the Phillies' hitters made Chicago starter Travis Wood look a little like Bunning, as Wood worked eight innings, the first 5 1/3 without giving up a hit, in the Cubs' 3-0 win at Citizens Bank Park on Sunday afternoon. The left-handed starter allowed a pair of hits in the sixth, but worked out of that jam on the way to his seventh win of the season. Phillies starter A.J. Burnett fell victim to a lackluster Phillies offense, as he dropped to 4-6.
Burnett gave up three runs on eight hits with four strikeouts and no walks in eight innings.
"A.J. pitched a pretty good game, putting up three single-digit innings, single-digit runs," Phillies manager Ryne Sandberg said. "They put a couple hits together, also the solo [home run]. [Rookie reliever Ken] Giles came in and threw the ball real well.
"On the offensive side, we had three hits and three walks for the game. Wood was pitching up in the zone and we were hitting fly balls. We were underneath him the whole game."
In what has been a frustrating season for the Phillies as a whole, the offense has sputtered far too often to think it's a one-time thing. Seven times, the Phillies have been shut out at home, something that hasn't happened in the first 2 1/2 months in any of the 10 seasons that Citizens Bank Park has been open.
"We got three hits and we swung the bats against some pitches," Phillies right fielder Marlon Byrd said. "We had chances with runners in scoring position. Bottom line is we didn't get it done.
"I think every game is critical when you are trying to get back to .500. You don't look at it as a critical point -- we have to start winning games and make it easier. And we're going to face two of the best pitching staffs in baseball [in Atlanta and Miami]. It doesn't get easier. So we have to battle."
On July 10, 2010, Wood, then a Reds starter, carried a perfect game through eight innings against the Phillies, but Carlos Ruiz broke it up with a double in the ninth.
With one out in the sixth, Ben Revere singled to right-center to end Wood's no-hit bid on Sunday. Down 3-0, the Phillies' focus quickly changed to getting a run, and after a single by Jimmy Rollins, they looked close to breaking out, but Chase Utley and Byrd were retired on back-to-back popouts to end the threat.
Meanwhile, Chicago opened the scoring in the first as Anthony Rizzo hit his 14th home run of the season, this on the first offering from Burnett for a 1-0 lead.
"Yeah, that's about it, man," said Burnett, who has allowed five earned runs in his last 15 1/3 innings of work. "Sinker didn't get in early and a couple hooks. Take those couple pitches away, and it's a different ballgame.
"You try to put it away until the end of the game, then it makes you more mad. Guys get on base, that's when I gave them away. Especially with a guy on third, when there's no contact at all, I'd rather the contact. Bury the hook, man."
Two innings later, a single from Justin Ruggiano paved the way to the Cubs' second run. Ruggiano moved to second on a wild pitch and to third on a groundout to first. On that play, Rizzo was originally ruled safe, but the call was overturned on replay. Starlin Castro followed with a single to left, and Ruggiano easily strolled home for a 2-0 lead.
In the sixth, Castro doubled to left, and after he moved to third on a fly ball to right, scored on a double by Nate Schierholtz for a three-run lead before the Phillies picked up their first hit.
"We've just been hot and cold and inconsistent on a string of games on the offensive side of things," Sandberg said. "Everybody's had a chance, everybody has had opportunities, we just haven't been able to put numbers up on the board consistently.
"On the other side of the coin, our pitching has kept us in games, and our bullpen has been outstanding for about a month. On the offensive side of things, it's about picking it up on the offense."
Michael Radano is a contributor to MLB.com. This story was not subject to the approval of Major League Baseball or its clubs.