Iwakuma's brilliance, Seager's bat lift Mariners
Righty allows a run in eight innings; 3B goes 4-for-4 with three RBIs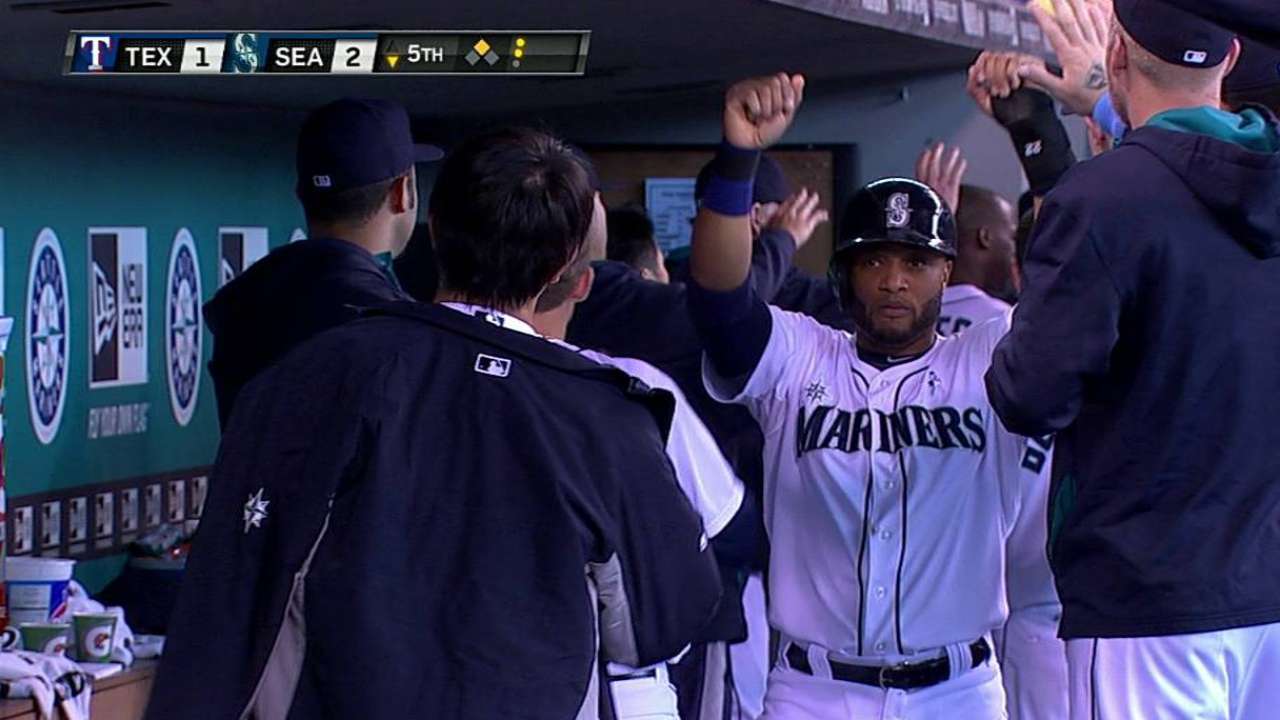 SEATTLE -- Right-hander Hisashi Iwakuma was brilliant for eight innings, third baseman Kyle Seager went 4-for-4 and drove in three runs and the Mariners snapped a five-game losing streak with a 5-1 win over the Rangers in front of 39,196 fans Sunday at Safeco Field.
The victory helped the Mariners improve to 35-34 and avoid a series sweep by Texas.
Seattle grabbed the lead for good when Seager delivered a two-out, two-RBI double down the right-field line off Texas starter Nick Martinez (1-4) in the fifth inning, giving the Mariners a 2-1 edge.
"He probably didn't play one of his best games last night and he came out very determined today and he was big for us," said manager Lloyd McClendon, referring to Seager striking out in his final two at-bats Saturday night.
Seager struck again in the eighth with an RBI double to nearly the identical spot, extending the lead to 3-1. In his last eight games against Texas, Seager is 16-for-32 with three doubles, three homers and 11 RBIs. The four hits tied a career high.
"He doesn't miss much when we face him," Rangers manager Ron Washington said. "The first couple of days I thought we did a good job against him, but today when we made a mistake, he didn't miss it."
Seager had no explanation for why he crushes Rangers pitching.
"It's just one of those things," he said. "That's just the way it lined up, I guess."
From there, the Mariners tacked on as left fielder Dustin Ackley followed with an RBI single. Shortstop Brad Miller's sacrifice fly provided the insurance run that allowed McClendon to avoid using closer Fernando Rodney.
When Rangers first baseman Brad Snyder hit the first home run of his MLB career, staking the Rangers to a 1-0 lead in the second inning, it looked as if the Mariners might drop their sixth straight game to begin the homestand.
But Iwakuma was stellar, scattering six hits and allowing just a run after nearly getting scratched before first pitch because of neck stiffness.
"He had some problems warming up and really wasn't sure if he was going to make his start. It just goes to show you how tough he is," McClendon said. "The trainers actually had to go out to the bullpen and readjust him a little bit and he was able to go out."
The visit loosened Iwakuma's neck and gave him the confidence to pitch. It got better as the game progressed. When asked if it might cause him to miss his next start, he wasn't sure.
"I needed to pitch today," Iwakuma said through translator Antony Suzuki. "I felt responsible after [we] lost five in a row so I wanted to go out there and give it all I had."
The 33-year-old struck out six and didn't walk a batter, improving to 5-3 with a 2.59 ERA. He threw 68 of 106 pitches for strikes and tied a career high by lasting eight innings.
He kept the Mariners around when they stranded runners in scoring position in each of the first four innings.
"We were luring them into a false sense of security," McClendon joked.
Iwakuma slammed the door after Seager delivered in the fifth. He said he'll begin treatment on his neck Monday.
"Hopefully this won't affect [me] down the road," he said.
For a while, the Safeco Field crowd was on edge.
Right fielder Endy Chavez led off the bottom of the first inning with a double. He didn't advance farther than second base.
Seager began the second with a single. He was thrown out trying to steal after catcher Mike Zunino swung and missed a 3-2 pitch. Ackley followed with a double, then utility man Willie Bloomquist hit an infield single, advancing runners to first and third, before Miller popped out to the shortstop to end the frame.
In the fourth, Miller again came to the plate with runners on first and third and two outs but flew out to right fielder Alex Rios.
Despite it, the Mariners finished 5-for-14 with runners in scoring position and collected 13 hits. It helped them move in front of Texas for sole possession of third place in the American League West.
"Last year, we might have packed it in," Ackley, who went 2-for-4, said when asked about ending the losing skid. "This year, we're a different team."
Adam Lewis is an associate reporter for MLB.com. This story was not subject to the approval of Major League Baseball or its clubs.