Worley's strong debut unrewarded in extras
Starter throws seven scoreless, but offense unable to finish off Marlins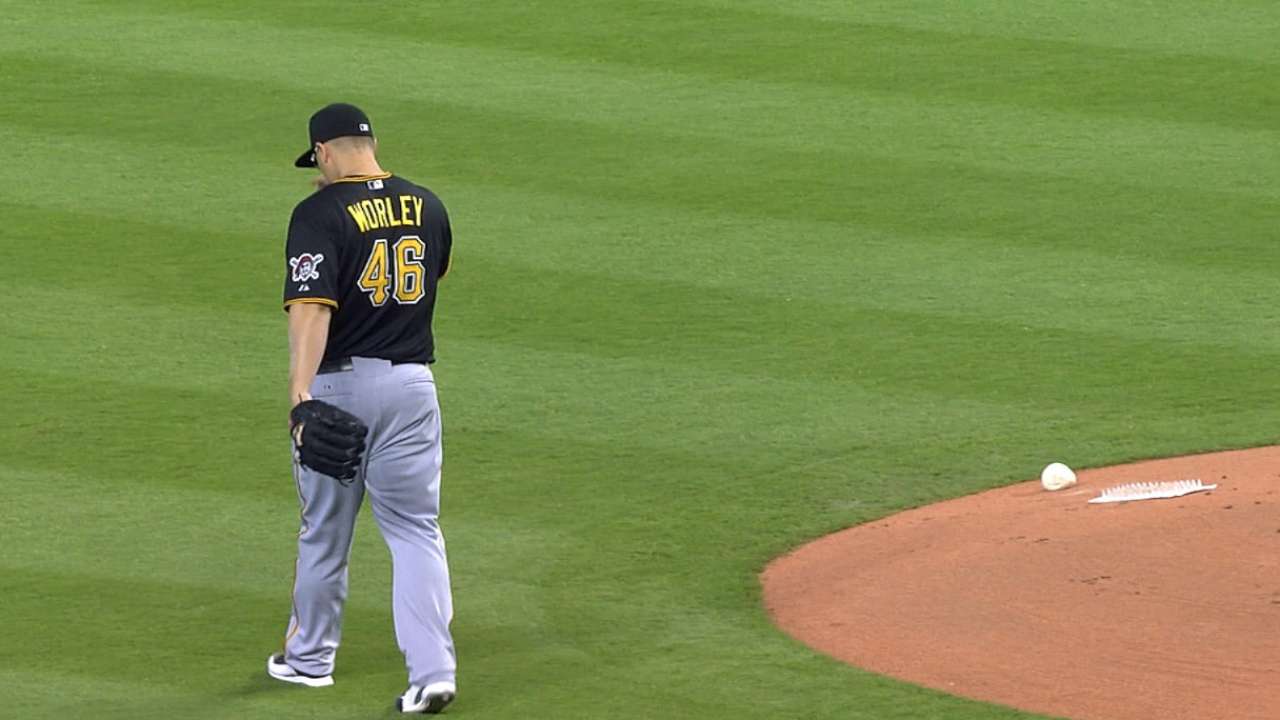 MIAMI -- A flailing bullpen and sacrifice fly by former Pirate Casey McGehee spoiled a successful start by Vance Worley as the Pirates dropped the series finale to Miami, 3-2, in 10 innings at Marlins Park on Sunday.
The late-inning trouble that plagued the Pirates in their first two games against the Marlins reared its head again, although manager Clint Hurdle was quick to say he did not think it was a trend.
"I don't see any common thread other than we didn't shut out the innings, we didn't close the innings off," Hurdle said. "I don't think it's any particular thing that's dripped into each one of the guys where it's happened."
In that final inning, Jared Hughes allowed runners to advance to second and third with McGehee at the plate, an unfortunate situation for the Pirates given that the Marlins third baseman leads the Majors in hits with runners in scoring position (30). Three pitches later, he lifted a 93-mph sinker to right field deep enough to score pinch-runner Ed Lucas.
McGehee was responsible for all three of the Marlins' runs.
Reliever Tony Watson allowed two straight singles to lead off the eighth inning. Both runners came around to score and tie what had been a 2-0 game on a double from McGehee.
"I like relievers to start clean innings," Hurdle said. "Today we didn't defend the first play of the inning. Slow ground ball rolls through, and then a guy hits a ball in the gap."
Before Sunday, Watson had gone 21 straight games without allowing a run, dating back to April 24. He also had not allowed a hit in his past nine appearances.
But after McGehee tied it, Worley's seven scoreless innings went for naught.
Worley dazzled in his debut for the Pirates -- also his first Major League start since May 22, 2013.
Allowing just five hits and striking out five batters on 95 pitches, Worley resembled the pitcher who went 17-12 with a 3.60 ERA for the Phillies from 2011-12. He even said he revisited his old mechanics with Jim Benedict, a special assistant to the general manager who worked with Worley in extended spring training.
"We just watched a little bit of film, threw some bullpens, some extended games and just kind of nitpicked with the mechanics a little bit, mentality and just getting everything back on track," Worley said.
Worley saw the work come to fruition on Sunday. It was his first scoreless start since April 19, 2012, when he beat the Padres, 2-0, in his second full year with the Phillies.
"Everything started coming around for me," Worley said. "Cutters, backdoor sinkers and sinkers in to righties I think were big for me today.
Against the Marlins, Pirates starters combined to toss 22 innings and give up just four runs.
The Pirates' explosive offense took a back seat on Sunday, though, as Pittsburgh ended at six games its streak of 10 or more hits. But that didn't stop the Dream Outfield from putting up a combined five hits.
Gregory Polanco left Miami with four RBIs and nine hits in the series, including his first career homer. He is the first Pirate to get a hit in each of his first six games since Roberto Clemente in 1955.
With two singles of his own, Andrew McCutchen extended his hitting streak to 11 games, tying his season high from last year, and he also produced his eighth straight multihit game.
The Pirates loaded the bases with no outs in front of Russell Martin in the 10th, but he grounded into a double play that erased the lead runner at home. Pittsburgh loaded the bases again following an intentional walk, but Clint Barmes could not produce a run either, striking out to end the frame.
Back in the third inning, Polanco lined to second baseman Rafael Furcal, who knocked it down but was not fast enough to get the throw to first. With Polanco aboard, Starling Marte drove Marlins starter Henderson Alvarez's next pitch into the left-field corner for a double. Polanco ran full speed around the bases and forced a play at home. He beat the throw from Reed Johnson to score the Pirates' first run, with Marte advancing to third on the throw.
The Pirates added a run in the fourth on a single from Josh Harrison. Since his return Saturday from an ankle injury, Harrison has five hits in nine at-bats and an RBI.
Maria Torres is an associate reporter for MLB.com. This story was not subject to the approval of Major League Baseball or its clubs.