Yankees burned by red-hot A's bats in finale
Nuno tagged for pair of three-run jacks early in rubber-game loss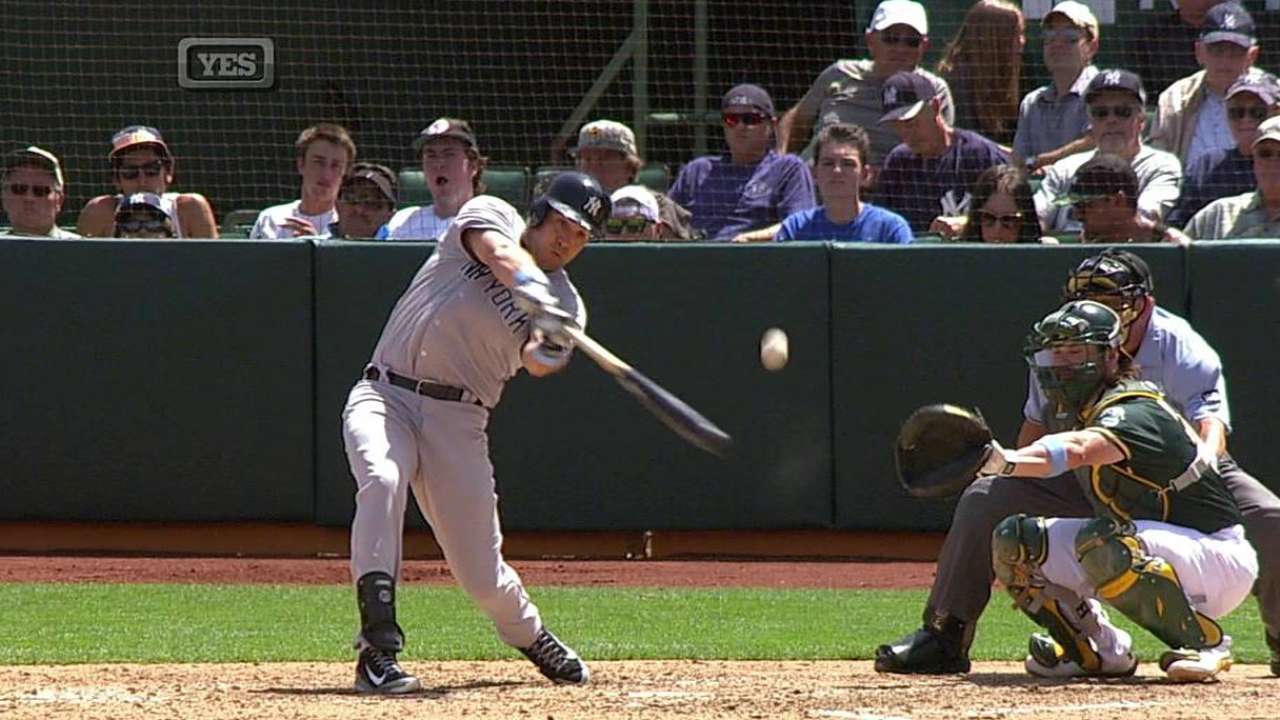 OAKLAND -- Down by 10 runs at the end of the fourth inning, it was time for the Yankees to think about the big picture. Their plane was gassed up and waiting to wing it back home, and no matter how out of hand this one got, their road trip would be guaranteed a winning record.
The conclusion of a three-city, nine-game trip was a memory that the Yankees would rather flush quickly. Derek Norris and Coco Crisp crushed a pair of three-run homers to knock Vidal Nuno out early and the Athletics rolled to a 10-5 victory on Sunday at O.co Coliseum.
"A loss is a loss. I wouldn't call it deflating," said Yankees first baseman Mark Teixeira. "We had a decent trip. We would like to maybe win this series, but that's a very good team over there. Overall, we played pretty well this trip."
After losing two of three in Kansas City to start the road swing, New York swept a three-game series from the Mariners, pushing its win streak to four before losing the last two contests in Oakland to finish 5-4.
"I think if you were to say before you start a road trip that you're going to go to the West Coast and you're going to end up with a positive road trip, you'd say, 'All right,'" manager Joe Girardi said. "But when we were 5-2 and had a chance to have a really good road trip, it kind of stings a little bit."
A patchwork rotation has worked for the Yankees, by and large, but there are days when their lack of depth is apparent. This was one of them: Nuno was charged with a career-high eight runs in three-plus innings and the Yankees lost for the first time in his seven road starts.
Norris and Crisp hit their blasts in the first and second innings, respectively. The A's knocked Nuno out in a four-run fourth inning, and Jose Ramirez was ineffective in relief after Nuno faced the first two batters.
"It was pretty much just not making adjustments," Nuno said. "They got some little hits here and there, and then just the one pitch, just 'bang.' Those two innings, little frustrating, getting not ahead of the count, and they took advantage of it."
In a frightening moment, Ramirez plunked Craig Gentry in the helmet with a breaking ball to force in a run. Gentry stayed in the game, and Yoenis Cespedes stroked a two-run single. Even Josh Donaldson, mired in a career-long 0-for-33 skid, joined the fun with a run-scoring single.
Oakland starter Jesse Chavez cruised to the victory, padded by more than enough run support. Chavez held the Yankees to a run on five hits over six innings, walking none and striking out four.
"It's good to see," A's manager Bob Melvin said. "We haven't been swinging the bats as well as we were earlier, and certainly had the power portion of it, but two big three-run homers today gets you off to a good start."
Honored by the A's in a pregame ceremony before his final regular-season game at the Coliseum, Derek Jeter doubled and scored on a Teixeira double to account for the Yanks' only run off Chavez, then later added a sacrifice fly.
"Today is just one of those games, but I think for the most part we've been playing pretty good as of late," Jeter said. "You want it to continue, you need it to continue, because we're playing some division games."
Carlos Beltran hit a solo homer, his sixth, off reliever Ryan Cook, but his mood was soured when he forgot how many outs there were in the eighth inning. Beltran peeled off toward the first-base dugout and was ruled out by umpire Dan Iassogna in a most unusual double play.
"It's an embarrassing play," Girardi said.
Brett Gardner hit a two-run homer off Jim Johnson in the ninth inning to trim the deficit before Luke Gregerson came in to send the Yanks to the airport.
"It's tough, but it hasn't happened much this year," Teixeira said. "Our pitchers have been so good. Every now and then, you're going to have games like this, and you just take them as they come and go get them the next day."
Bryan Hoch is a reporter for MLB.com. Follow him on Twitter @bryanhoch and read his MLBlog, Bombers Beat. This story was not subject to the approval of Major League Baseball or its clubs.