Matsuzaka exits early with severe upset stomach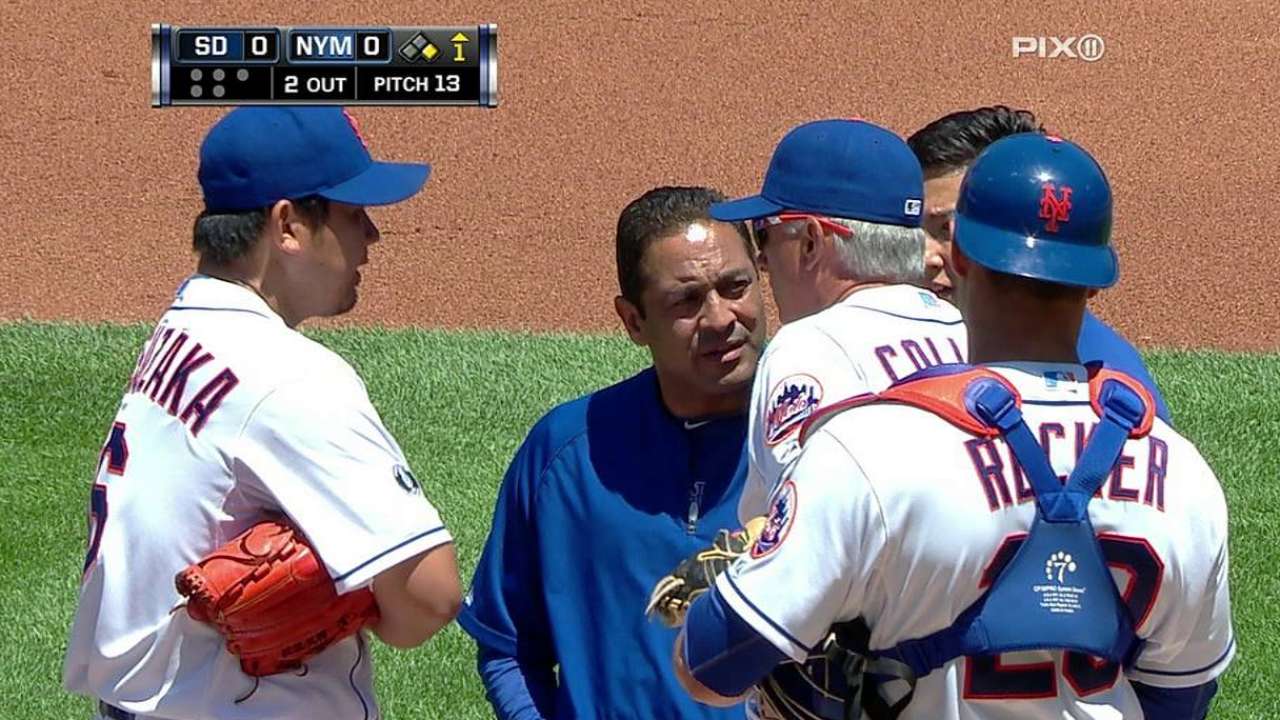 NEW YORK -- With the Mets' bullpen hurting and the team halfway through a stretch of 13 straight games, manager Terry Collins was looking for a lengthy outing from Daisuke Matsuzaka on Sunday. He didn't get it.
The right-hander lasted just one inning before exiting with a severe upset stomach in the Mets' 3-1 win over the Padres. After the second of two walks in a scoreless first inning for Matsuzaka, Collins and a trainer visited the mound. Matsuzaka stayed in the game to retire Chase Headley, but did not return for the second.
"I came to the ballpark today and I had breakfast and started to feel some pain in my stomach, and I just vomited everything out," Matsuzaka said through an interpreter. "I knew I wasn't physically fit to fulfill the starter's role, but I wanted to do as much as I could. That ended up being only one inning."
Matsuzaka explained that he didn't know what made him ill, but he didn't think it was the food since some of his teammates ate it as well.
Collins knew prior to the game Matsuzaka was having issues. He got sick in the clubhouse, then again in the bullpen while warming up. Matsuzaka's first pitch was an 85-mph fastball that was well high and away.
"That wasn't going to work," Collins said.
During the first-inning mound visit, Collins' question was simple: Could he finish the inning?
"He said, 'I have no strength, but I can finish the inning,' Collins relayed. "We had to get him out of there."
Right-hander Carlos Torres took the hill in the second inning in Matsuzaka's place. The Mets entered Sunday's game with a five-man bullpen given that Dana Eveland and Gonzalez Germen were out after throwing two innings apiece on Saturday.
This leaves the Mets short, again, to start their series against the Cardinals on Monday. There are a number of moving pieces on the 25-man roster -- tired relievers, Eric Young, Jr. about ready to return from the disabled list -- and a move is possible.
Another option is Matsuzaka pitching in relief Monday.
"If I'm physically fit to go tomorrow, I'd definitely like to help out the bullpen," Matsuzaka said.
Tim Healey is an associate reporter for MLB.com. This story was not subject to the approval of Major League Baseball or its clubs.