Rendon bumped to leadoff in place of scratched Span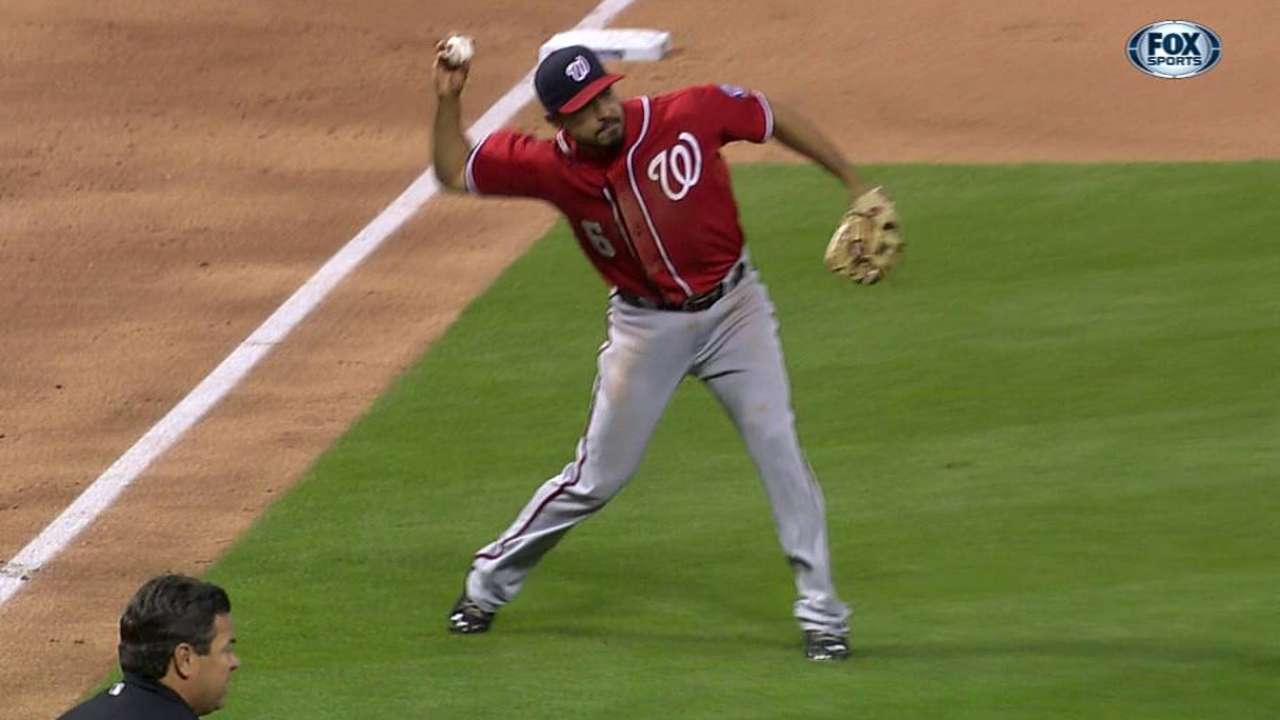 ST. LOUIS -- Third baseman Anthony Rendon has found a home in the two-hole of the Nationals' batting order.
The second-year player has taken at-bats everywhere from leadoff to the eighth spot this season, but he has settled in right behind leadoff hitter Denard Span. However, with Span a late scratch in Sunday's finale vs. the Cardinals due to a stiff back, Rendon was bumped up to leadoff for at least a day. Nate McLouth batted second and played center field.
Entering Sunday, Rendon had hit second in 45 of Washington's 67 games this season, and the Nationals have a 26-19 mark in those games.
"I've been fortunate enough to be here and actually get to stay for good a little while so far," Rendon said Sunday morning. "Just comfort is a big thing and knowing that you're going to be in the lineup and batting in the two-hole."
Rendon has responded with a .267 average, nine home runs, 34 RBIs and 42 runs entering Sunday's action.
Rendon scored Washington's lone run in a 4-1 loss to the Cardinals on Saturday. After singling with one out in the first inning, Rendon scored all the way from first on a Jayson Werth double.
Rendon's versatility makes him an ideal two-hitter.
"I think he's pretty good where he's at," Washington manager Matt Williams said. "He sees a lot of pitches, which contributes to his on-base percentage. He's got the ability to hit the other way, he handles the bat well, he's pretty suited for No. 2. He could lead off if we needed him to lead off. He could probably hit five or six and drive runs in as well, we've seen him do that as well. But I think right now he's a pretty good two-hole hitter.
"He's still pretty young -- last year was his first year, it's not like he's been around 10, but he's handled it fine. He stays on pitches, he hits the breaking ball well, he hits the ball to right field and will move a runner when we need to move a runner, he handles the bat. So it's a pretty good spot for him."
Joe Harris is a contributor to MLB.com. This story was not subject to the approval of Major League Baseball or its clubs.