Mets seek to simplify approach with baserunners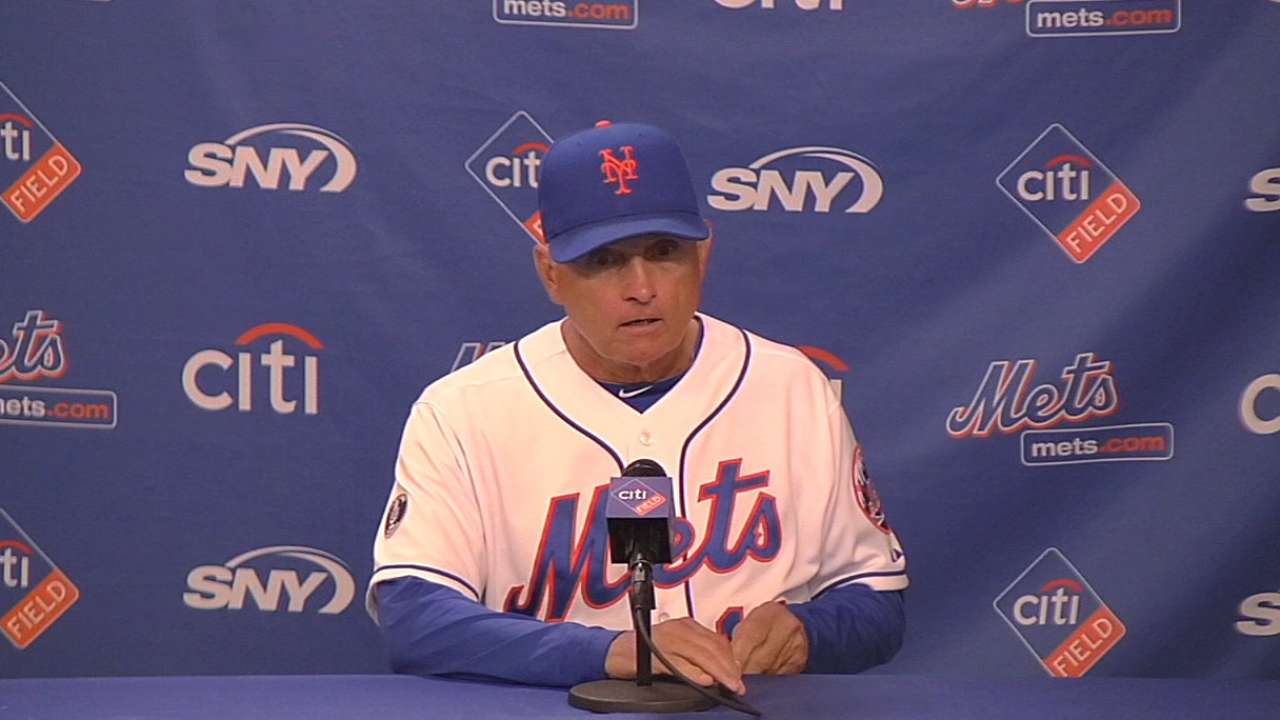 NEW YORK -- The Mets' shortcomings with runners in scoring position is no secret -- as a team, they own a .225/.320/.342 slash line in those situations entering Sunday's series finale -- and it cost them again Saturday. Most notably, Matt den Dekker struck out with the bases loaded in the fourth which squashed New York's best scoring chance.
Although the margin of loss Saturday -- five runs -- was larger than it has been on other occasions, the lesson is clear -- in many instances, one well-timed hit can change the course of the game. That might've been the case Saturday if den Dekker cut into what, at the time, was a four-run deficit, and it certainly would've been the case in many of the Mets' close losses this season.
New York is 8-17 in one-run games. It has suffered only six losses by five or more runs.
So what, exactly, do the coaches want Mets batters to do in those situations? In short, don't try as hard.
Manager Terry Collins explained Saturday that with the bases loaded in particular, his hitters should wait for the ball to get to the plate -- and deeper in the strike zone. This will make them work to all fields.
"That is probably mentally the best approach you can take, in my opinion," Collins said. "Quit worrying about hitting a homer, think about making contact."
It works -- just ask those who have ended up with the best possible outcome in those situations. The Mets have three grand slams this season, one from Ike Davis in April, and two more this month from Wilmer Flores and Taylor Teagarden. In the cases of the Mets still with the team, neither was trying to hit one over the fence at the time of his at-bat.
"[Phillippe Aumont] wasn't throwing strikes," Flores recalled of his June 2 blast against the Phillies. "And I was just trying to get a swing. [With a] 3-1 count, I was just trying to drive a ball.
"Bases loaded, you don't want to get too excited because then you're reaching for the ball and all of a sudden you get a ground ball. Just try to stay calm. You have to try to drive the ball."
Teagarden, who hit his grand slam Tuesday in his first game with the Mets team, had a similar, simple approach.
"I was trying to shorten up and just get a base hit," Teagarden said. "And it was just elevated enough to drive it out to right field."
Tim Healey is an associate reporter for MLB.com. This story was not subject to the approval of Major League Baseball or its clubs.