Fathers spend time with sons on Royals' road trip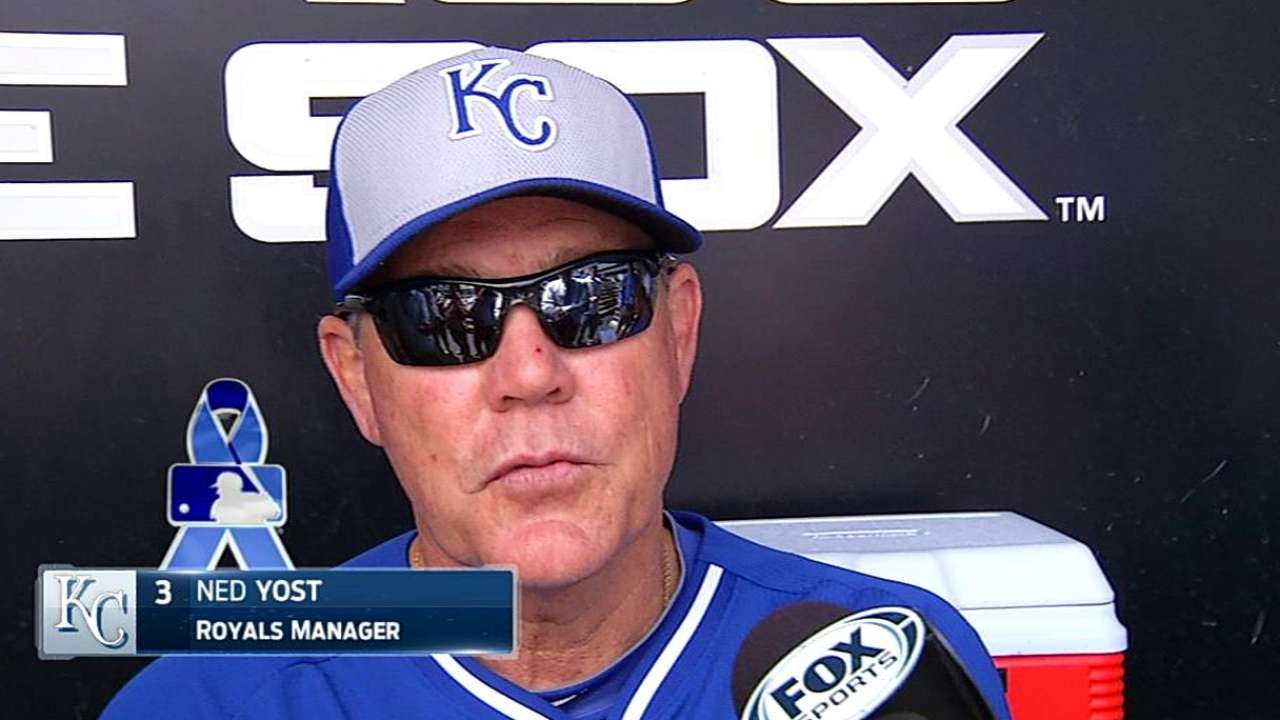 CHICAGO -- Holidays aren't always easy for professional baseball players. They work on Memorial Day and July 4, among others. The grind of the season and lack of consecutive days off can make it tough to maintain a strong family life.
Players also work on Father's Day, another day of celebration during which they might be away from their families. To help rectify that situation, the Royals for the second straight season invited the players' fathers along for the team's road trip that coincides with the holiday. Kansas City's current seven-game road trip culminates with a four-game series in Detroit starting Monday.
"Well, it's a special day and the Royals are such a classy organization," said Royals manager Ned Yost. "It's really neat to see the dads, the pride they have in their sons, and to see the dads that are on this team and the pride that they have in their children. It's just a special day."
One dad along for the trip is Scott Holland, father of All-Star closer Greg Holland. Scott Holland lives in North Carolina, so he doesn't get to see his son much during the season.
"Well, it's amazing that they care that much about the players' families to do something like this," Scott Holland said. "This isn't something easy to set up, and I'm sure it's not inexpensive. We all really appreciate it. It's really nice."
Father's Day had Yost reminiscing about his father, Ned, who was an All-American football player at Santa Rosa Junior College. Yost's cousin, John Woodcock, played six seasons in the NFL. Though he came from a football family, Yost impressed the game of baseball onto his three sons.
"My sons, it was really big," said Yost, whose son, Ned Yost IV, is a Minor League coach in the Brewers system. "I came from a football family ... and they were a lot bigger than I was, so I kind of gravitated toward baseball. And they loved the game and grew up playing the game. It was a special time to be around."
Kansas City designated hitter Billy Butler, a father of two, brought his father, JD Butler. JD said Billy "read him the riot act" for not coming on last year's first annual fathers' trip, so he joined his son today and will stay with the team through the remainder of the road trip.
JD and Billy are somewhat unique in terms of a father-son relationship between baseball player and father. JD explained that their family has always been extremely close, so Billy's parents live a mile from his homes in both Kansas City and Arizona during Spring Training.
"Billy and I, I tell everybody that my wife raised two boys, one was just 35 years old already," JD Butler said. "We've just been two park rats our entire life, and we've managed to keep what I believe to be one of the best father-son relationships that you could ever ask. I've been very fortunate. Billy and I have been really, really close forever."
JD Butler said he also feels like somewhat of a father to many of Billy's teammates. Billy is in his eighth year in the Majors, making him one of the team's seasoned veterans.
"You know, a lot of these kids, I've watched them grow up," JD Butler said. "Billy was up here playing when they drafted half the guys on the squad. Eric [Hosmer], we used to kid that he was too young to shave. ... It's kind of like a family environment for me watching these kids."
Joe Popely is an associate reporter for MLB.com. This story was not subject to the approval of Major League Baseball or its clubs.