Padres place Vincent on DL, call up Boyer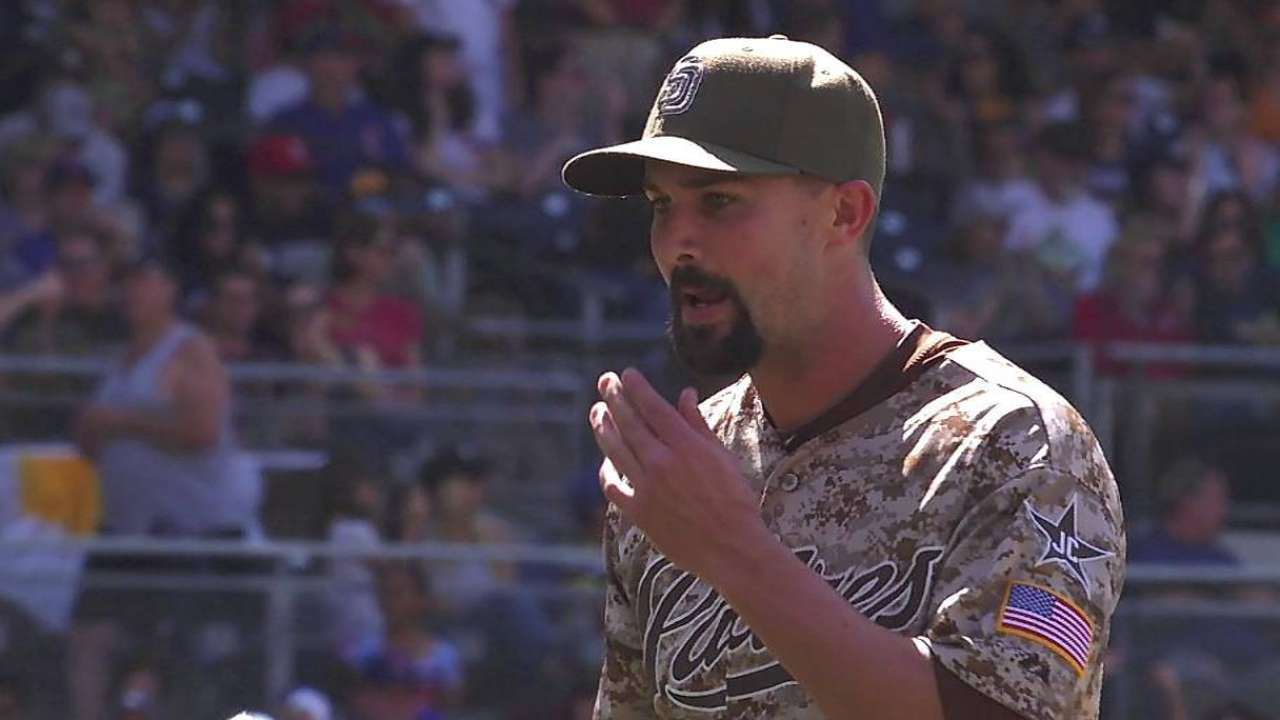 NEW YORK -- Just a day after lefty reliever Troy Patton landed on the 15-day disabled list due to shoulder trouble, another arm in the Padres 'pen joined him Sunday.
San Diego placed righty Nick Vincent on the 15-day DL retroactive to June 12 because of right shoulder fatigue and selected righty Blaine Boyer from Triple-A to replace him on the roster.
Before he suffered the injury, Vincent had struggled in his last few outings, allowing three runs in back to back starts against the Nationals and Phillies, raising his ERA to 5.67.
"The last couple games have been a little bit of a road bump for him," said manager Bud Black. "The strength in his shoulder was decreasing to the point that it probably wasn't going to subside in a few days. I think the logical thing to do was put him on the DL and take a little step back here, let his shoulder rest, and hopefully in two weeks he'll bounce back and be ready to pitch."
As for when the injury may have occurred, Black didn't speculate, but again, as he indicated with Patton, Black alluded to a reliever's perpetual state of soreness.
"Players are nicked up, banged up, sore," he said. "A lot of the time, in a pitcher's case, you pitch through a little soreness, you pitch through some discomfort. And at times it gets better. It's variable how your arm feels from week to week, month to month.
"No player makes excuses and Nick's one of those guys who won't be [making them]."
Boyer has pitched well enough to earn a spot on the roster in Vincent's absence. The veteran righty is 1-2 with a 3.10 ERA in 25 appearances for Triple-A El Paso. He will arrive at the start of Sunday's game and will be available for Black if needed.
"He was one of our better pitchers on our Triple-A staff," said Black. "He was throwing the ball well compared to the other guys we were looking at ... just based on his work over the last two or three weeks."
As a whole, Black's been happy with the depth he's seen with his relievers in the farm system, but knows their performances can ebb and flow over the course of a few seasons.
"On the reliever side, that can vary from year to year, but presently, we're happy with where we are," he said. "It's a good thing that Huston [Street] and Joaquin [Benoit] have done their thing, and Dale [Thayer] has been steady and Alex Torres has statistically done a good job. Relievers can show times when they're extremely hot and might be able to come from nowhere."
Jake Kring-Schreifels is an associate reporter for MLB.com. This story was not subject to the approval of Major League Baseball or its clubs.