Estrada allows three homers in loss to Reds
Major League-leading total rises to 23; Lucroy homers in fifth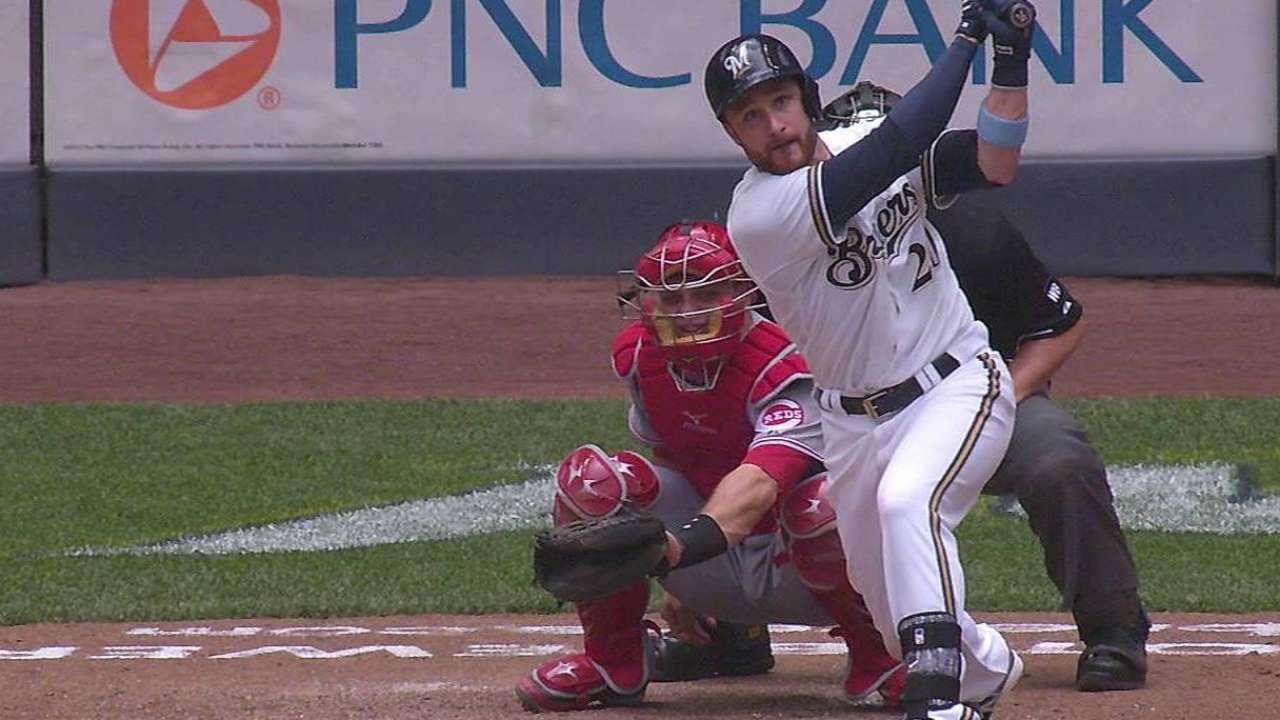 MILWAUKEE -- Marco Estrada's recent starts have been marred by two problems: a lack of control and a tendency to give up home runs. He shored the first one up in his appearance on Sunday, but he still couldn't keep the ball in the park, and it cost the Brewers the rubber match against division rival Cincinnati.
Estrada allowed three home runs -- one solo shot and a pair of two-run home runs -- in his five-inning start, putting the Brewers in an early deficit that they would never overcome in a 13-4 loss to the Reds at Miller Park.
The loss snapped a streak of seven straight series that the Brewers had either won or split and reduced their lead in the National League Central to 3 1/2 games. The Brewers are now 2-5 against the fourth-place Reds this season.
"He got a couple offspeed pitches up in the zone," Brewers manager Ron Roenicke said of the home runs. "It's confidence. When you're confident, the ball gets to spots better, it's got more life on it. I still thought he was confident coming into the game, but after that first inning, it's tough."
Two of Cincinnati's long balls came in that opening frame. Billy Hamilton led off with a home run and Brandon Phillips hit a two-run blast three batters later. After Milwaukee rallied to tie the game at 3 in the fourth, Estrada gave up another homer in the fifth, a two-run shot by Todd Frazier.
"[His problem is] command, which is confidence, usually. I think everything else is fine," Roenicke said. "He is [attacking the zone] at times, he's just leaving some pitches up. When he's good, his breaking ball is down. He got hurt with a curveball up to Hamilton. He got hurt with a changeup up to Phillips. When he's good, those two pitches are down."
Estrada only lasted five innings, giving up five runs on eight hits, with all five runs coming on the three homers. He didn't walk anybody, but played with fire the entire game. Of the 15 outs he recorded, 11 were fly balls. Only one out came on the ground.
The home runs continue a season-long trend for Estrada, who has allowed at least one in 12 of his 13 starts. He leads the Majors with 23 home runs allowed, seven more than any other pitcher, and his 2.46 home runs per nine innings is also the worst in the Majors. Of the 45 earned runs he has allowed, 35 have come on home runs.
Despite the poor result on Sunday, Estrada was optimistic after the game. He acknowledged that he had dealt with some mental struggles about a month ago, but said he felt much better in this start.
"I went out there, I was trying too hard. Way too hard," Estrada said. "Mentally, I felt great. I've been dealing with some stuff, but it's all done with now. I feel much better. Mentally, I felt great. Physically, I felt great. I think I really just tried way too hard. I was rushing stuff, leaving balls up, got hit around."
If Estrada makes all his starts, he's on pace to break the club record of 39 home runs allowed, set by Braden Looper in 2009, as well as the Major League record of 50, set by Bert Blyleven in 1986. Prior to this year, Estrada had never allowed more than 19 home runs in a season.
Despite his struggles, Roenicke said he was not considering removing Estrada from the rotation.
"We'll stay with it and talk about it and see if we can get him straightened out," Roenicke said. "Right now, I haven't had that discussion with [general manager] Doug [Melvin]."
When asked why he was hesitant to call up Jimmy Nelson, who has a 7-1 record at Triple-A Nashville, Roenicke responded: "Next start's in Colorado."
Estrada exited the game with a one-run deficit, but things got worse from there, as the Brewers bullpen allowed eight runs over the game's final two innings. Rob Wooten took the worst of it, allowing five runs on six hits without recording an out.
Cincinnati's 19 hits were the most by any Brewers opponent this season.
"We didn't pitch well," Roenicke said. "[Brandon] Kintzler threw the ball well and [Tom] Gorzelanny threw the ball well. Other than that, we struggled. Wooten's outing, they didn't square up one ball against Wooten, and he still gave up three runs [before] he came out with the bases loaded. They hit the ball well. I'm not saying that. But things didn't go right on the mound for us."
The Brewers' 10 hits -- including Jonathan Lucroy's sixth home run of the season and two hits by Carlos Gomez, who extended his on-base streak to 30 games -- yielded only four runs, and it wasn't enough to cover Estrada's mistakes.
After the poor outing, Estrada had already moved on to his next start.
"Things are going to get better," Estrada said. "I don't know if anybody believes it or not, but I believe it. I know the team believes in me. I'm not this guy, the guy that's pitching the way he is right now. I'm a different pitcher. I'm a much better pitcher, and things are going to change. I really feel in my heart that this next outing could be it."
Caitlin Swieca is an associate reporter for MLB.com. This story was not subject to the approval of Major League Baseball or its clubs.