Reds' offense erupts in series win vs. Crew
Hamilton, Phillips, Frazier homers part of season-high 13 runs, 19 hits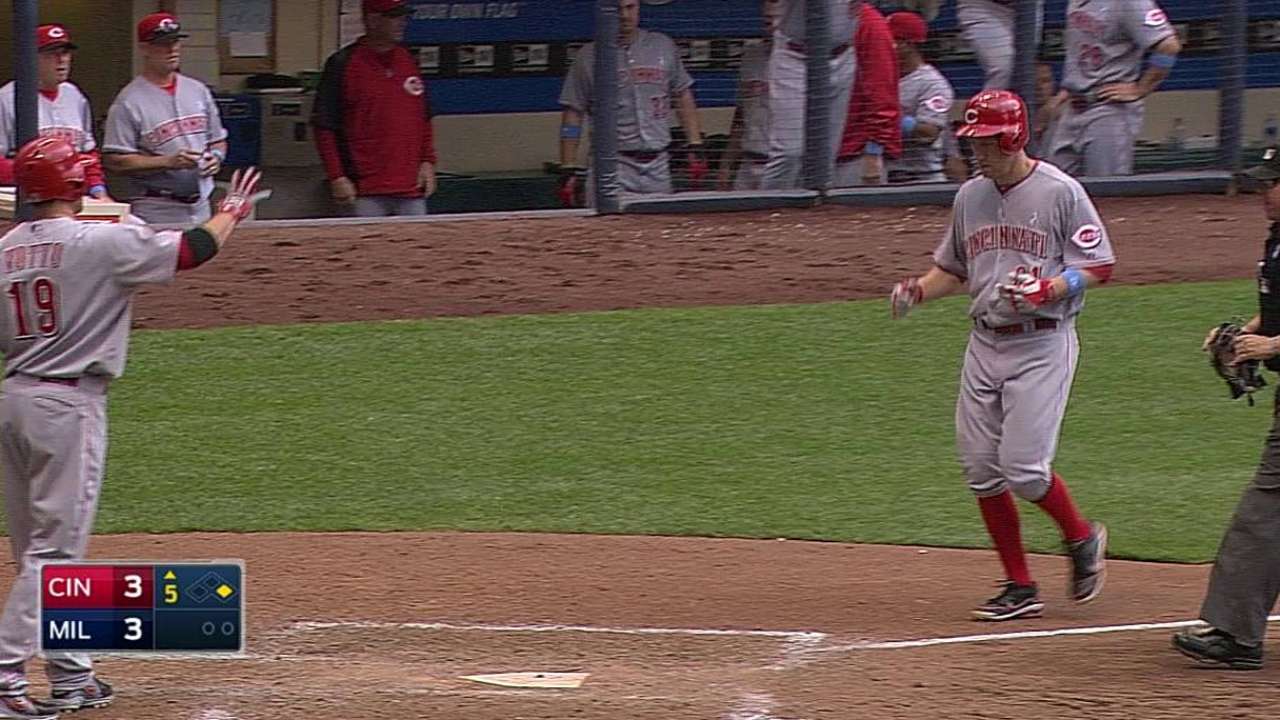 MILWAUKEE -- In a game they needed to win over the Brewers to get a series victory that was pretty paramount, the Reds didn't wait around for one guy to pick them up and carry the load.
Sunday's 13-4 pounding of Milwaukee at Miller Park showed what a Reds offense with all of its components is capable of doing. Besides achieving season highs for both runs and the 19 hits in this game, all eight position players had at least one hit and six players had at least two. Ten different players scored a run.
There was only one walk for the Reds lineup, from Joey Votto in the eighth, and even that produced a run, since the bases were loaded.
"I thought it was great," said third baseman Todd Frazier, who had a team-high four RBIs and a two-run homer that snapped a 3-3 tie in the fifth. "We know we can do it. We haven't really been doing it a lot. We haven't been clicking on all cylinders. Today shows us we can do those types of things. It goes to show we're a good-hitting ballclub and we can get those series wins. It was nice."
First-place Milwaukee still has a seven-game advantage over the Reds in the National League Central.
"It was important. To lose three, of course, would have taken us from eight back to 11," said Reds manager Bryan Price, whose club is 5-2 vs. the Brewers this season. "That wouldn't be insurmountable, but it would put us really in a pretty drastic situation in the middle of June. It was definitely big. We peeled off one game. We're establishing the fact we play this team well."
Cincinnati had a 5-4 lead after seven innings, but scored five runs in the eighth and three more in the ninth to put the game away. Besides Frazier, the other big producer was Ryan Ludwick with four hits -- including three doubles. It was also the club's largest margin of victory this season.
The late scoring took away the doubt and drama experienced in the first two games. The Reds blew a lead on Friday before winning and lost a tough one on Saturday with four runs allowed after the sixth inning.
"That was prolific. No one could expect to have that type of offensive game on a regular basis," Price said. "If we can bridge some of that -- take some of what happened here, especially in Games 1 and 3, and take that to Pittsburgh [for the next series]."
It was ample run support for Reds starter Mike Leake, who didn't have a sharp game again as he pitched five innings for the win, allowing four earned runs, nine hits, three walks and three strikeouts.
Not to be overlooked was the work of the bullpen. Following two rough nights for Reds relievers, the combo of Manny Parra, Sam LeCure and Tony Cingrani combined for four scoreless innings.
"It was our relievers and our offense did a great job today," said Leake, who has allowed 14 runs in 15 1/3 innings over his last three starts. "I did what I could, but the offense really came out today."
Facing Marco Estrada, the Major League leader in home runs allowed, the Reds pounced for a 3-0 lead in the first inning. Billy Hamilton started the game by hitting a 1-2 pitch for a homer to right field, giving him long balls on consecutive at-bats after one Saturday, and four overall. Votto hit a one-out single, then Brandon Phillips connected for his fifth homer, a two-run shot to left-center field.
Leake gave up three two-out runs in the fourth with Estrada's bases-loaded roller up the middle scoring Milwaukee's first run. Scooter Gennett's two-run double to left field made it a 3-3 game.
Hamilton led off the Reds' fifth with a single to right field and Frazier followed by jumping on a 0-1 pitch. His drive had a low trajectory and cleared the left-center-field wall quickly for the go-ahead two-run homer, his team-leading 15th.
"When we went up 3-0 early, we knew we had to get some more," Frazier said. "When we play here, there's always something that goes on. It was a full moon on Friday the 13th. They came back and beat us yesterday. We knew it was going to be a battle. Luckily for us, we got on top late in the game."
The big rally came in the eighth against reliever Rob Wooten, who gave up six singles and five runs without retiring a batter. It included bases-loaded singles by pinch-hitter Skip Schumaker and Hamilton. There were three more runs added in the ninth as the Reds won for the fourth time in the last five games.
"It's a big series, it's a big win," LeCure said. "We just need to keep continue to put the pedal to the metal and when we smell blood, step on somebody's throat."
Mark Sheldon is a reporter for MLB.com. Read his blog, Mark My Word, and follow him on Twitter @m_sheldon. This story was not subject to the approval of Major League Baseball or its clubs.