Happ solid as Toronto's offense awakens
Blue Jays extend AL East lead over rival Orioles with win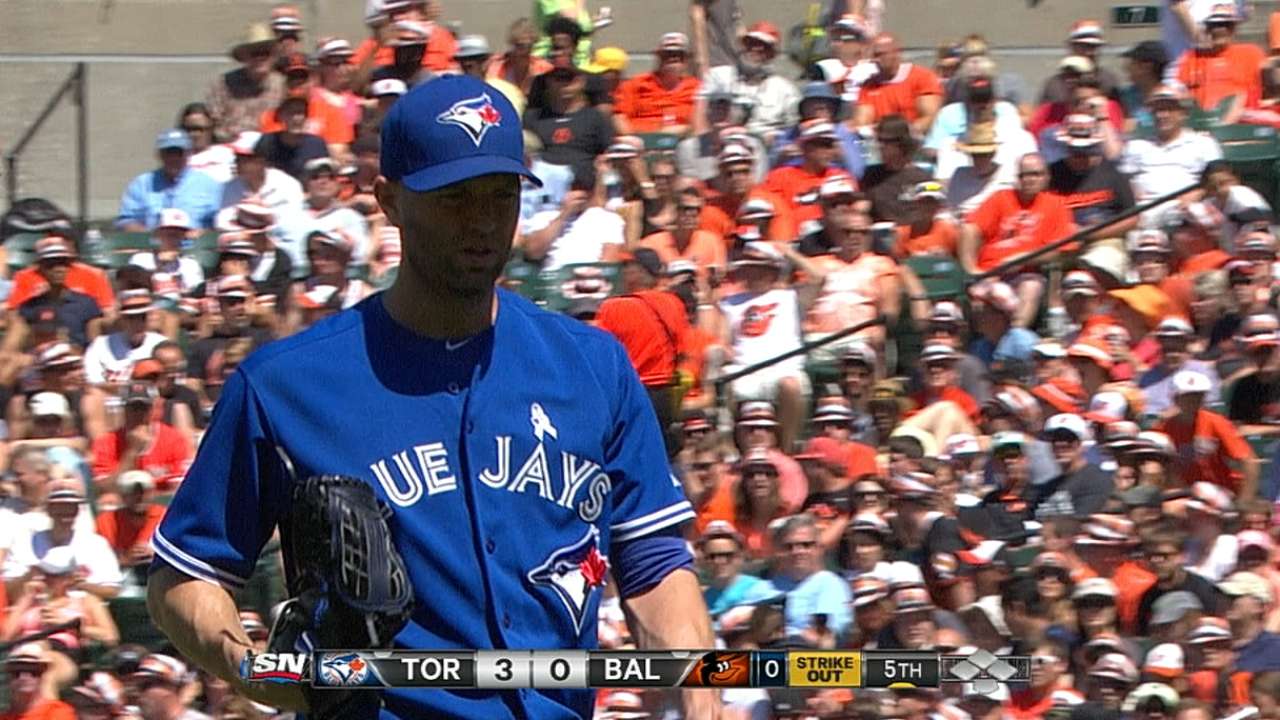 BALTIMORE -- Blue Jays manager John Gibbons sees some similarities between his team and the Orioles. They both swing the bats well and aren't known for their pitching.
So it was fitting that two of the top teams in the American League East would battle to a split at Oriole Park at Camden Yards this weekend. The Blue Jays' goal is always to win the series, but winning 5-2 with No. 5 starter J.A. Happ on the mound to salvage a split in front of 46,469 on Sunday made for a successful four-game set.
"Today was a big game for us," Gibbons said. "We came to life a little bit and Happ was outstanding. He really was. He gave us what we needed, just like he was the other night. He gave us a chance to win."
For just the third time in nine games, Toronto scored at least three runs. But for the third straight day, the Blue Jays struck first.
Jose Reyes wasted no time getting Toronto out ahead. The shortstop led off the game with a single against O's starting pitcher Chris Tillman. Melky Cabrera moved him over with a groundout and Jose Bautista sent Reyes home with a double to the gap in right-centre field.
Before the series with Baltimore began, the Blue Jays had dropped four of five, and during all four losses the opponent scored first. Toronto leads the Major Leagues with 30 wins when scoring first.
"We battled really good at the plate," Gibbons said. "We had some good at-bats, made some things happen."
Happ allowed one run in six-plus innings on Sunday in what he described as one of his best performances of the year. The lefty struck out six, and used two of those to work out of his only serious jam in the third inning.
With runners on second and third with one out, Happ threw four straight fastballs to end an at-bat with a strikeout against O's outfielder Nick Markakis, and then fanned third baseman Manny Machado on three pitches to escape the inning.
"It was huge, trying to limit damage and make good pitches," Happ said. "Once you get two strikes, you're trying to make a big pitch there, and fortunately I was able to and we got out of there."
It was one of the Orioles' few good opportunities on Sunday to try to pick up a game in the standings. Baltimore plated one against Happ in the sixth inning and added another on a solo home run by Adam Jones against Toronto's bullpen, but by then the Blue Jays had started to pull away.
In the fourth inning, catcher Dioner Navarro blooped a single to left field for Toronto's second run of the game. In the eighth, after Bautista was thrown out at home on a ground ball, Navarro dropped a double -- "Those were line drives," he joked -- between the first baseman and right fielder to ignite a two-run frame and put the O's out of reach.
"Those were beautiful hits and they got the job done," Bautista said. "You've got to hit them where there's nobody playing defense."
Those were some of the breaks that Toronto didn't get when its offense cooled. Sunday, though, proved that the Blue Jays could manufacture runs. Entering the day they were just 6-13 in games without a home run.
Toronto's win on Sunday also runs the season series to an even 5-5 -- and it's fitting for two teams that seem poised to battle until the end.
"They're a really good team and there's no secret why they're there," Orioles manager Buck Showalter said.
The Blue Jays didn't gain any ground with the weekend, but they still remain 4 1/2 games ahead of Baltimore.
It's only June, but Gibbons has seen enough of the O's to agree with Showalter. Along with the Yankees, these two teams should make the AL East race interesting all season long.
Said Gibbons: "I think this thing is going to stay bunched up until the end."
David Wilson is an associate reporter for MLB.com. This story was not subject to the approval of Major League Baseball or its clubs.