Red Sox miss late chance, fall to Tribe in 11
Holt can't deliver hit in ninth; Workman sharp before Tazawa falters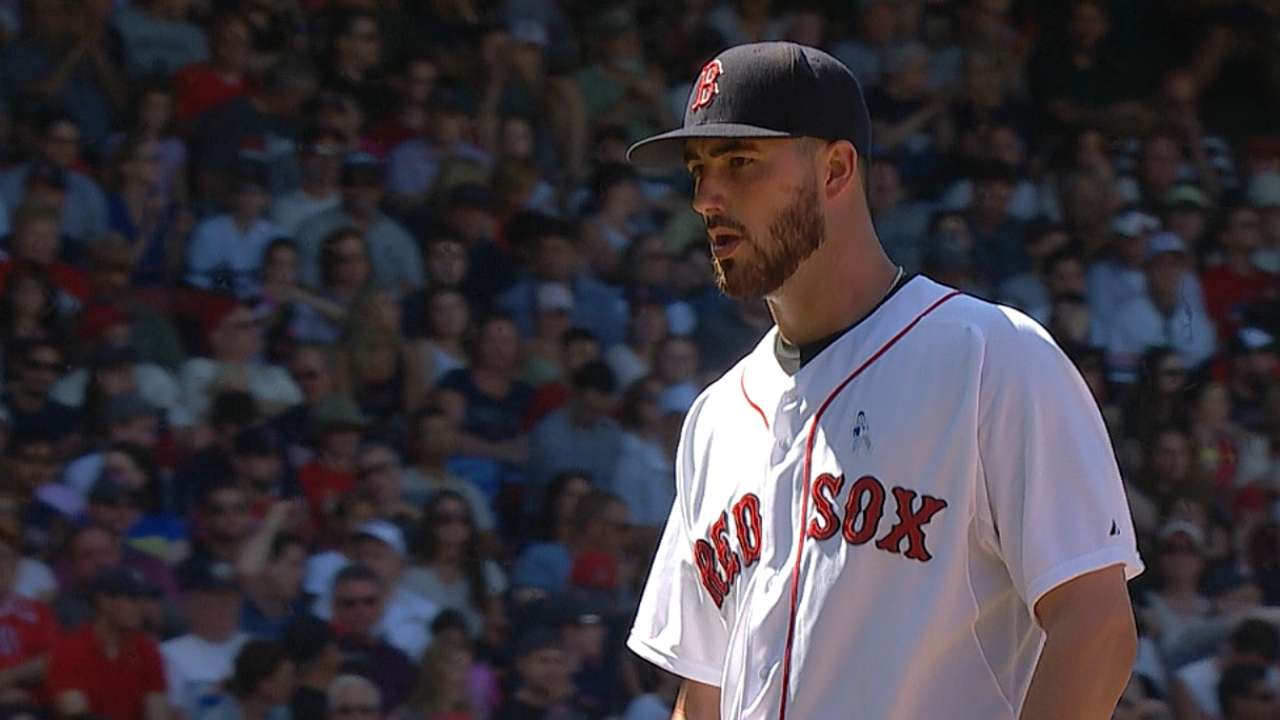 BOSTON --- With the bases loaded and two outs in the bottom of the ninth of a tie game, Brock Holt felt more than comfortable at the plate.
The 5-foot-10 lefty has been swinging a red-hot bat, and if anyone were going to help the Red Sox finally cash in on an opportunity with men on base, nobody in the team's clubhouse would be surprised it came from him.
But Indians reliever Scott Atchison got Holt to ground out to second, and two innings later, Cleveland's Nick Swisher laced a homer just inside the right-field foul pole off Junichi Tazawa. Indians closer Cody Allen shut the door in the 11th after pitching a scoreless 10th as the Red Sox fell, 3-2. Cleveland took the final two of the four-game set by the same score to salvage a split as Boston's went quiet again.
"We're getting guys on, but we're not getting them in," said Holt, who is batting .343 since assuming the leadoff role May 23. "We'll get there eventually. Someone's going to come up and we're going to get big hit after big hit."
Boston's offense broke out for 15 runs in the first two games of the series, but faltered in the final two. They went 1-for-15 with runners in scoring position while leaving 15 men on base Saturday and Sunday. The Sox entered Sunday with the fourth-worst average with RISP in the American League.
But with just one hit in a big situation Sunday, that could have been temporarily forgotten. John Axford walked three batters in the ninth to load the bases for Holt before Atchison came on and finished the inning.
"He was able to throw some pitches inside to get me cheating in there a little," Holt said. "Then he throws a backdoor cutter that I kind of rolled over."
Andrew Miller dealt a scoreless eighth for Boston. Koji Uehara and Craig Breslow did the same in the ninth and 10th. Uehara hasn't surrendered a run in his last 20 innings, a mark that dates back to May 1.
But Tazawa misfired on a 2-1 fastball to Swisher and got tagged with the loss, allowing the go-ahead run for the second straight day. The reliable righty walked Carlos Santana with the bases loaded and the game knotted at 2 in the seventh Saturday.
"[Swisher] obviously has that capability, but we're challenging him given his four previous at-bats on the day and maybe some of the inconsistencies he's had during the season," Red Sox manager John Farrell said. "And we got beat on it."
In six-plus innings, Brandon Workman allowed two runs on five hits while striking out a season-high seven and walking a pair. He exited with runners on the corners and no outs in the seventh before a Yan Gomes sacrifice fly off Burke Badenhop tied the game at 2.
Workman is appealing a six-game suspension he received for throwing at Evan Longoria two weeks ago, and turned in his second strong start while he awaits a ruling, which could come Monday. He allowed one hit and one walk in 6 2/3 scoreless innings against the Orioles on Tuesday and came out after only 67 pitches because of two rain delays. However, with Felix Dobrount and Clay Buchholz rehabbing in Triple-A Pawtucket, Workman may move back to the bullpen in the in the coming weeks.
The righty kept Cleveland's offense, loaded with eight lefties, at bay all afternoon by mixing his curveball and cutter effectively early in counts.
"That makes my fastball a little more effective," Workman said, "because they can't sit on it."
"He's growing. He feels more comfortable throwing his curveball and he throws it in bigger situations,"catcher A.J. Pierzynski said. "He can bounce it, he can throw it for a strike, move it around and change speeds on you. So it's nice if you have more than one weapon to get guys out with."
The Red Sox took the lead in the fifth for Workman. Holt's single moved Jackie Bradley Jr. from first to third. With one out, Dustin Pedroia hit a hard ground ball to short, but beat the throw to first from Asdrubal Cabrera to avoid the double play and score Bradley.
Michael Brantley ripped a solo homer to right in the first, but David Ortiz got things level with an RBI single off the top of the Green Monster in the bottom of that frame.
Tribe starter Corey Kluber allowed five hits, four walks and two earned runs with four strikeouts over 5 1/3 innings. Cleveland's bullpen allowed one hit and three walks over 5 2/3 innings.
The Indians' offense didn't fare much better than Boston's in the final two games of the series in key spots, going 0-for-16 with runners in scoring position while stranding 23 runners.
"Fortunately, we played and we played clean, for the most part," manager Terry Francona said. "We gave ourselves a chance to win and that's a difficult game to win. But, we found a way to win it."
Steven Petrella is an associate reporter for MLB.com. This story was not subject to the approval of Major League Baseball or its clubs.