Padres offense falters against Mets' bullpen
Kennedy gives solid effort, allows three runs over 5 1/3 innings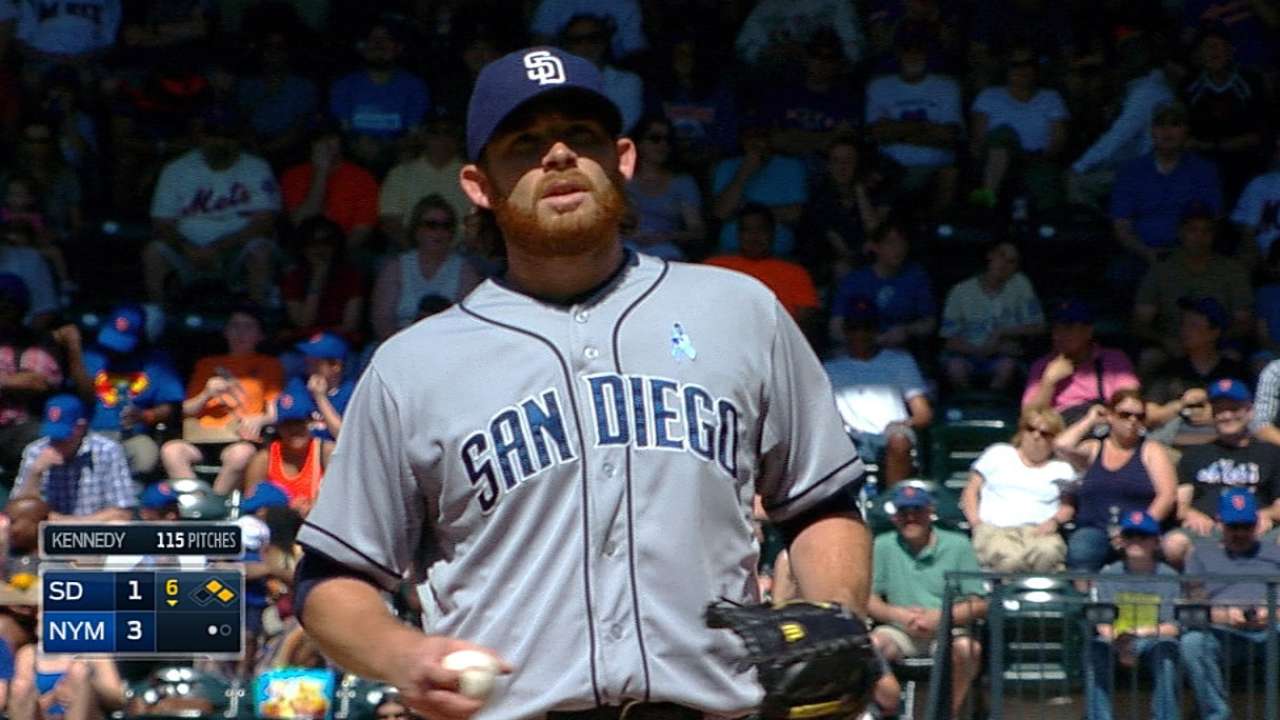 NEW YORK -- For the first time this week, there was optimism emanating from the Padres' clubhouse. After Saturday's victory saw a small surge of offense and a rookie get his first big league win, the Padres knew they had a chance to leave New York with a series victory.
But Sunday's rubber match quickly became another frustrating reminder about the Padres' struggles on offense. Even when the Mets' bullpen scrambled after starter Daisuke Matsuzaka exited after the first inning because of a severe upset stomach, the Padres couldn't bring their baserunners home, falling 3-1, dropping their fourth straight series.
After serving up a crucial three-run homer to the Phillies' Marlon Byrd in his last outing, starter Ian Kennedy faced similar demons Sunday afternoon. On the second pitch from Kennedy, Curtis Granderson launched a home run, his first since returning from a calf injury, several rows up into the outfield fan porch.
"Fastball down and in, he did a good job of hitting right there," said Kennedy. "There's a reason why he's one of the better hitters, you saw that when he was with the Yankees and the Tigers."
Kennedy didn't record his first out until striking out the fifth hitter, Andrew Brown, but by then Bobby Abreu had made it 2-0 with a double to right. He escaped any further damage, getting Lucas Duda and Wilmer Flores to fly out and end the scoring threat.
"Second and third, no outs and then [he] held them at bay," said manager Bud Black. "I thought he did a hell of a job pitching out of the first inning to keep it to only two runs."
Kennedy settled down after his rough inning, but it was Granderson that consistently gave him trouble, ripping two of the seven hits Kennedy allowed. Unlike Tuesday in Philadelphia, Kennedy nibbled at the plate, walking four and nearly matched his season high with 116 pitches over just 5 1/3 innings.
"I just didn't have that put-away pitch," said Kennedy. "I didn't have that put-away curveball until maybe later in the game. I was falling deep in counts -- that doesn't help. For me, it was a constant battle throughout the entire day."
San Diego scored its only run in the second thanks to three straight singles from Carlos Quentin, Yonder Alonso, and Rene Rivera, whose shot up the middle plated Quentin when diving shortstop Wilmer Flores couldn't secure the ball in his glove.
But Carlos Torres, stepping up to fill in for Matsuzaka, went on cruise control after that. The Padres worked him for some sporadic walks, but the righty didn't allow a hit after surrendering the RBI single to Rivera. Torres went four innings before being replaced by Vic Black in the sixth inning, and the Mets' bullpen managed its way out of a tough situation.
"He's been around. He locates well," said Alonso of Torres. "He got some quick outs when he needed to, and for the most part, we just weren't able to execute.
"Our guys are Major League players, they know what's ahead of them," said Black, unwilling to make excuses for his hitters. "We go over all their pitchers and what they do. That's not a problem."
And yet the Padres remained mystified at the plate. Black's sixth inning was indicative of the Padres' struggles. After Seth Smith and Chase Headley walked to put the tying runs on base, Black found his control and retired the next three hitters in order, punctuated with an inning-ending strikeout of Rivera.
"I think he [bore] down," Alonso said of the Mets' Black. "I think he made some quality pitches ... that time you just kind of want to zone him in and make sure you get a good pitch. I think in general during that whole inning we had some good swings. We just missed some balls."
The score remained static past the second inning thanks to each team's bullpen. When Kennedy couldn't escape the sixth inning, Alex Torres came in to handle Granderson and Kevin Quackenbush ended the frame, forcing a slumping David Wright to pop out to right.
But it's San Diego's offensive numbers that remain the large disappointment of the season. With their lone run Sunday, the Padres have scored one run or less in a Major League-high 21 games this season, and are averaging 1.7 runs in their 40 losses. The lack of runs also meant Kennedy, now 5-8, will again lament one particular inning, and more specifically, one particular hitter, over a long plane ride to Seattle where the Padres will try to salvage a 1-5 road trip.
"It was meant to be a little more up," Kennedy said in frustration of the pitch to Granderson that left the yard. "There's a hole those lefties have. He's one of the better hitters in their lineup ... you just got to tip your cap."
Jake Kring-Schreifels is an associate reporter for MLB.com. This story was not subject to the approval of Major League Baseball or its clubs.