Mets bullpen helps topple Padres in series finale
Granderson sparks offense with leadoff homer off Kennedy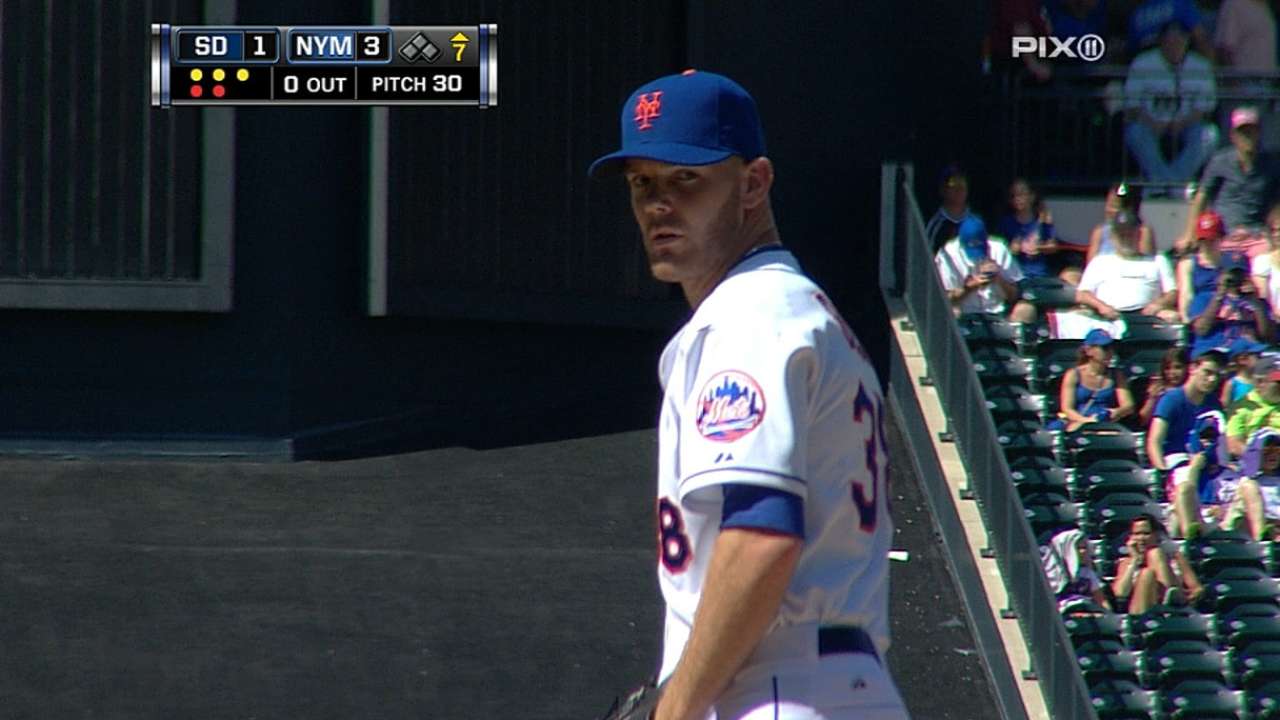 NEW YORK -- With two baserunners on and no one out in the sixth, Vic Black couldn't find the strike zone. The count was two balls, no strikes on San Diego slugger Carlos Quentin and Black was in danger of walking his third straight batter, mound visits from catcher Anthony Recker and pitching coach Dan Warthen holding no apparent effect.
Then The Captain came over.
David Wright made his way to the bump for a quick chat with Black, a 26-year-old fireballer who has battled command issues, and the turnaround was immediate in the eventual 3-1 Mets win. He came back to retire Quentin, then got the following two hitters to escape the jam, throwing nine of his next 12 pitches for strikes. The last one was a 97-mph fastball that Rene Rivera tipped right into Recker's mitt to end the inning.
"He goes, 'You know the only way they're going to get on base is if you walk them. They can't hit it, so go ahead and just throw strikes,'" Black said. "I said, 'Yeah, I have to remember that's how you get these guys out, throwing strikes.'
"There really is something different with having a guy like that come out as opposed to a coach. ... To have David out there, he knows what's going on, knows the situation, knows I have no reason to worry, which I felt like, too. It's just nice to have somebody else to put those types of words in your mind."
Black's escape work was one in a series of impressive feats for the New York bullpen Sunday en route to the Father's Day victory and series win over the Padres, the club's first of the month. Mets relievers tossed eight innings after starter Daisuke Matsuzaka left with what the team announced as "a severe upset stomach."
With two of his regular relievers unavailable, Mets manager Terry Collins called on right-hander Carlos Torres in the second. Torres tossed four innings of one-run ball, followed by Black (two innings) and Jenrry Mejia (two innings). Mejia's appearance was his first since leaving Thursday's game with a tight lower back. He needed only 18 pitches to set the Padres down in order both frames.
"We were pretty much, to say it politely, up the river without a paddle," Collins said. "I'm going to give credit to [Warthen] and [bullpen coach Ricky Bones]. They got those guys ready. Ricky did a great job down there today trying to explain everything that was going to happen."
Torres, who threw a season-high 63 pitches, knew early the bullpen's workload might be a heavy one.
"About two hours before the game," said Torres, who allowed one run over his four innings. "I walk in here and I hear throwing up, and I see who it is coming out and didn't know what was going on, but I knew it was a possibility that we were all going to have to get up early.
"I guess I did [get tired] because I walked [Will] Venable on five pitches. But it's just one of those things you don't really notice. Coaches notice for you and made the adjustment."
The Mets took the lead the first chance they had. Leadoff hitter Curtis Granderson, making his first start since Wednesday, sent a 1-0, thigh-high fastball deep into the upper deck in right field for a 1-0 lead against Padres righty Ian Kennedy, who allowed three runs in 5 1/3 innings.
"I have no clue where it went," Granderson said of his homer. "The main thing is trying to square it up, and when you hit it on the barrel, sometimes you get that sense where you don't feel it. It was one of those times like that."
It was Granderson's first time hitting leadoff as a Met after doing so regularly for the Tigers from 2006-09. He finished 2-for-3 with a pair of walks, and Collins indicated Granderson might occupy that spot beyond Sunday.
Bobby Abreu added a first-inning double to plate Daniel Murphy, who had also doubled. Murphy's sacrifice fly the next inning plated Recker.
Still, though, the Mets finished 1-for-8 with runners in scoring position and left 11 men on base. Three of them were left stranded when Wright flew out to right field with the bases loaded to end the sixth.
"We had opportunities to blow this game open," Collins said. "We have to start blowing some games open because it's going to take a lot of pressure off a lot of people."
Tim Healey is an associate reporter for MLB.com. This story was not subject to the approval of Major League Baseball or its clubs.