Dodgers pitcher derails Collmenter's outing
Haren's two-out, three-RBI double sinks D-backs in LA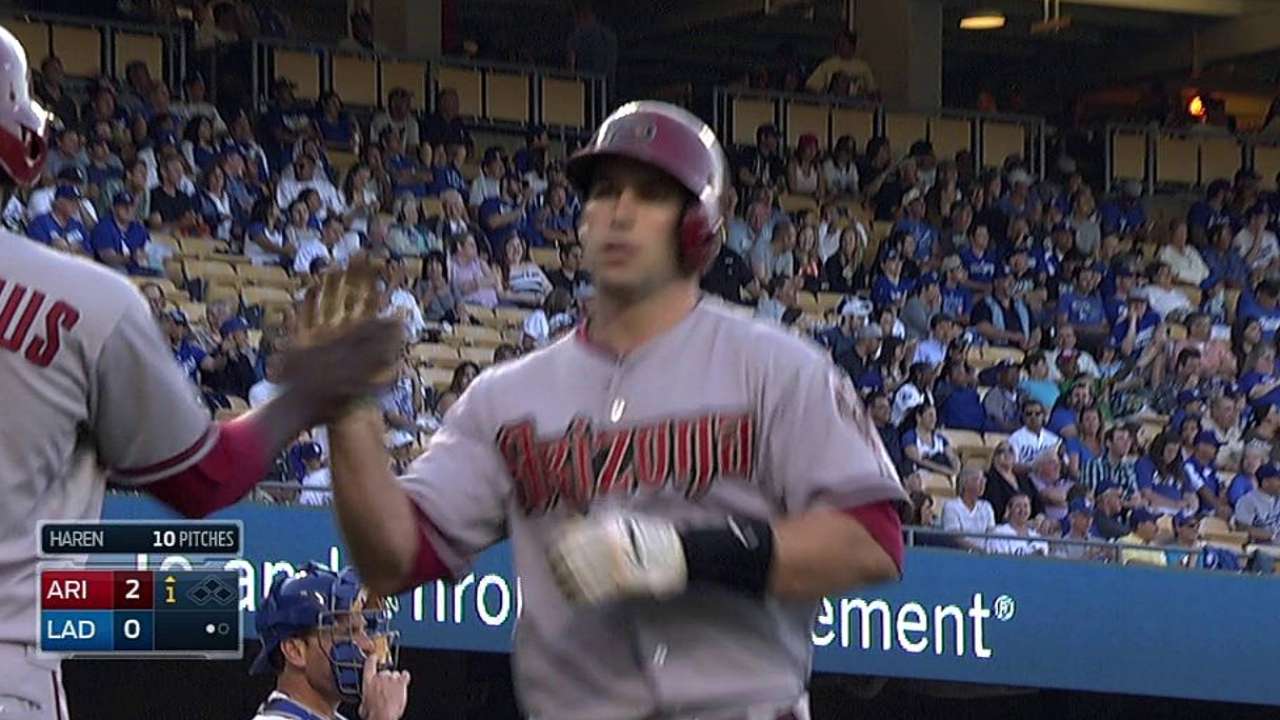 LOS ANGELES -- The Dodgers have a number of accomplished sluggers in their lineup, from Hanley Ramirez to Yasiel Puig to Adrian Gonzalez.
Yet it was a swing by pitcher Dan Haren that proved to be the big blow in the Dodgers' 6-4 win over the D-backs on Saturday night at Dodger Stadium.
And if you think that doesn't add insult to injury for the D-backs, you're mistaken.
Haren's two-out, three-run double in the fourth inning capped a four-run rally for the Dodgers and ended up being the difference in the game.
"You've got to get the pitcher out," D-backs starter Josh Collmenter said. "You can't let him beat you and the fact that he did, that's disappointing."
Haren does hit better than most pitchers -- since 2000 he ranks sixth in batting average among pitchers with at least 300 plate appearances.
"It felt really good," Haren said. "I felt good up there. I got in a good count, 1-0, and I was looking to go the other way, and I got a pitch I could handle. I used to be a really good hitter. I'm not as good as I once was, but I put a good swing on that one."
The strategy employed by the D-backs was good in theory, but the execution was not.
"We pitched around to get to the eight and nine guys, got the number eight guy out," D-backs manager Kirk Gibson said. "Just a pitch out over the middle. We know Dan Haren can swing the bat very well. Three runs on that is hard to overcome, and we weren't able to catch up."
That's because Haren (7-4) wasn't too shabby on the mound either, as he allowed three runs on eight hits over 6 1/3 innings.
The D-backs did, however, jump on Haren, who pitched for Arizona from 2008-10, for a pair of runs in the first inning.
Didi Gregorius led off the game with a double to right-center, and one out later Paul Goldschmidt homered to left to give the D-backs a 2-0 lead.
Collmenter battled his command, but he managed to keep the Dodgers off the board until the third, when he left a fastball up that Dee Gordon hit into the bleachers in right for a game-tying homer.
"Pitch up and in, I wasn't too upset with the pitch," Collmenter said. "I'll go back and look at it and see exactly where it was, but I was trying to go in and he jumped all over it. I was kind of surprised, but maybe he was looking in there."
The D-backs managed to go up, 3-2, when Martin Prado's fourth-inning single scored Miguel Montero. In the bottom half of the inning, though, the game would unravel for Collmenter and the D-backs.
It started with a leadoff walk to Puig, and back-to-back singles by Gonzalez and Matt Kemp tied the game.
One out later, with runners at second and third, the D-backs intentionally walked A.J. Ellis to get to No. 8 hitter Miguel Rojas, and the strategy seemed like it would pay off when Rojas flied out to shallow right for the second out to bring Haren to the plate.
However, after falling behind 1-0, Collmenter came down the middle with a fastball and Haren smacked it into the gap in right-center for a three-run double that gave the Dodgers a 6-3 lead.
"You put yourself in a situation to come out of there with a tie," Collmenter said. "You get the eighth hitter to pop up, and now you've got to get the pitcher and you make a bad pitch and let him do that. It's the last thing that you want to have happen and it was the worst thing that could happen. So it's just frustrating."
Prado belted a solo shot in the ninth, the 1,000th hit of his career, for the final run of the game.
Steve Gilbert is a reporter for MLB.com. Read his blog, Inside the D-backs, and follow him on Twitter @SteveGilbertMLB. This story was not subject to the approval of Major League Baseball or its clubs.