Sweep, seven-game win streak powered by homers
Hosmer, Perez go deep to support Shields' quality start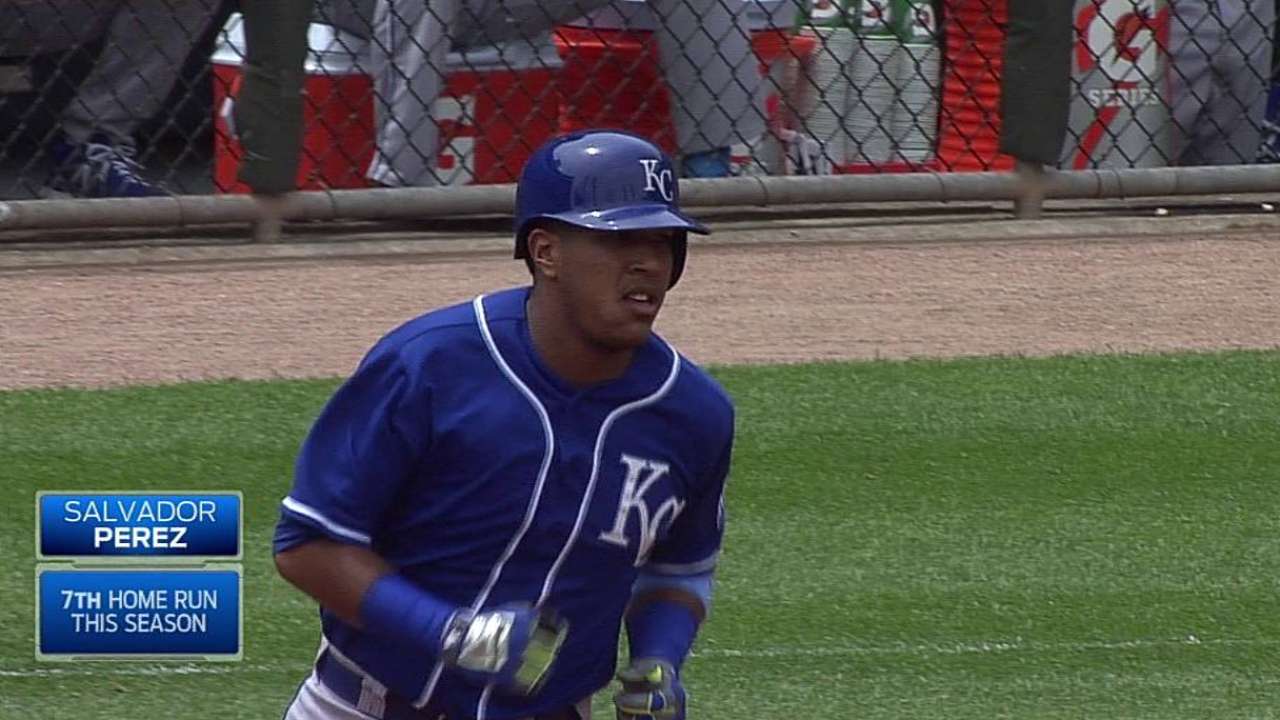 CHICAGO -- The sultans of swat for June were at it again on Sunday afternoon. What was once the Royals' most glaring weakness has turned into one of their greatest strengths.
The Royals crushed a pair of home runs -- giving them 14 in their last 16 games -- to power their way to their seventh straight win and a three-game sweep over the White Sox with a 6-3 victory on Father's Day at U.S. Cellular Field.
Kansas City wasn't cheated on either of its homers. Eric Hosmer's two-run shot in the first inning traveled 431 feet to dead center, and Salvador Perez's three-run blast to left in the third went 418 feet and gave the Royals a 5-1 lead. Those two home runs provided enough support for Royals starter James Shields, who danced in and out of danger all afternoon.
"That was big to get on the board early," said Hosmer, who has three homers in his last seven games. "Omar [Infante] started it off with a nice hit and I think Salvador's there in the third inning was huge because they had some momentum to get back. They got one run there in the first, and a three-run home run takes away a lot of momentum from them and really gives Shields a lot of breathing room out there. I think that was the huge blow for us."
The Royals high-fived at the mound after Greg Holland nailed down his 20th save in 21 chances without manager Ned Yost, who picked up his third ejection of the season in the bottom of the first. After Adam Eaton lead off with a triple, Shields was called for a balk with Gordon Beckham at bat, scoring Eaton. Yost strolled out from the mound for an explanation, and after the discussion initially seemed cordial, Yost got into it with home-plate umpire Paul Emmel.
"Well, you can't argue a step off. It's ground for immediate ejection," Yost said. "He didn't want to discuss it and I just said something when I was walking away that made me sit in this office from the first inning on."
The balk call ultimately didn't mater, as Shields picked up the win despite allowing 10 hits in six innings. He stranded eight Chicago baserunners and held the White Sox to two hits in 11 at-bats with runners in scoring position.
Shields dodged a major bullet with two on and two outs in the third and the Royals up, 5-1. After a lengthy at-bat, Jose Abreu crushed a fly ball to deep center that appeared destined to clear the wall, but it was knocked down by the wind.
"I thought it was over the ivy, to be honest with you," Shields said. "I don't know if he got it all. I mean, it seemed like it to me, but yeah, I thought it was gone. I guess the wind kind of held it up a little bit."
The White Sox cut into Kansas City's lead with one out in the third on Alejandro De Aza's two-run double. Two batters later, Shields allowed a single to Eaton, but he got Beckham to fly out to center. Chicago then mounted a two-out rally in the sixth on back-to-back singles by Adrian Nieto and Eaton, but Shields got Beckham to fly out to right.
As Yost put it, Shields seems to have a away of grinding through innings.
"This team was tough today," Shields said of the White Sox. "They kept fouling balls off, fouling balls off and next thing you know they're working counts. They hit the mistakes [we] made, they also got a lot of hits on balls they were kind of check-swinging on as well, but overall, that's a tough team over there. You've gotta tip you cap to that, but we did a great job of scoring runs today like we did all series long."
Yost's ejection didn't deter the Royals from using a replay review. Bench coach Don Wakamatsu won a sixth-inning challenge that put Mike Moustakas on second and resulted in a tack-on run, as Jarrod Dyson followed with an RBI single to center that made it 6-3, Royals.
Kansas City didn't just sweep the White Sox, the Royals dominated their division rivals. They outscored Chicago, 19-6, the latest display of playing complete games.
"We put it on all cylinders this series," Shields said. "We pitched, we hit, we played some good defense. We drew our walks. We had good situational hitting and good timely hitting. I think this is the first series all year that we really hit on all cylinders, so it's really nice to see."
But the Royals have been building to this moment for a couple of weeks. Kansas City improved to 12-4 in its last 16 games, in which it has averaged 5.1 runs per contest and compiled a plus-24 run differential. This is the type of team the Royals envisioned after making an impressive second-half run at a Wild Card berth last season.
"I think what was such a good feeling about it last year was we realized it's a bunch of talented young guys in here, and the way we went about that second half, I just think it just really opened a lot of guys' eyes in here that we've got the guys in here to do this and we could do this," Hosmer said. "So we realized we were a couple runs away from this thing. Even when we started out bad at the beginning, we realized we were a run or two from being right back in it.
"That time's here now, so we've just got to keep being consistent and playing good ball every day."
Joe Popely is an associate reporter for MLB.com. This story was not subject to the approval of Major League Baseball or its clubs.