White Sox hit parade not enough in series finale
Rienzo tagged for six runs; Chicago goes 2-for-14 with RISP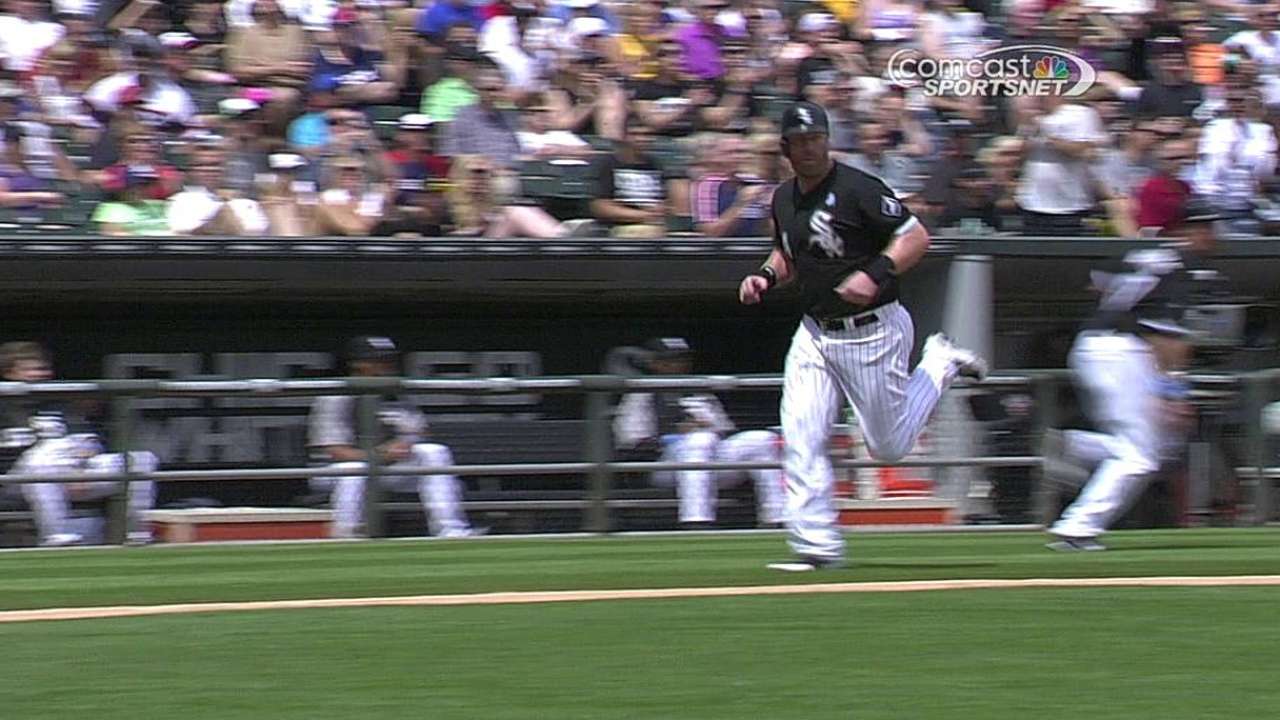 CHICAGO -- All seemed right with the White Sox world just a mere four days ago.
They had won their second straight game against American League Central-leading Detroit Wednesday night and moved within 2 1/2 games of the division's top spot. Talk already had begun to simmer as to who the White Sox might add to make this group a bona fide playoff contender.
The Tigers were replaced at U.S. Cellular Field by the Royals, and those uplifted spirits now have been taken over by collective hand-wringing. A 6-3 victory for Kansas City on Sunday completed a three-game weekend sweep and, coupled with a Thursday setback to Max Scherzer and Detroit, matched the White Sox longest losing streak of the season at four.
Suddenly a solid White Sox start to the 2014 season is in danger of going sidewise fast unless a group adjustment is made.
"I don't know if there's anything you can do," White Sox second baseman Gordon Beckham said. "We are just going to show up on Tuesday and get right back at it.
"It's not a lack of effort. I don't think it's a lack of wanting it. Sometimes baseball goes in this up-and-down cycle."
White Sox starter Andre Rienzo (4-4) knows about that cycle.
Rienzo won his first four decisions after joining the White Sox rotation on April 23 and didn't have a loss over his first seven appearances. In his last four trips to the mound, Rienzo has yielded 18 earned runs on 28 hits over 18 innings. All four of those starts have ended in defeat, including Sunday's effort where he allowed six runs on six hits over six innings and 105 pitches.
Kansas City (36-32) scored two in the first inning and three in the third, all via the home run, with Eric Hosmer launching a 431-foot two-run shot in the first and Salvador Perez's three-run blast covering 418 feet in the third. Prior to Perez's drive to left, Rienzo hit Billy Butler with two outs and then walked Alex Gordon.
"Two homers killed me today. The two homers, five runs," Rienzo said. "I think I did well after the two homers. But they already hurt me, hurt the team."
"That was big to get on the board early," Hosmer said. "Salvador's there in the third inning was huge, because they had some momentum to get back. They got one run there in the first, and a three-run home run takes away a lot of momentum from them and really gives Shields a lot of breathing room out there. I think that was the huge blow for us."
Staking a pitcher such as James Shields (8-3) to a 6-1 lead usually seems to be a comfortable margin, but the White Sox made it a bit more uncomfortable than the Royals would have liked. Adam Eaton, who had three hits, tripled to open the bottom of the first and scored on Shields' balk. An ensuing argument between Royals manager Ned Yost and home-plate umpire Paul Emmel produced Yost's third ejection this season.
Alejandro De Aza doubled home two more in the fourth, and the White Sox had plenty of additional chances. But they stranded 13 and finished 2-for-14 with runners in scoring position, and for the series, the White Sox finished 3-for-32 with RISP and left 32 on base.
"When you get a guy like Shields, you're able to get some guys on base, you need to figure out a way to get a big hit," White Sox designated hitter Adam Dunn said. "And we obviously didn't."
"Overall, that's a tough team over there," Shields said of the White Sox. "You've gotta tip your cap to that, but we did a great job of scoring runs today like we did all series long."
In the third, with Beckham and Conor Gillaspie on base and two outs, Jose Abreu flied out to the wall in center field. The score was 5-1 in favor of the Royals at the time, so that connection could have been a game-changer.
"To be honest with you, I thought it was over the ivy," said Shields. "I don't know if he got it all. I mean, it seemed like it to me, but yeah, I thought it was gone. I guess the wind kind of held it up a little bit."
With Eaton and Adrian Nieto on base via singles, Beckham flied out deep to right to end the sixth. Beckham had another chance in the eighth, after Wade Davis walked Nieto and Eaton with two outs, but he grounded out to Mike Moustakas at third. Greg Holland (20th save) stranded two in the ninth for a seventh straight Royals win.
For the first time this year, the White Sox have slipped to four games under .500 at 33-37. The White Sox have been at .500 on 21 occasions, never more than two games over and they have been three under .500 four times. Robin Ventura's crew has the Giants coming to town for two Interleague contests starting Tuesday, hoping the beginning of this week looks a little bit more like the beginning of last week.
"If you're not knocking in runs, it's not easy playing anybody," Ventura said. "We'll just continue to fight and grind away and it'll eventually break through."
"I'm not worried about the team. I think we are doing some good things," Beckham said. "We've just got to get a little bit better in terms of pitching and a little bit better in terms of hitting. If we can put those things together, we can really make a run."
Scott Merkin is a reporter for MLB.com. Read his blog, Merk's Works, and follow him on Twitter @scottmerkin. This story was not subject to the approval of Major League Baseball or its clubs.