Marlins weigh options as short starts tax bullpen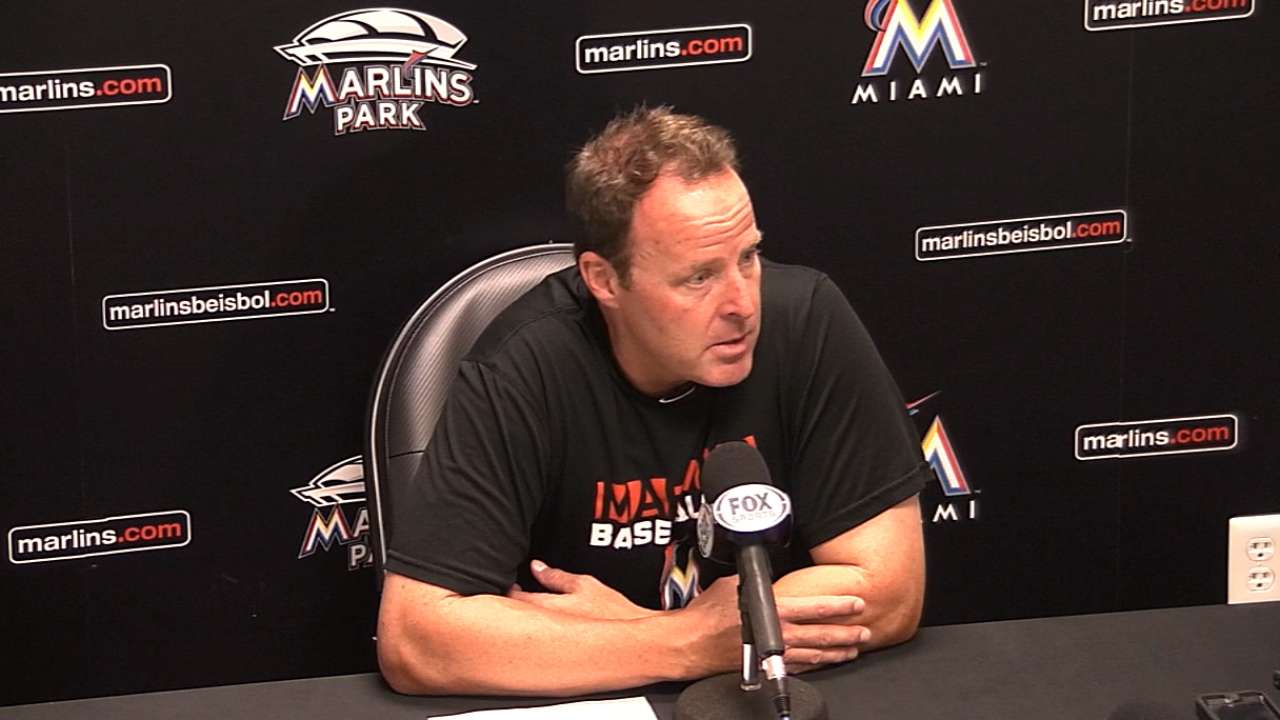 MIAMI -- On June 3, Henderson Alvarez breezed to his third shutout of the season.
In just 2 hours, 10 minutes, the right-hander went the distance in the Marlins' 1-0 win over the Rays at Marlins Park.
Since then, Miami's rotation has been mired in a slump. Finding a starter to log at least six full innings has been a challenge, and the drain is taking its toll on the bullpen.
Randy Wolf is the latest Miami starter to receive a quick hook.
In Saturday's 8-6 loss to the Pirates, Wolf worked just four innings, giving up five runs on nine hits. The lefty yielded home runs to Jordy Mercer and Andrew McCutchen.
"That's the key to our success," manager Mike Redmond said. "We're not going to survive out here with four or five innings out of our pitchers. We've got to do a better job."
Redmond did not commit to saying Wolf would remain in the rotation. There has been strong speculation about calling up top prospect Andrew Heaney from Triple-A New Orleans.
But as an organization, the Marlins had Heaney skip his Thursday start to limit his innings. The plan is for Heaney to start at New Orleans on Thursday, and after that, he will be re-evaluated.
If Heaney isn't getting the call at this point, Anthony De Sclafani and Brian Flynn (the Nos. 6 and 7 Marlins prospects, respectively, according to MLB.com) are both on the 40-man roster at New Orleans.
Asked if the team was considering filtering in some new possibilities, Redmond said: "I think we're there. Our bullpen can't sustain five or six innings every night, nor can our morale. It's tough as a player sometimes when you're sitting out there and you're down, 2-0 or 3-0, in the second or third inning. It affects everything. It affects the defense. It affects our energy. We're in a rut right now. We're in a cycle. Our starting pitching isn't getting deep into games. But that can change quickly, too."
In the nine games since Alvarez shut out the Rays, Miami starters are 2-3 with a 7.09 ERA. They have allowed 35 earned runs in 47 innings, along with nine home runs and 66 hits.
On Friday night, Nathan Eovaldi was lifted after 4 2/3 innings, leaving the bullpen to handle 8 1/3 innings in what turned into a 13-inning game.
The only starter to work past six innings in the past nine games was Eovaldi, who went 7 2/3 innings at Wrigley Field against the Cubs on June 6. Even that afternoon extended to 13 innings.
"Our bullpen, we've had to use them a lot," Redmond said. "We're in a little bit of a rut with our starting pitching. We've got to get a little deeper into games, to take pressure off our bullpen."
Joe Frisaro is a reporter for MLB.com. He writes a blog, called The Fish Pond. Follow him on Twitter Share This