Kazmir stays hot, cools off Yanks as A's even series
Lefty allows one unearned run over six innings; Sogard paces offense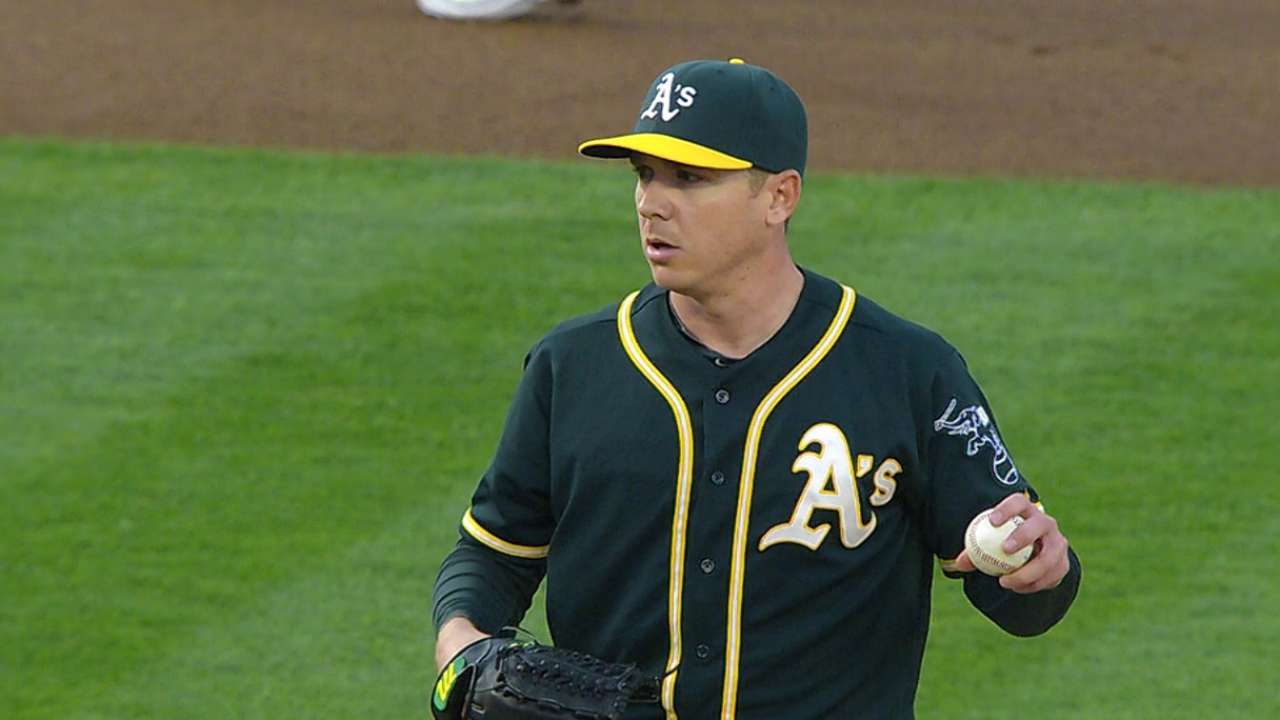 OAKLAND -- Like his home park, Scott Kazmir was lights-out Saturday.
Nevermind a 38-minute delay sparked by an issue with the left-field bulbs. The A's lefty survived it without any lingering effects, coming back out for the fourth inning and ultimately completing six in a 5-1 victory over the Yankees.
"That was concerning some," said manager Bob Melvin, whose club had dropped four of its last five. "You sit around for that long, and then he goes down and simulates an inning in the cage. You kind of have to count that as an inning, which is the reason he came out after six, but mentally, you've got to stay with it.
"It's tough when you're sitting around that long and it's cold and you go back out there and have to find that adrenaline again. It was very impressive."
"I've had the privilege of having some long innings this year, so I've had a little bit of practice," said Kazmir, who threw a simulated inning in the bullpen during the delay. "Wasn't too much of a problem."
The archetype of consistency for the A's, Kazmir was tagged for just one unearned run and three hits with three walks and two strikeouts to lower his ERA to 2.05, which ranks second in the American League only to Yankees righty Masahiro Tanaka's 2.02.
Oakland's lefty totaled 98 pitches before handing the ball over to an A's bullpen that fired three scoreless frames to keep a four-run lead intact on the rather odd night.
At the conclusion of the third frame, play was stopped for nearly 40 minutes, while a sold-out crowd waited for the left-field lights to come back on.
When they did, Yankees righty Hiroki Kuroda returned to the mound, only to make it through 4 2/3 innings with four runs allowed.
By night's end, the A's revealed it was a circuit-breaker outage that caused the halt in play. The breaker had to be reset manually in the left-field light tower.
"Maybe some carryover from Friday the 13th," said Melvin. "I don't know. It seemed a little crazy.
"You're worried about safety, so if they don't come back on, then obviously there was a chance that [the game] wouldn't start again, but luckily they did."
"That's the Coliseum for you," said Eric Sogard, smiling. "That's kind of what we expect, but it's why we love this place. You never know what you're going to get."
Several A's bats remained missing, but the club found production in the bottom of the lineup on this night, getting a two-run base hit from Sogard in the second and a sixth-inning RBI double from Andy Parrino, stationed in the eight hole, after the shortstop made a costly error in the third.
Sogard, batting just .200 on the season, had only one RBI over his previous 27 games spanning 77 at-bats.
"That was my opportunity," he said. "My teammates got me in that position, and I was able to come through there. They've been picking me up all year, and it's nice to pitch in and do my part."
The A's also got a pair of gift-wrapped runs in the fifth, when Yankees catcher John Ryan Murphy was charged with two passed balls, leading to as many runs.
The inning began with a leadoff walk from Sogard, who advanced to second on a bunt single from Coco Crisp. Both runners moved up a bag on the first passed ball, allowing Sogard to score on John Jaso's ensuing groundout. Crisp wasn't too far behind, scoring on the second passed ball.
Elsewhere in the lineup, Jed Lowrie suffered his first three-strikeout game since June 2012, while Josh Donaldson extended his hitless streak to 31 at-bats. The third baseman's frustrations amounted to an ejection from home-plate umpire Hal Gibson at the end of the seventh inning.
Otherwise, "things seemed to be going our way tonight," said Parrino.
"You've got to start off with Kaz, who pitched unbelievable and kept us in the game," he said. "To be able to get those little breaks when we needed there, that was big, too."
Jane Lee is a reporter for MLB.com. This story was not subject to the approval of Major League Baseball or its clubs.