Kuroda can't find groove as Yanks' win streak snapped
Run of victories ends at four as righty allows four runs in 4 2/3 innings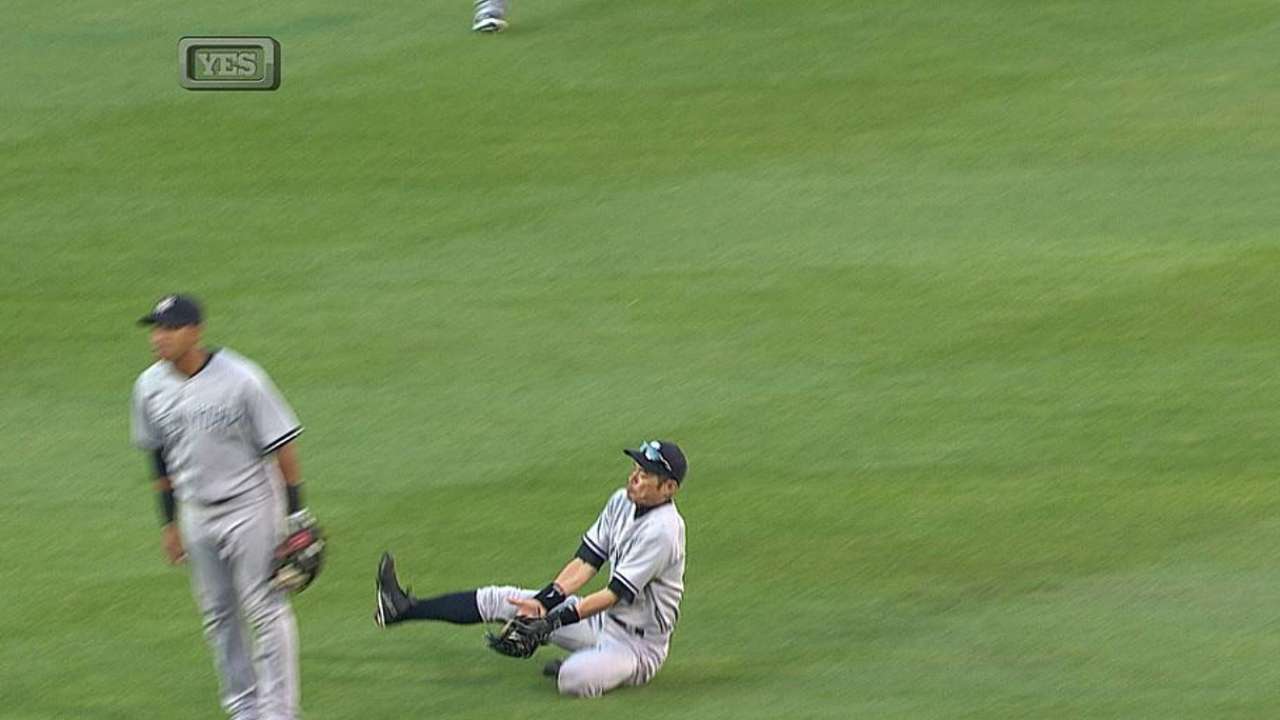 OAKLAND -- A circuit-breaker outage was deemed to be the culprit when a left-field light tower remained dark in the fourth inning on Saturday, with manager Joe Girardi coming out of the dugout and pulling the Yankees off the field at O.co Coliseum.
Someone manually reset a switch and the game resumed after a 38-minute delay, but there was no fixing the Yankees' dim performance. Hiroki Kuroda was knocked out in the fifth inning, and the Athletics posted a 5-1 win, snapping New York's four-game winning streak.
"The two runs I gave up in the fifth, that turned out to be big for tonight's game," Kuroda said through an interpreter. "The fact that I couldn't protect it is really frustrating."
Rookie catcher John Ryan Murphy permitted two passed balls as Oakland pulled away, and left-hander Scott Kazmir held the Bombers to an unearned run over six innings before departing with a commanding lead.
The Athletics have won 13 of the last 18 meetings between the two clubs. They will play the rubber game of this three-game series on Sunday afternoon, wrapping up a 10-game road trip for the Yanks.
Eric Sogard smacked a two-run single to highlight the production against Kuroda, chasing home Yoenis Cespedes and Stephen Vogt with the first runs. Kuroda said that he was trying to be "too perfect," particularly with Cespedes, who walked after an 0-2 count.
"I got behind a lot, so it was a struggle," Kuroda said.
The Yanks answered with an unearned run in the third inning off Kazmir, as shortstop Andy Parrino air-mailed a throw to first base on a Derek Jeter grounder, permitting Kelly Johnson to come home.
But Alfonso Soriano was retired with the bases loaded, and that was the Yanks' best chance against Kazmir, who permitted only three hits and has allowed one or fewer runs in five of his last seven starts.
"My fastball command could've been a bit better overall," Kazmir said. "Walking those three lefties was tough, but at the same time, I came back and beared down, which helped me out."
New York wasted Johnson's leadoff double in the fifth as Kazmir got Jeter to hit into a fielder's choice, with Sogard firing home from second base and nailing Johnson in a play at the plate.
"It felt like a good read," Johnson said. "He made a good play and it was still bang-bang. In my eyes, my instinct said that's an opportunity to get a run."
Then there was the other power outage. Girardi said that he had noticed in the second inning that the lights in left field had not flickered on, but nothing was done about the situation until A's manager Bob Melvin approached the umpires in the fourth inning.
"They were never on, which makes me question why someone didn't notice who is here every day," Girardi said.
Kuroda initially stayed on the field, throwing extra warmup pitches, but left when Girardi waved his team back to the first-base dugout. Kuroda tossed a little during the delay and insisted that it didn't affect his performance.
"I didn't really think too much about it," Kuroda said. "There are rain delays, too, so I have experienced that sort of thing."
The A's produced two soft runs in the fifth to chase Kuroda. After a walk, Crisp legged out a bunt single that hugged the third-base line until Johnson fielded it in fair territory.
"It definitely would have gone [foul]," Johnson said. "It hit the edge of the grass, but I was already in my head there to have to make a play."
Murphy's first passed ball moved the runners up, and Brian McCann -- pressed into his fifth career game at first base when Mark Teixeira was scratched with left rib cage soreness -- made a diving stop to get an out on John Jaso's run-scoring grounder.
Without a cross-up, Murphy then lost another Kuroda pitch, with the ball tipping off his glove and shooting between his legs to allow Crisp to score from third base.
"It's just part of being a catcher, and you've got to move on and not let it snowball," Girardi said.
David Huff allowed a run in three innings of relief, and the last 13 Yankees were retired in order. New York has lost eight of nine at the Coliseum, an aging facility where they've had bigger issues than just the odd power delay.
"It is a good atmosphere to play in, I can tell you that, but it's one of the older ballparks," Girardi said. "Sometimes with older ballparks, you're going to have some challenges."
Bryan Hoch is a reporter for MLB.com. Follow him on Twitter @bryanhoch and read his MLBlog, Bombers Beat. This story was not subject to the approval of Major League Baseball or its clubs.