Irvine rallies to beat Longhorns in CWS opener
Vanderbilt takes advantage of wild pitch for victory in nightcap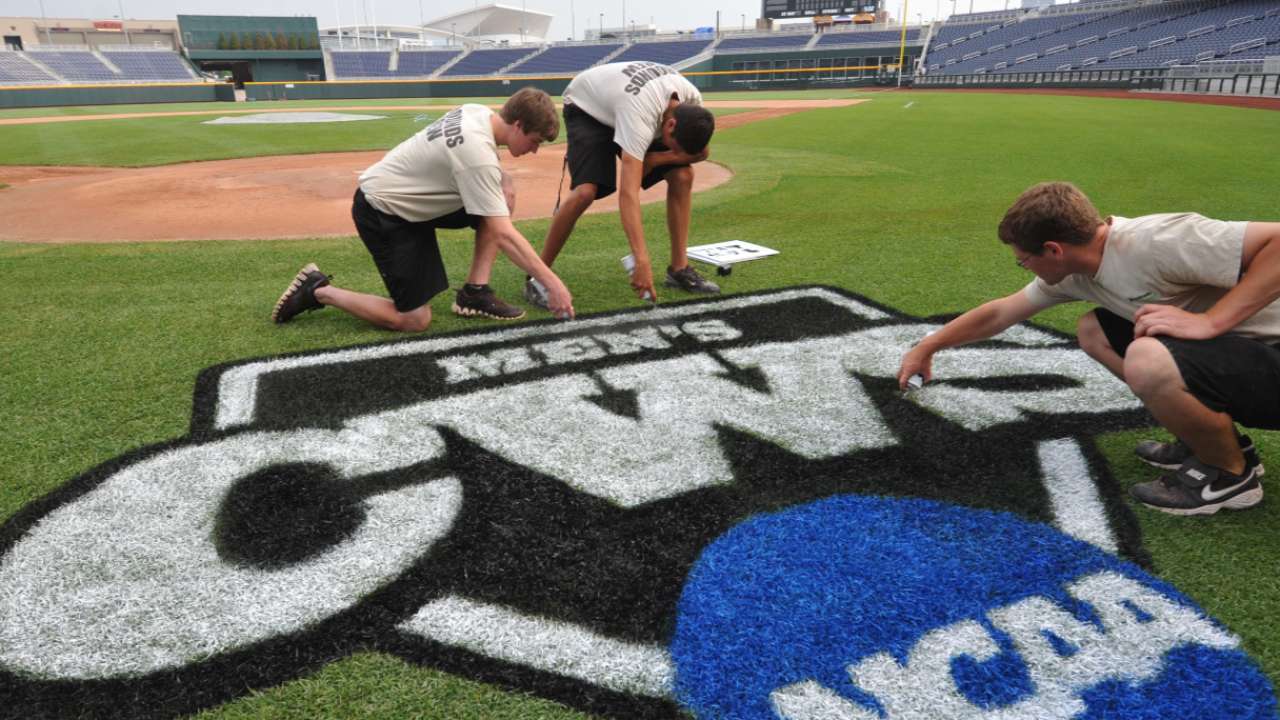 OMAHA, Neb. -- Clutch hitting prevailed on the opening day of the College World Series.
UC Irvine and Vanderbilt were victorious Saturday at TD Ameritrade Park, with the Anteaters rallying in the eighth inning to post a 3-1 victory over Texas in the opener and the Commodores twice stringing together two-out scoring rallies to defeat Louisville, 5-3, in the nightcap.
UC Irvine third baseman Taylor Sparks -- the Reds' second-round pick in Major League Baseball's First-Year Player Draft -- went 3-for-4 and shortstop Chris Rabago (13th, Rockies) drove in the go-ahead run and also scored for the Anteaters.
"All I was thinking about was, 'I've got to get the job done,'" Rabago said of his at-bat. "'If I get this hit, we win.'"
Vanderbilt's three-run second and a fourth-inning RBI triple by left fielder Bryan Reynolds were enough to hold off a feisty Louisville squad in the day's second game, where three Commodores relievers combined to throw 3 2/3 innings of one-run ball.
"They did a good job offensively competing, especially with two outs," Louisville coach Dan McDonnell said. "They seemed to mount some two-out rallies, and it's a big momentum swing. Two-out hit, two-out RBI is big momentum, and it gave them a lot of energy and a lot of life."
Vanderbilt (47-19) took advantage of two, two-out walks and a run-scoring wild pitch in the second by Louisville starter Kyle Funkhouser, who also gave up a two-run double to second baseman Dansby Swanson. The Commodores added an insurance run in the seventh on a passed ball, in addition to the triple by Reynolds -- who had a key, wall-crashing catch in left field in the second.
Funkhauser struggled with his command all night, allowing four runs on six hits and six walks while striking out five in six innings.
"I thought we had good discipline for the first couple of innings," Swanson said. "Made him work, and when he came in the zone, we were able to put some good swings on some good pitches."
Vanderbilt starter Carson Fulmer was dominant at times, flashing a mid- to high-90s fastball and striking out six, but lasted only 5 1/3 innings while giving up two runs. The Commodores' bullpen effort was led by right-hander Adam Ravenelle (fourth, Tigers), who tossed 2 1/3 innings of one-hit ball to shutdown Louisville (50-16).
"Ravenelle, those quick outs I thought brought the momentum back and the fact that he was able to grab the first out of the inning, because we weren't able to do that in the middle part of the game, and that's where Louisville started to catch up," Vanderbilt coach Tim Corbin said. "I thought he was very valuable tonight. He did a good job and had a good heartbeat for the game."
In the day's opener, neither UC Irvine nor Texas could come up with a big hit through seven innings.
The Longhorns and Anteaters were a combined 2-for-19 with runners in scoring position to that point, leaving 16 men on base, before the Anteaters -- this year's Cinderella of the College World Series as a No. 3 seed -- delivered a go-ahead rally in the eighth.
"We had some chances, we didn't capitalize," UC Irvine coach Mike Gillaspie said. "But by keeping the game close, with there being no clock in this game, it was possible for us to do what we did in the eighth."
UC Irvine (41-23) finally got to Texas right-hander Nathan Thornhill (13th round, Phillies) after being blanked for seven innings. Left fielder Adam Alcantara singled and, after a sacrifice, Sparks roped a triple to the left-center-field warning track to tie the game at 1.
Texas right-hander John Curtiss (sixth, Twins) relieved Thornhill, but Rabago drilled Curtiss' first pitch back up the middle, rather than attempting a suicide bunt, to plate the go-ahead run.
The eighth ruined an otherwise impressive outing for Thornhill, who allowed two runs on six hits and struck out four in 7 1/3 innings. He had also retired eight in a row until Alcantara's eighth-inning knock.
UC Irvine's rally got right-handed starter Andrew Morales off the hook for the loss. Morales (No. 71, Cardinals) started shaky, walking the first two batters he faced and throwing just nine of his 21 first-inning pitches for strikes. But as the game went on, Morales kept pitching out of trouble. He finished by allowing six hits in six innings of one-run ball against Texas (43-20), which was 3-for-14 with runners in scoring position and stranded 12 baserunners.
"Just think about the pitches that [Morales] made. I think he had a lot to do with that," Texas coach Augie Garrido said. "Sometimes we have a tendency, especially when you leave a lot of runners on base, to overlook the quality of why you left the runners on base, and I'm not so sure he didn't have more to do with it than we did."
UC Irvine right-hander Evan Brock earned the win by working 2 1/3 scoreless innings of relief and striking out the side in the ninth.
"It was a big game. I haven't been in that type of situation late in the game in a long time," said Brock, a former reliever now in the UC Irvine rotation. "I mean, it was pretty fun for me, so that definitely got the juices flowing."
Saturday's results
UC Irvine 3, Texas 1
Vanderbilt 5, Louisville 3
Sunday's games
Texas Tech vs. TCU, 3 p.m. ET
Virginia vs. Ole Miss, 8 p.m. ET
Cash Kruth is a reporter for MLB.com. Follow him on Twitter at @cashkruth. This story was not subject to the approval of Major League Baseball or its clubs.