Astros capitalize with five-run third to top Rays
Dominguez has key bases-clearing knock as Houston evens series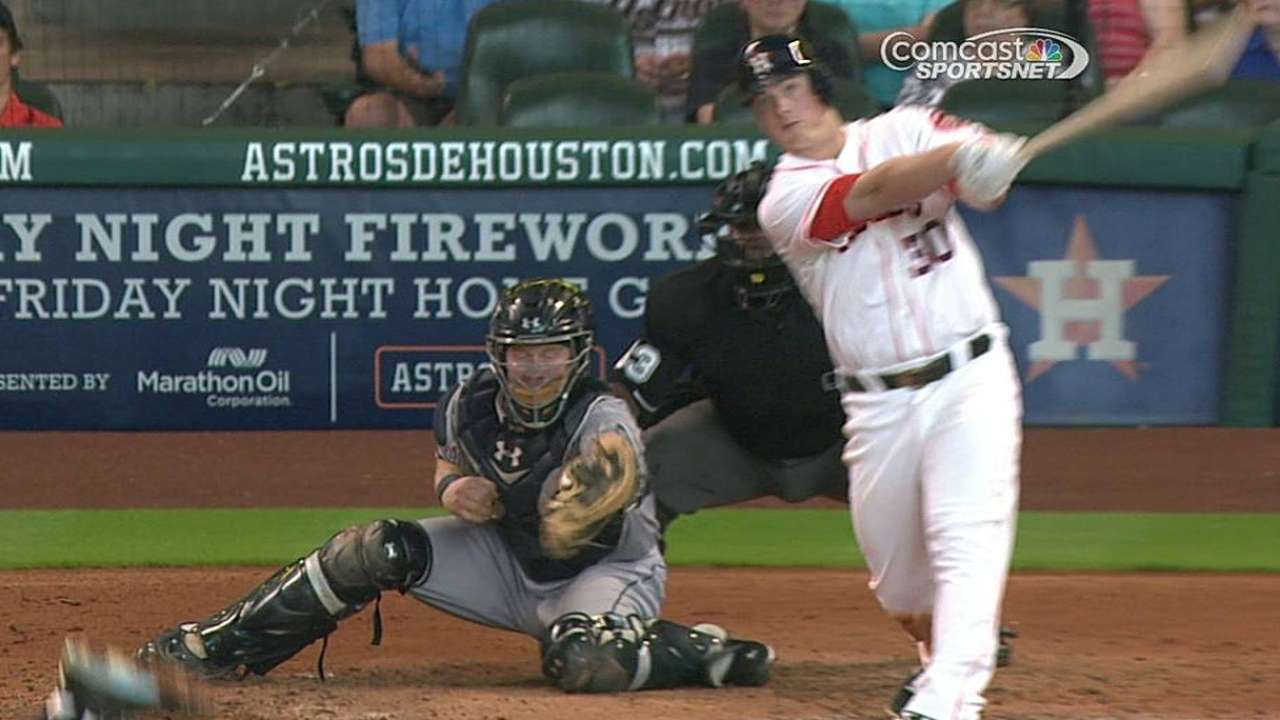 HOUSTON -- The Astros were patient and disciplined at the plate on Saturday afternoon, and it paid off. Houston came away with a 7-3 win over the Rays at Minute Maid Park, keyed by a five-run third inning highlighted by Matt Dominguez's three-run double.
Saturday's win was the club's seventh in its last 10 games and the Astros (32-38) are 21-12 since May 11.
"It's another win for us. We're trying to stay hot," said Astros starter Jarred Cosart (6-5), who went seven innings, allowing three runs on Evan Longoria's RBI single in the top of the first inning and Longoria's two-run home run in the fifth that ended the game's scoring.
Dexter Fowler added a two-run double in the fourth inning to give the Astros a 7-1 lead. Fowler's hit scored Alex Presley and Marwin Gonzalez, who had three hits while subbing for second baseman Jose Altuve, who missed his second straight game with a bruised right hand.
Fowler was a key player in the pivotal play of the game in the Astros' half of the third inning. The speedster hit a grounder to first base, which James Loney charged in to field. Rays starting pitcher Chris Archer (3-4) covered first but couldn't handle Loney's low throw, and Gonzalez scored from third to tie the game, opening the door for five two-out unearned runs in the inning.
"One may look at it as the Archer error, I look at it as Dexter Fowler's hustle," said Astros manager Bo Porter. "I told him after that inning, I go, 'A lot of guys hit that ground ball to the first baseman, they come out of the box, they see the pitcher running over, and they go, well, I'm out. But that whole inning became possible because you busted down the line.'"
"I should've made the play," said Archer. "We're baseball players. I work on my fielding. We work on those plays in Spring Training countless times. I should've made the play."
Archer never recovered after his fielding error, lasting only three-plus innings. Following his error, Archer hit George Springer, then walked Jon Singleton and Castro prior to Dominguez's bases-clearing double. The right-hander was pulled for Cesar Ramos after walking Presley leading off the bottom of the fourth inning. Archer allowed six runs, one earned, with three walks and two strikeouts.
"He was never comfortable," said Rays manager Joe Maddon. "That pitch to Dominguez, that was a big play. Even after they scored the one run on the mishap at first base. They compounded it. That was really the downfall right there."
Dominguez's double, which was reviewed as a possible home run, was off the highest part of the left-center wall.
"It came at the right opportunity and I was able to get the ball in the air and get a double," said Dominguez. "I came out and battled."
Cosart was battling a bit of a bug, but he pitched through the illness, improving to 2-0 with a 1.80 ERA in his two career starts against Tampa Bay. The right-hander allowed nine hits, but walked only one with two strikeouts, using a lot of offspeed pitches.
"They were swinging and giving me outs," said Cosart. "They played into my game plan."
Sunday is the rubber game of the series. The Astros have gone seven straight series without a series loss.
The Astros were outhit 10-7 with three of the Astros' hits coming from Gonzalez, who scored twice and made the most of his playing time.
"I don't try to put pressure on myself," said Gonzalez. "I'm trying to have fun and play the game. And whenever I get the chance to play, I try to play good. It's good every time you do something good for the team."
Added Porter: "Marwin's all-around game has been huge for us this entire season. He's been constant. He does a tremendous job getting ready to play."
Richard Dean is a contributor to MLB.com. This story was not subject to the approval of Major League Baseball or its clubs.