Rays stung by costly error, big rally in Astros' third
Archer's miscue leads to five runs, nullifying Longoria's three RBIs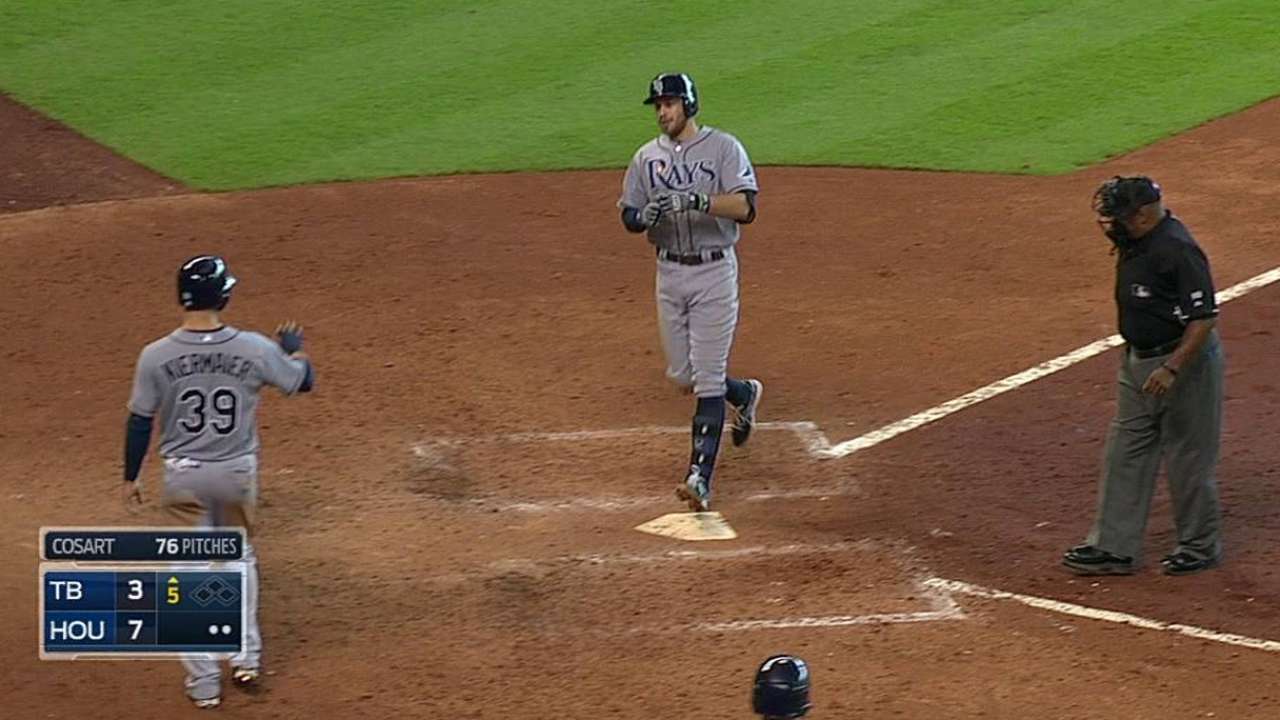 HOUSTON -- Just when the Rays seemed to have momentum on their side, it slipped out of Chris Archer's glove.
With two outs and Marwin Gonzalez on third during the third inning, Archer ran to first to cover for James Loney, who was fielding a hard-hit grounder by Dexter Fowler. Loney's toss was low, and Archer couldn't make the grab as the ball fell out of his glove while he lost his footing at first base. Fowler was safe, and Gonzalez came home to tie the game.
"I should've made the play," Archer said. "We're baseball players. I work on my fielding. We work on those plays in Spring Training countless times. I should've made the play."
The error was charged to Archer, who allowed four additional unearned runs in the inning before escaping from the inning in the Rays' 7-3 loss to Houston on Saturday at Minute Maid Park. Just like that, Tampa Bay's first back-to-back wins in 15 games would stay as a two-game blip. There would be no three-game winning streak, as the Rays fell to 26-43.
After the error, Archer hit George Springer with a fastball to put runners on first and second. Then, after getting ahead 1-2 in the count, he walked Jon Singleton, before also throwing another four balls to Jason Castro to walk in a run.
With the bases loaded, Archer threw a slider over the plate resulting in a three-run double to Matt Dominguez that was inches shy of a grand slam -- the umpires called for a review -- before getting out of the inning with a strikeout of Chris Carter.
"I made the guy work for strikes," Dominguez said. "It came at the right opportunity and I was able to get the ball in the air and get a double. I came out and battled."
All five runs were unearned. By the time the third inning was over, the Astros led 5-1.
"It had nothing to do with me not making that play at first base," Archer said. "Yeah, I was frustrated, but there's a ton of plays in the game. There were 40 pitches after that where I could've executed."
In the fourth, Archer walked Alex Presley, who later scored, before being pulled. He finished by giving up six runs, one earned, on three hits in three-plus innings.
Just one day earlier, manager Joe Maddon complimented Archer for his recent ability to avoid stringing walks together, along with Archer no longer struggling with two outs in an inning. Both circumstances of prior trouble ended up stinging Archer on Saturday.
"It's always with two outs it seems and sometimes at innocuous moments," Maddon said.
Archer took responsibility for a loss that didn't have the Rays sulking. After being shut out for three consecutive games from June 8-10, the bats have made steady progress in the team's last three games.
The Rays broke the scoreless streak in a 6-3 win against St. Louis, and busted a 10-game road losing streak in Friday's 6-1 win against the Astros.
Tampa Bay scored first Saturday, with Evan Longoria, who drove in all three runs, hitting an RBI single to score Kevin Kiermaier in the opening frame. Longoria hit a two-run home run in the fifth to cut Houston's lead to 7-3.
"We can find it tomorrow by winning the series," Maddon said. "That's the one thing we need to start doing. To me that would be garnering momentum."
Mike Vernon is an associate reporter for MLB.com. This story was not subject to the approval of Major League Baseball or its clubs.