Barnes' inside-the-park homer stuns Giants
Rockies outfielder circles bases for second straight comeback in ninth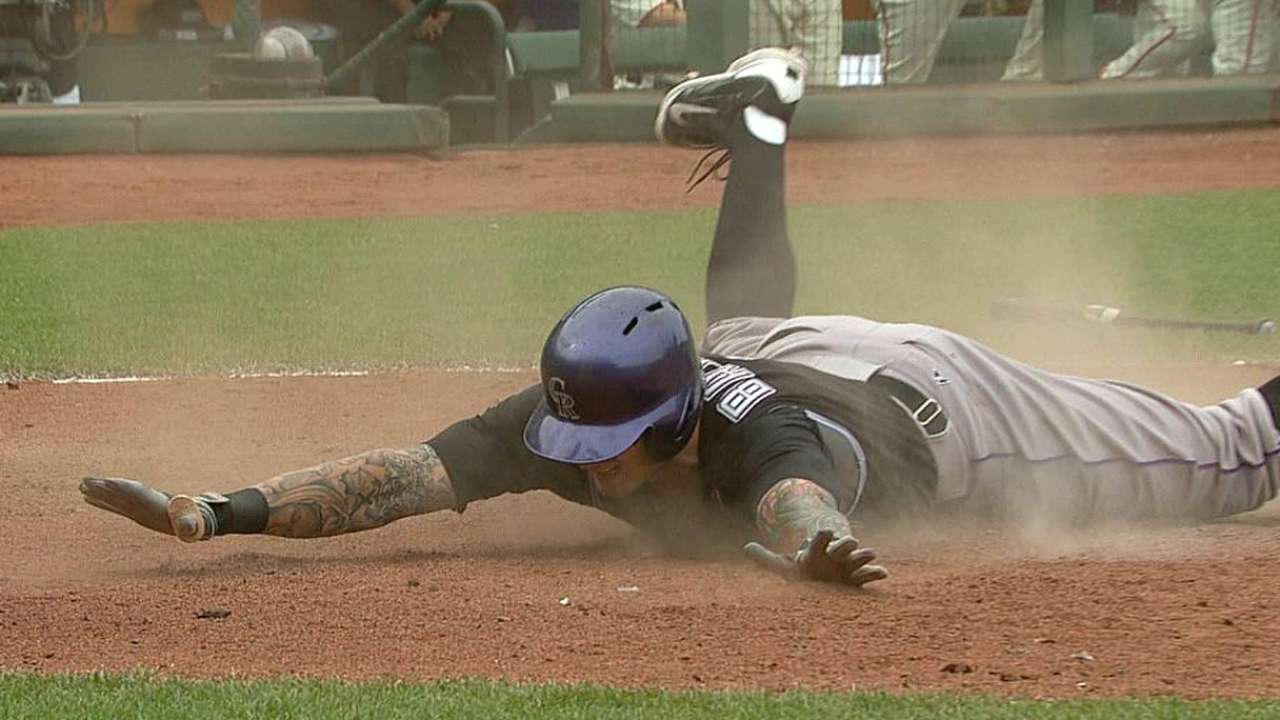 SAN FRANCISCO -- Call it inside-the-park payback.
Brandon Barnes' line drive in the top of the ninth inning bounced past lunging Giants center fielder Angel Pagan for a two-run, inside-the-park home run to give the Rockies their fourth straight victory, 5-4, at AT&T Park on Saturday afternoon.
Barnes didn't join the Rockies until this season, but already he knows the craziness between his club and the Giants.
"It's unbelievable, probably the coolest thing I've ever been a part of in baseball," Barnes said.
Both of Barnes' home runs this season have been inside the park. Not only that, but it was a measure of revenge for the Rockies, who watched Pagan beat them on a walk-off inside-the-park tally last May 25.
Trying to go home to home is a feature of Rockies-Giants games. Gregor Blanco tried to go the distance April 13 but was thrown out at the plate; the Giants, however, won that game on Brandon Crawford's 10th-inning homer.
"It just shows the fight in our club," said Rockies manager Walt Weiss, whose team has its longest win streak of the season. "I'm not worried about revenge or anything like that. We always talk about the games here and how crazy they are. It usually comes down to millimeters and milliseconds.
"Another one today."
At any rate, Barnes has become the Rockies' inside-the-park specialist. He pulled off the feat June 5 against the D-backs. On Saturday, his drive against Sergio Romo (3-3) -- who also took the loss and a blown save in Friday's 7-4 Rockies win -- came after Charlie Blackmon singled to left with two down on a 2-1 pitch. Pagan's ill-fated diving attempt let Barnes run free, and third-base coach Stu Cole waved him home.
"I don't think there was any point I was sure that was going to happen," Weiss said. "Stu did a great job waving him there. It was a very aggressive play."
Three of Romo's four blown saves this season have come against the Rockies.
"I think that's what got Angel a little bit -- it looked like a soft-served base hit, but it hit and really skipped and just got by him," Giants manager Bruce Bochy said. "That's a tough one for Sergio. He was throwing the ball well. Two outs, nobody on and they come up with a little blooper there, which is what happened. But it's baseball."
The victory was just the Rockies' 16th in 51 games at AT&T Park since the start of the 2009 season. A victory Sunday would give the Rockies their first three-game sweep at the Giants' home since Sept. 23-25, 2008.
There was typical Rockies-Giants craziness beyond the homer.
With one out in the bottom of the ninth, the Giants' Hector Sanchez hit an infield popup, but Rockies third baseman Charlie Culberson and shortstop Josh Rutledge collided for an error charged to Rutledge.
"It was tough for us, but we'll handle it afterward; we weren't going to make a big deal of it right there," Culberson said.
Rockies shortstop Troy Tulowitzki, who didn't start the game because of a right middle toe injury he suffered Friday night but did fly to center as a pinch-hitter in the ninth, saw the infield collision with the game on the line and said, "That's what you expect -- that's typical that something like that would happen here."
However, Rockies closer LaTroy Hawkins (13 saves) worked Pagan into a game-ending double-play grounder. The out at first base went to replay, and the ruling was that the call of first-base umpire Mike Muchlinski would stand.
The ninth-inning wildness made a winner of Rockies lefty reliever Rex Brothers (3-4), who entered in the eighth with a one-run deficit and struck out the side on nine pitches -- the first so-called "immaculate inning" in Rockies history, and the fifth in the Majors this season.
"I can't say any more than I was just trying to hit the glove," said Brothers, who has struggled on and off throughout the year. "I can't tell you any secrets to what I did today."
Rookie starter Christian Bergman gave up a solo homer to Hunter Pence in the first inning and a two-run shot to Buster Posey to tie the game at 3 in the fifth, but was mostly solid for six innings (eight hits, three strikeouts, no walks).
The Rockies' early scoring came off Giants starter Ryan Vogelsong. Colorado scored two runs on three hits, including Ryan Wheeler's RBI double and Blackmon's RBI single in the second and Rutledge's RBI double in the third.
The Giants, however, took a 4-3 lead in the seventh with two hits and a Posey sacrifice fly against Rockies righty reliever Adam Ottavino.
Thomas Harding is a reporter for MLB.com. Follow him on Twitter @harding_at_mlb. This story was not subject to the approval of Major League Baseball or its clubs.