Latos dominates, but Reds let game get away
Righty allows two hits over six scoreless innings in season debut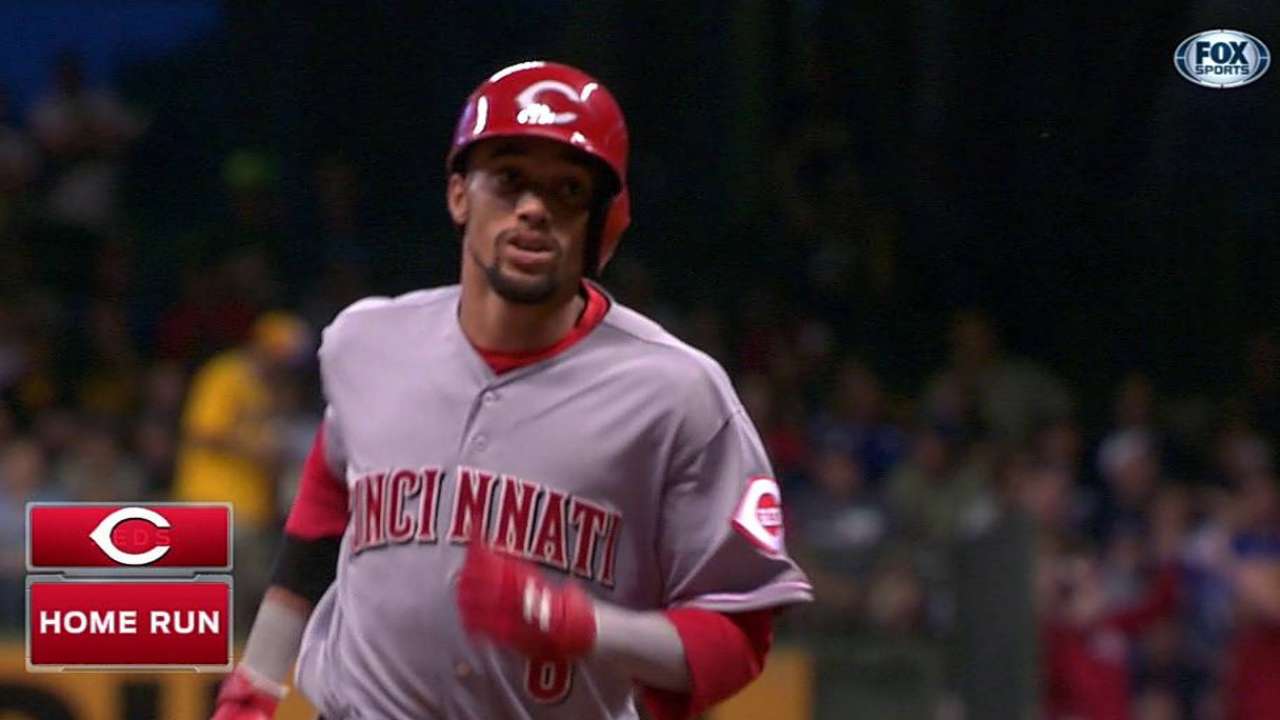 MILWAUKEE -- There was no question that Reds pitcher Mat Latos had a magnificent 2014 debut on Saturday. One check-swing call Latos didn't get not only kept it from being triumphant too, but perhaps led to some stinging consequences.
Latos worked six scoreless innings, with a mere two hits accounting for his only baserunners. Yet the Reds wound up with a crushing 4-2 loss to the first-place Brewers at Miller Park. It snapped their three-game winning streak and put them eight games out in the National League Central.
"Emotional, for sure. You know, first time back, and it's been a while," said Latos, who returned from elbow and knee surgeries and some setbacks. "It's been a struggle to get where I was today, so it's definitely good. The outcome kind of sucks, but that's baseball. They're in first place for a reason. And we've just got to come back strong tomorrow."
It wasn't a good night for the embattled front-end of the Cincinnati bullpen. A 1-0 lead in the seventh was blown against Logan Ondrusek and Manny Parra. After Billy Hamilton made it a 2-2 game with a homer in the top of the eighth, J.J. Hoover gave up two runs in the bottom half on Ryan Braun's home run.
Reds manager Bryan Price didn't second-guess his decision to lift Latos after 87 pitches.
"This is his first start of the season. He did his job," Price said. "I don't regret taking him out. I regret the result, the fact we lost the game. He did exactly what we hoped he'd do."
The Reds had a 1-0 first-inning lead when Hamilton led off with a ground-rule double and scored on a Brandon Phillips single. If there was any lingering rust from not pitching in the Majors, Latos hid it well. Through the first five innings, he faced one batter over the minimum, with Aramis Ramirez's lined single to left with one out in the second inning the lone blemish. After the hit, he retired the next 13 in a row.
"I think that shows you the kind of stuff that he has," Brewers starter Yovani Gallardo said of Latos. "We don't have an easy lineup in here. He's a good pitcher. He knows how to pitch and attack the strike zone."
Latos seemed to be poised for another clean inning in the sixth. With two outs and a 1-2 count on Scooter Gennett, the eighth pitch of the at-bat was a curveball in the dirt that got a check swing. While it looked like Gennett went around, the appeal to third-base umpire Marvin Hudson was unsuccessful. A visibly livid Latos and Gennett then hunkered down for what became a 13-pitch duel that ended with a double to left field. Braun followed with a flyout to the warning track in center field on the 24th pitch of the inning.
"I can't really say very much, it's a touchy subject," Latos said of the Gennett at-bat. "From where I was sitting, the curveball that was in the dirt looked like he went and swung on it, but ... He obviously didn't think that he did. There's nothing I can do about it."
Price told Latos he was finished for the game and would turn it over to the bullpen.
"Had that been an easier at-bat and he didn't have to grind and it was a 15-pitch inning instead of a 24-pitch one, it would have made more sense to run him out there," Price said.
The next decision was whom to summon. Instead of going with Sam LeCure, who has been strong all season, Price went with Ondrusek, who has been better of late but also inconsistent.
"It wasn't necessarily trying to stay away from him. But I kind of felt like it was a situation in that exact spot in the order, Ondrusek's numbers against those guys are off the charts," Price said. "There were just some really good matchups for him."
Ondrusek walked his first batter, Jonathan Lucroy, and gave up a Carlos Gomez single. A deep fly by Ramirez advanced both runners and enabled Khris Davis' groundout to shortstop to plate the tying run. Parra gave up a wild pitch and a Rickie Weeks pinch-hit RBI single to make it 2-1.
For the second straight night, Hamilton got the lead back for the Reds. Batting righty vs. lefty reliever Will Smith, he pulled a 0-1 pitch over the left-field fence for a homer that tied the game at 2. It was Hamilton's third homer, and the first Smith has allowed this season.
In the eighth against Hoover, Gennett blooped a double to center field in front of a diving Hamilton. On the next pitch, Braun snapped a 4-for-34 skid and hit a home run to right field -- the seventh Hoover has allowed this season.
"You never want to give up runs, especially after we had the lead and lost it and we came back to tie it up," Hoover said. "You don't want to let them get ahead, so, that's what really sucks about tonight."
How much longer will Price stick by Hoover and Ondrusek?
"I will not run LeCure, Broxton and Chapman into the ground," Price said. "[Jonathan] Broxton is coming off right elbow surgery. [Aroldis] Chapman and LeCure have been in these high-leverage situations. We can't ask them to carry the load for an entire season in every one of those situations. These guys either have to perform or we have to look at alternatives, which we really don't want to do because I have a lot of faith in those guys."
Mark Sheldon is a reporter for MLB.com. Read his blog, Mark My Word, and follow him on Twitter @m_sheldon. This story was not subject to the approval of Major League Baseball or its clubs.