Wolf, Slowey dig too deep a hole for late rally
Ninth-inning Marlins surge too little after veteran lefty's brief outing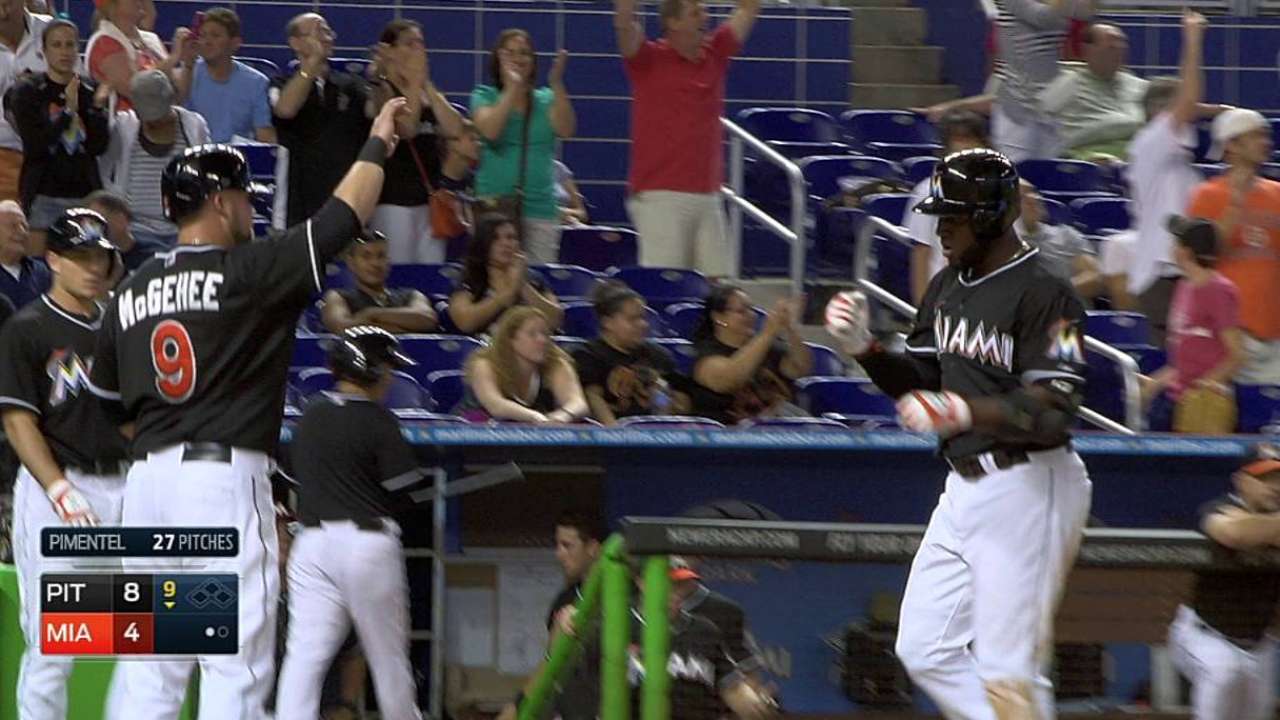 MIAMI -- For nearly a decade, from 2001-10, Randy Wolf had his way against the Pirates, winning seven straight decisions.
On Saturday afternoon, the Pirates got back at the 37-year-old left-hander.
Andrew McCutchen blasted a three-run homer, and Jordy Mercer added a solo knock off Wolf to help power the Pirates to an 8-6 victory over Miami at Marlins Park.
Wolf was lifted after just four innings, giving up five runs on nine hits on another day in which a Miami starter was unable to complete at least six innings.
Asked how to sum up what transpired, Wolf responded, "Embarrassingly, I think is the best way to put it."
In Miami's past nine games, only one Marlins starter has topped six innings -- Nathan Eovaldi, who worked 7 2/3 innings on June 6 against the Cubs in Chicago. Miami's starters have a 7.09 ERA in that stretch.
"When you're not able to command your pitches like that, there is no way it's going to be good," Wolf said. "It's really frustrating to feel physically good and just not be able to execute out there. It's embarrassing to go out there, and you don't have the command that you should."
Wolf, who has battled back from two Tommy John surgeries, is not using his previous injuries as an excuse.
"Throughout this process, I've been feeling pretty good," Wolf said. "My command hasn't been horrible. Today, it was horrible. It's not like I'm throwing balls to the backstop. I threw very few balls at the knees today, a lot of balls at the belt. That's not going to get it done right now."
The lack of quality starting pitching is becoming a drain on the squad, and it could lead to changes in the rotation. The Marlins are non-committal on whether Wolf will start in five days.
"Our bullpen can't sustain five or six innings every night, nor can our morale," manager Mike Redmond said.
For the second straight night, the Marlins lost by an 8-6 margin. In both contests, they scored four runs in the ninth inning yet were unable to rally to improbable victories.
The Marlins entered the ninth inning on Saturday down, 8-2, but they made things interesting as Marcell Ozuna and Jeff Baker each belted two-run homers off Stolmy Pimentel before Jason Grilli got out of the jam.
"After coming back last night and having a tough loss, you always wonder how your team is going to bounce back," Redmond said. "To put that four-spot up in the ninth, I'm happy about that. Do I wish we could have done a little more damage earlier in the game? Of course."
Miami has now dropped three straight, and the Marlins will count on Henderson Alvarez on Sunday to try to avoid a series sweep.
Charlie Morton limited the Marlins to two runs on five hits and struck out six in seven innings.
After falling behind by five runs, the Marlins chipped back with two in the fourth on Ozuna's RBI triple and J.T. Realmuto's run-scoring groundout. It was all the Marlins could manage off Morton.
"We've got to play every pitch," Pirates manager Clint Hurdle said. "There were some sequences today where some things got away from us, and we took some pitches off. That can happen."
In the second inning, Mercer connected to open the scoring. The Pirates tacked on a second run in the inning on Gregory Polanco's RBI fielder's choice grounder to second.
The big blow of the afternoon came in the fourth inning, which brought Pittsburgh's lead to 5-0. Wolf got into a bind by allowing a leadoff single to Chris Stewart. With one out, Polanco walked.
Wolf nearly worked out of the jam by striking out Starling Marte. The veteran lefty was spinning some mid-60-mph curveballs to keep Marte off stride. A similar approach was used on McCutchen. But on a 2-2 pitch, Wolf elevated a 69-mph breaking ball, and the 2013 NL MVP didn't miss it. McCutchen's blast to left was his 11th of the season, and it bumped up his RBI total to 41.
The Pirates broke the game wide open with three runs in the fifth inning off Kevin Slowey. Polanco, who hit the winning two-run homer in the 13th inning for Pittsburgh on Friday night, had an RBI single and finished with two hits and two RBIs on Saturday. Mercer also had a run-scoring double in the fifth.
"We're pitching from behind every night, and giving up runs early," Redmond said. "We've had a real struggle getting a starter through the fourth, fifth inning. It's tough. Our bullpen is eating up a ton of innings, too many innings. We've got to get better. We've got to get that starting pitching figured out."
Joe Frisaro is a reporter for MLB.com. He writes a blog, called The Fish Pond. Follow him on Twitter @JoeFrisaro. This story was not subject to the approval of Major League Baseball or its clubs.