Mariners rally falls short in loss to Rangers
Closer Rodney gives up game-winning run in the top of ninth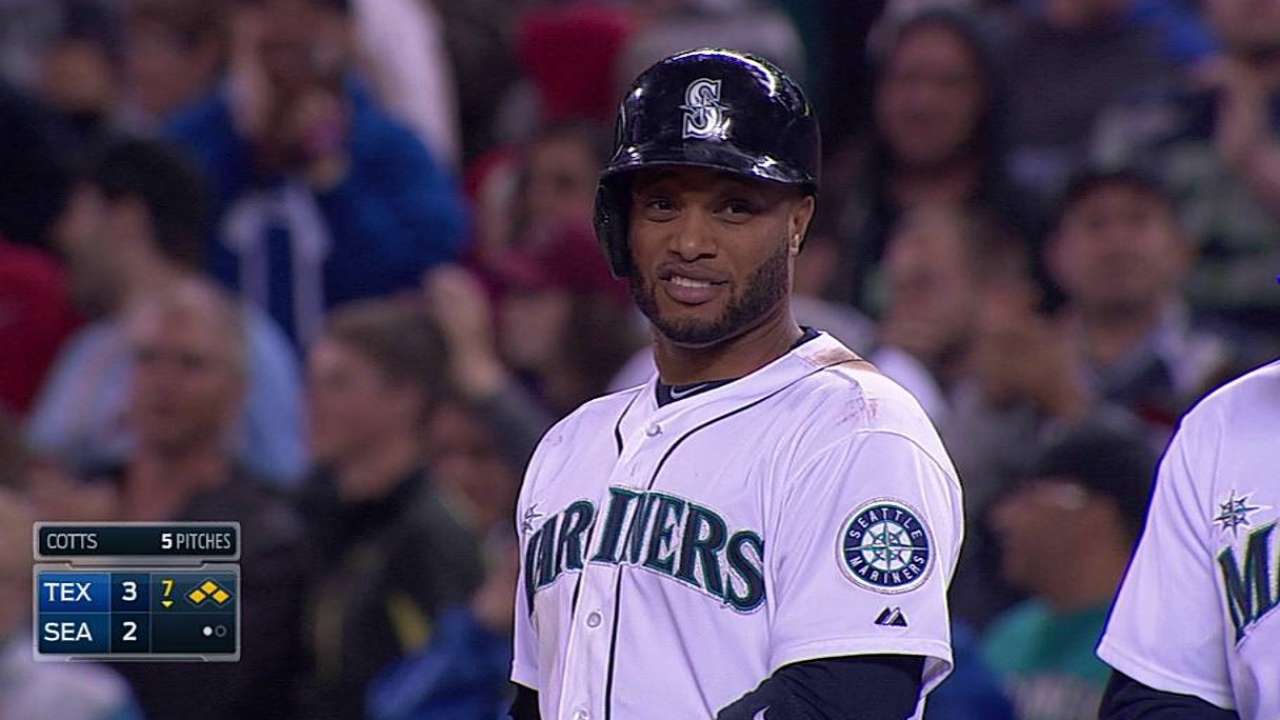 SEATTLE -- The Mariners got five scoreless innings from starter Erasmo Ramirez and notched 11 hits, but for the second consecutive night were undone when they allowed the Rangers to score a ninth-inning, go-ahead run as they fell, 4-3, to Texas on Saturday night at Safeco Field.
The Mariners tied the game in the seventh when Robinson Cano delivered a one-out RBI single into right field with the bases loaded. Every runner advanced, so the bases were still loaded, but Dustin Ackley swung at the next offering and was ruled out on an infield fly ruling before Logan Morrison fanned to end the inning.
The missed chance to grab the lead in front of 27,700 fans came back to haunt closer Fernando Rodney (1-3, 2.39 ERA) in the ninth. Leonys Martin grounded a two-out, RBI single barely inside the third-base bag to score Luis Sardinas.
Texas closer Joakim Soria worked a 1-2-3 bottom of the ninth and that was that. The loss was the Mariners' fifth in a row and dropped them to 34-34 on the season.
"We're playing hard. We're just not coming up with that big hit when we need it, that big pitch when we need it," Willie Bloomquist said after going 2-for-4 with a run scored. "That's the difference between winning and losing. We're right there in every game. It's just a matter of one play going our way."
The Mariners led 1-0 in the top of the sixth until ex-Mariner Adrian Beltre pulled an RBI double down the left-field line. It appeared Shin-Soo Choo was going to stop at third but left fielder Cole Gillespie dropped the ball when he reached up to field the bounce and his glove hit the wall. Choo scored easily to tie the game at 1.
Reliever Danny Farquhar responded by striking out Alex Rios and Brad Snyder. He was one strike away from escaping the inning.
Instead, catcher Robinson Chirinos hit a hanging 1-2 curve ball over the left-field fence near the foul pole. The two-run homer gave the Rangers a 3-1 lead and raised Farquhar's ERA to 3.19 after he allowed three hits and three runs but fanned three, snapping the bullpen's streak of 19 2/3 scoreless innings.
"That happens. Danny's been great for us," manager Lloyd McClendon said. "He just left a curve ball up and the guy took advantage of it, but our bullpen is our foundation and we've done everything we can to try and take care of it and we'll continue to do that."
Said Farquhar of his one inning:
"I executed on the three guys I punched out. I didn't execute on the three guys that got hits off me," he said. "It's a simple game. If you do what you're supposed to it works out. I didn't do my part."
Seattle came back with a run in the bottom of the inning. Cano and Jesus Montero, starting his first game of the season, hit back-to-back, one-out singles. Morrison followed by striking out, but backup catcher John Buck delivered a two-out single up the middle.
Martin's throw to the plate beat Cano by a few feet, but the second baseman used his hand to tag home and slid to the side of a swiping Chirinos. Home-plate umpire Alfonso Marquez ruled Cano safe.
The call was reviewed and confirmed using Major League Baseball's first-year instant replay system.
But with runners on first and second, Rangers starter Joe Saunders fanned Kyle Seager on a breaking ball low and off the plate to end the inning.
The Mariners scratched out a run in the fifth after Buck and Seager led off with back-to-back singles, advancing runners to first and third.
Then, Stefen Romero hit a fly ball just deep enough to left field to score Buck from third. The sacrifice fly gave the Mariners a 1-0 lead that put Ramirez in position to capture his first Major League win since beating the Angels with a seven-inning, two-run performance on April 1.
On Saturday, Ramirez walked four in five innings, but for the second consecutive outing, he held his opponent scoreless. In five innings of work, he allowed just three hits, struck out four and threw 55 of 89 pitches for strikes. Ramirez hasn't allowed a run in 10 2/3 innings, a span that includes his last three starts.
"Ramirez seems to be turning the corner a little bit," McClendon said.
Meanwhile, all of Seattle's 11 hits were singles with James Jones, Bloomquist and Cano all finishing with two.
"We're in a funk and we got to find a way to come out of it," McClendon said. "Unfortunately we had a lot of good things happen tonight but the one bad thing was we didn't get the victory. That was a little tough, but I was proud of the way the guys battled. We had some better at-bats tonight. James Jones continues to shine in center field. We'll keep battling. We'll come out tomorrow and try to win a ballgame."
Adam Lewis is an associate reporter for MLB.com. This story was not subject to the approval of Major League Baseball or its clubs.