Braves' rallies can't stop extras loss to Halos
Heyward logs RBI singles in 9th, 10th before decisive five-run 13th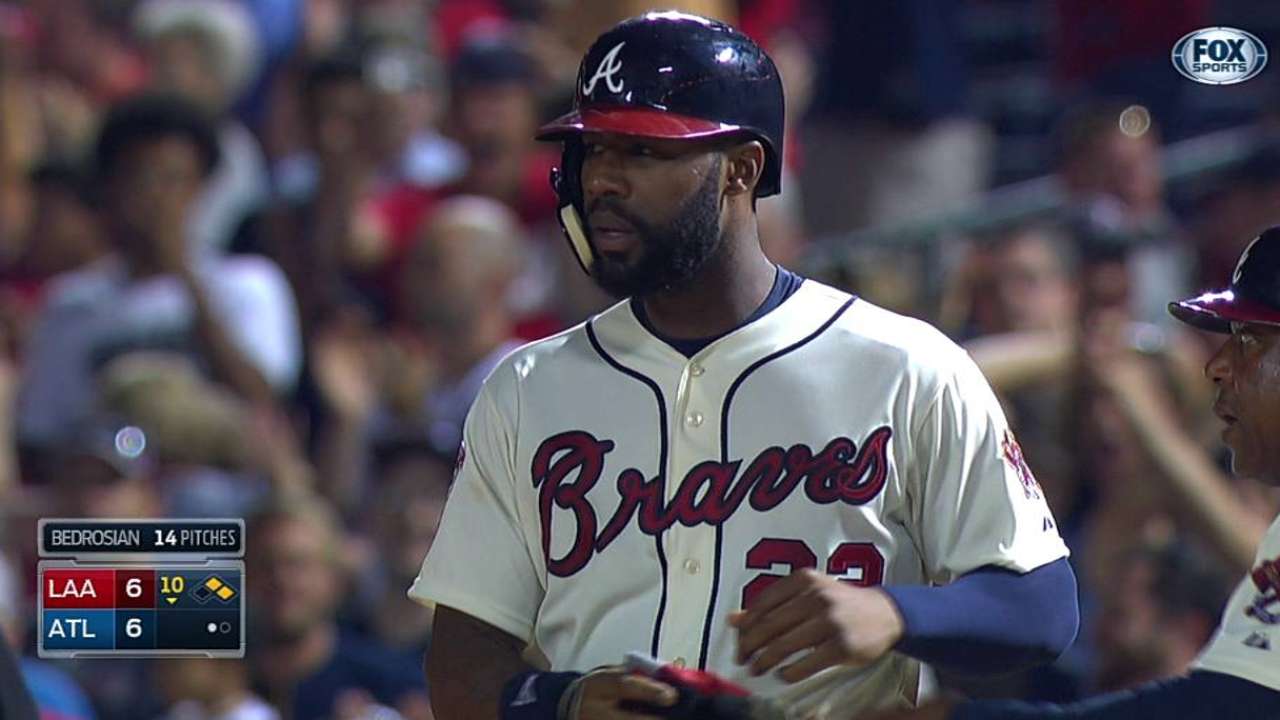 ATLANTA -- What had the making of an improbable, exhilarating victory instead became just another disheartening loss for the Braves, who had to face that multiple late-inning comebacks do not warrant a consolation prize.
After erasing a four-run, ninth-inning deficit and overcoming Craig Kimbrel's 10th-inning hiccup, the Braves were unable to erase the damage David Hale incurred as the Angels completed Saturday night's action-packed 11-6 win with a five-run 13th inning.
"We have a lot of deficits on our team, but battling and fighting is not one of them," Braves manager Fredi Gonzalez said. "I'm sure everybody has got some pimples here and there. But that is not a trait that we lack. We battled our [butts] off all the way to the end."
Hale, who was working a second straight night, seemed to run out of gas as he allowed each of the first three batters he faced in the 13th to reach without a ball leaving the infield. The command he displayed in the previous two scoreless innings disappeared after Erick Aybar produced a perfectly-placed bunt single. Friday night's starting pitcher C.J. Wilson then drew a walk in a pinch-hit plate appearance that began with him fouling consecutive bunt attempts. After Chris Iannetta was hit with a pitch, Kole Calhoun delivered the go-ahead RBI single to left field.
Hale's night concluded when he surrendered a two-run double to Mike Trout, who had also teamed with Albert Pujols to hit back-to-back homers off starter Gavin Floyd in the sixth inning.
"[Hale] gave us everything he had," Gonzalez said. "He left everything on the field today. We had some opportunities."
It did not look like the Braves had much of an opportunity when they found themselves down 5-0 after B.J. Upton booted Howie Kendrick's single in the eighth inning. Kendrick advanced to third on the play and scored when Aybar followed with a single off Jordan Walden.
"If we don't make that error, we win the game," Upton said. "It's on me."
Evan Gattis, who extended his hitting streak to 14 games with a second-inning infield single, gave the Braves a spark with his eighth-inning solo homer off Joe Smith. Then things got crazy in the ninth, when Ernesto Frieri surrendered a hit to each of the five batters he faced.
Jason Heyward cut the deficit to three runs with an RBI single and Upton followed with a two-run triple that narrowly eluded a diving Calhoun and skipped to the right-center field wall. Freddie Freeman then halted his recent struggles by bouncing a game-tying double over the right-center-field wall. But after reaching second with no outs, Freeman was stranded when Mike Morin got Chris Johnson to ground into a double play.
"When Morin came in and got that ground-ball double play, that was huge," Trout said. "We could have easily folded right there and lost the game, but he made a good pitch and picked guys up."
Much of the momentum the Braves generated in their four-run ninth inning was squashed in the 10th when Pujols sent a leadoff double to the left-center-field gap and scored when Josh Hamilton followed with a single off Kimbrel, who had struck out seven of the 10 batters he had faced since suffering his previous blown save exactly one week earlier in Arizona.
Instead of folding their tents after seeing their closer allow a run, the Braves went back to work in the 10th inning against Cam Bedrosian. Tommy La Stella began the rally with a leadoff single and advanced to second base when Bedrosian balked by dropping the ball while standing on the rubber. La Stella scored the tying run when Heyward's shattered-bat single fell into shallow right field.
The Braves' hopes of ending the game in the 10th inning ended when Calhoun raced into shallow right field to make a diving catch that denied Justin Upton's bid to record a bases-loaded walk-off hit.
"Everybody was ready to jump out," Andrelton Simmons said. "That won the game for them. That was a big moment for them. They fought back after that and ended up taking it."
The Braves, who have lost five of their past eight games, recorded just four hits off Garrett Richards, who worked six scoreless innings. They had tallied a run in just three of the previous 33 innings they had batted before Saturday's eighth inning.
"It's a loss," B.J. Upton said. "We had our chances. I think that's the biggest thing. We battled back and we had chances to walk away with a win, and we didn't."
Mark Bowman is a reporter for MLB.com. This story was not subject to the approval of Major League Baseball or its clubs.