Now in bullpen, McGowan earns first save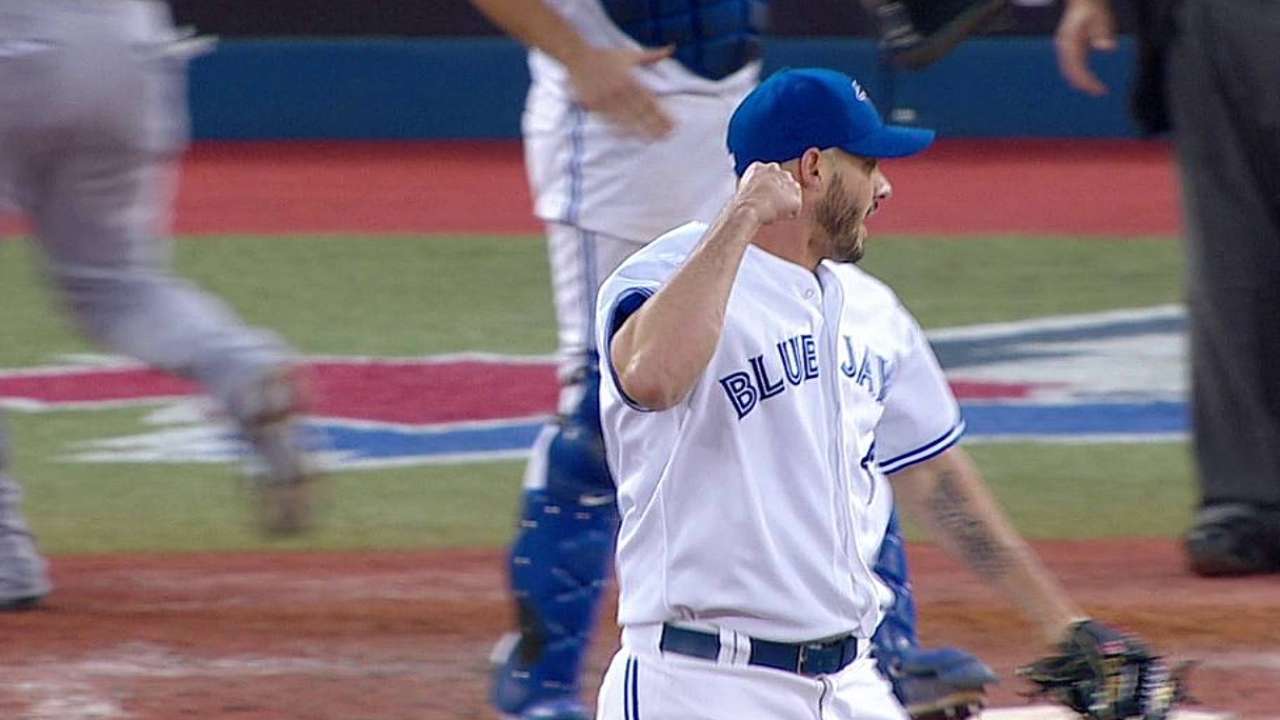 BALTIMORE -- Dustin McGowan didn't realize he had a chance to get a save when he entered for the injured Brett Cecil during the eighth inning of Toronto's 4-0 win against the Orioles on Friday.
He said he knows the rule -- the tying run was on deck, therefore it was a save situation -- but in the rush of getting on to the field to replace the injured relief pitcher, he hadn't thought about it.
"I came out and just focused on getting the batter out," McGowan said. "It just never crossed my mind."
On Saturday, the ball that he threw for the final pitch of his first career save was perched on the top shelf of his locker in the visiting clubhouse at Oriole Park at Camden Yards.
It wasn't the ball that he hit another milestone with, though. When he entered, he needed just one changeup to log a one-pitch strikeout.
"Dusty's confident now, too," Toronto manager John Gibbons said. "I don't think you would've seen that out of Dusty in the past. He's probably coming in there and raring it back as hard as he can."
McGowan began the season as part of the Blue Jays' rotation, but was moved to the bullpen after eight starts.
Since moving to the 'pen, McGowan has lowered his ERA from 5.08 to 3.96 with 13 1/3 innings of relief work. Opposing batters are hitting just .140 against him since the move. On Friday, with his fastball touching 95 mph, he fanned three hitters to give him a new season-best out of the bullpen.
"You don't need to go for more than 1-2 innings. You can let it go," McGowan said. "When you're starting, you've got to save something in the tank."
Most importantly, McGowan is now content with his place in the bullpen. After three shoulder surgeries, pitching in relief is better for his arm and still lets him throw mid-90s heaters almost a full decade after he made his Major League debut.
He'd spent time in the bullpen before, so the transition in 2014 was an easy one. The bullpen is his home now, and he's at peace with that.
"You have to embrace it," McGowan said. "This is what I'm going to do, not ever worry about starting again."
David Wilson is an associate reporter for MLB.com. This story was not subject to the approval of Major League Baseball or its clubs.