Breslow, Tazawa unable to protect late lead
Papi, Gomes notch RBIs; Peavy yields one run over six innings of work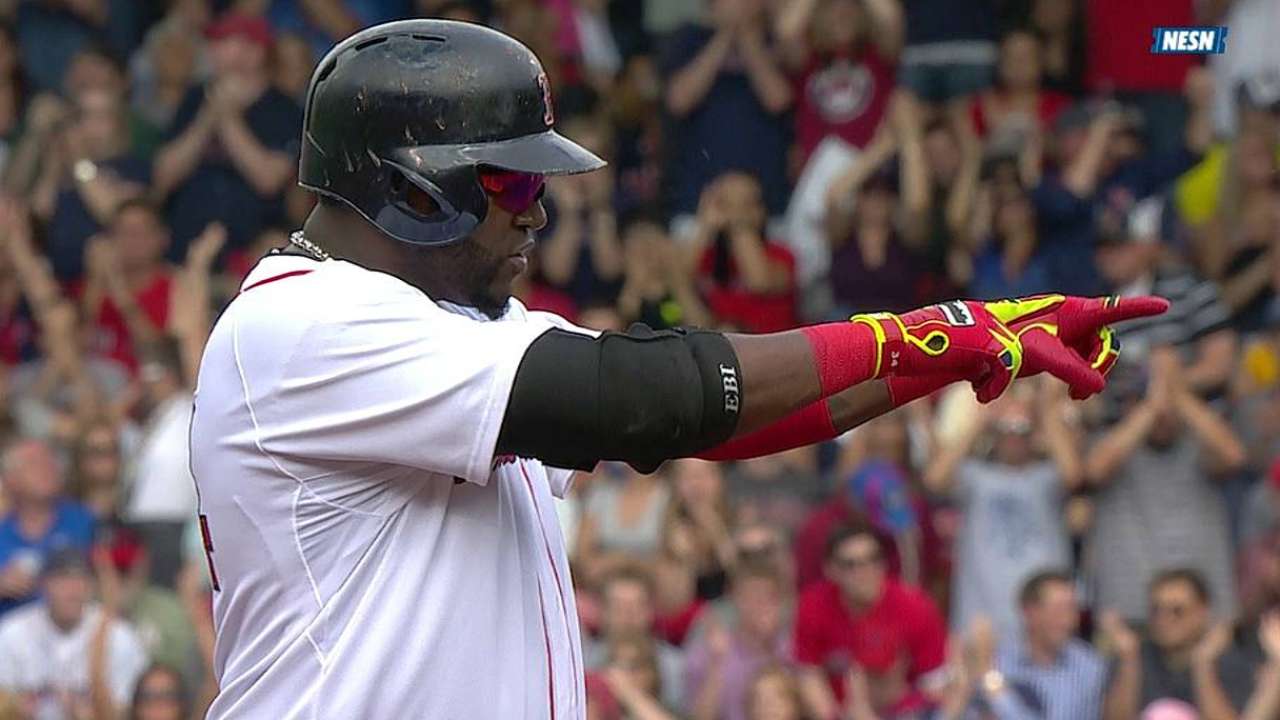 BOSTON --- In a game where neither team could capitalize with runners on base, it's fitting that a soft ground ball to second and a bases-loaded walk can make the difference.
The Indians, despite having chances, didn't need an offensive outburst to win Saturday. After coming to life on Thursday and Friday, Boston's bats didn't muster much, and Cleveland scraped a pair of runs across in the seventh inning en route to a 3-2 victory at Fenway Park.
"On our side, I thought [Jake Peavy] did a great job of making a number of big pitches with men on and runners in scoring position," said manager John Farrell. "There were opportunities on both sides that came up empty, and you can credit pitching on both sides making a key pitch."
With no outs and runners on the corners in the seventh, and Craig Breslow relieving Peavy, the Indians tied the game at 2 when catcher A.J. Pierzynski couldn't hang onto the ball while applying the tag after a throw from Dustin Pedroia beat Asdrubal Cabrera by a few feet. The off-line throw forced Pierzynski to field it on his backhand and pull the tag across home plate, but he never caught the ball.
"My momentum was carrying me toward first," Pedroia said. "So I kind of yanked it a little bit and didn't put it right on the money."
"[Pedroia] made a great play, and that's why he's a Gold Glover and I'm not," said Pierzynski, who was charged with the error and blamed himself for allowing the run to score.
Then with the bases loaded and two outs in that frame, Junichi Tazawa came on for Breslow and walked Carlos Santana to give Cleveland the lead, and ultimately, the win.
"You can't second-guess that," said Farrell. "That's a good, aggressive defensive play ... And Taz just misses on a couple of fastballs to Santana is the difference in this one."
In the eighth, David Ortiz grounded into a double play after Pedroia walked to start the inning. Boston's offense, which scored 15 runs in the first two games of the series, got just three runners to third base, including the two who scored.
Peavy battled through his six innings, scattering one run, seven hits, two walks, two hit batters and five strikeouts. In the second and fourth frames, he put runners on second and third with one out, but he got out of trouble each time. In the fifth, Peavy loaded the bases with two down, then got Nick Swisher to ground out to end the frame and keep the game tied.
Despite going 0-for-11 with runners in scoring position and stranding 13 runners, Cleveland grinded out its first win in this four-game set.
"This is a win we haven't had in the last couple games," said Cleveland second baseman Jason Kipnis, who hit the ground ball to Pedroia in the seventh that scored Cabrera. "Usually when we strand a lot of the runners and don't come up with the big hit, we're usually on the down side of things."
The Indians' lineup Saturday featured five lefties and three switch-hitters, which poses a challenge for any right-hander.
"Anytime you face that many left-handed batters in the lineup, you know it's going to be a grind," said Peavy. "A lot of their hitters had a lot of professional at-bats over there. It was a lot of what we expected going in: A grind."
Rookie left-hander T.J. House went 5 1/3 innings for Cleveland, allowing seven hits, a walk and two runs with three strikeouts. The Red Sox went 0-for-7 with runners in scoring position and left seven men on base.
"We're going to have to win some games like that. You face good pitching, good bullpens, teams that play good defense," Indians manager Terry Francona said. "There's all kinds of reasons, but despite some of the early frustrations today, later in the game, they bring Breslow in and our lefties get hits. We did some good things. And then we didn't go out of the zone and we got rewarded for it."
Ortiz put the Red Sox on the board in the first inning with a line-drive double off the right-field wall that scored Xander Bogaerts, who singled. The Indians got level in the third when Cabrera lined a double to right and Michael Bourn scored from first.
With one out in the sixth, Jonny Gomes grounded a tailor-made double-play ball to short, but a good takeout slide by Mike Napoli and hustle down the first-base line from Gomes allowed Pedroia to score from third and give the Red Sox a 2-1 edge. In a game where neither team could capitalize, a play like that could have been the difference.
Steven Petrella is an associate reporter for MLB.com. This story was not subject to the approval of Major League Baseball or its clubs.