Seventh-inning rally snaps four-game skid
Cabrera ties it up on error, Santana puts Tribe ahead with walk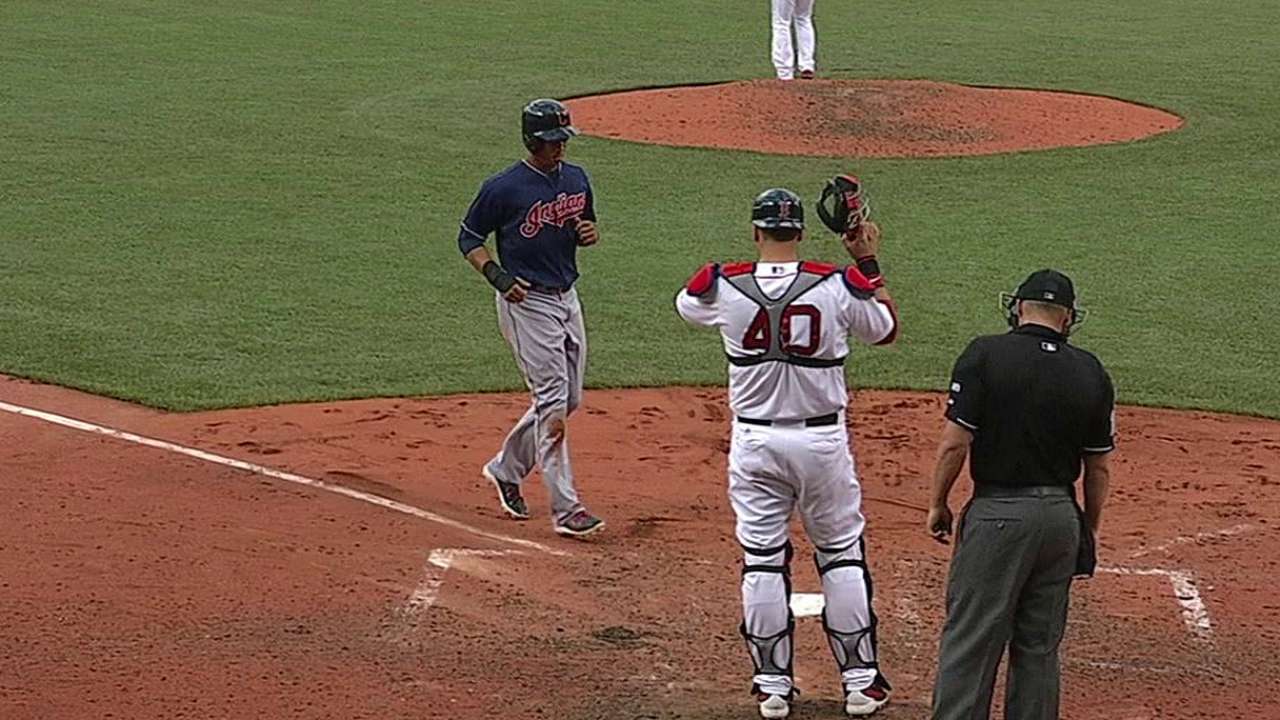 BOSTON -- The Indians are not going to complain. A win is a win and there are times when a team needs to find something, anything, to achieve that result.
That was the case for Cleveland on Saturday, when the club labored with its situational hitting but still managed to pull off a 3-2 victory over the Red Sox at Fenway Park. The win snapped a four-game losing streak for the Tribe, which is now positioned to split this four-game series on Sunday.
"This is a good win," second baseman Jason Kipnis said. "This is a win we haven't had in the last couple games. Usually when we strand a lot of the runners and don't come up with the big hit, we're usually on the down side of things."
The Indians have left-hander T.J. House, a handful of relievers and some stellar defense to thank for Saturday's trip to the win column. House pitched admirably, keeping Cleveland within striking distance as its offense struggled to break through against Boston righty Jake Peavy. The Tribe's relief corps followed suit, finishing the job after the Indians finally grabbed a lead.
Cleveland ended the game 0-for-11 with runners in scoring position, extending the team's drought in such scenarios to 15 at-bats, dating back to Friday. The Indians stranded 13 baserunners -- the bulk of which (nine) came via a trio of missed chances with the bases loaded.
How difficult is it to win in that manner? Consider that this marked the first time since Aug. 19, 1984, that Cleveland won a game with no more than three runs scored while going at least 0-for-11 with runners in scoring position and leaving at least 13 runners on base.
"Those are the games that we definitely need to win," reliever John Axford said. "Obviously, when we lost four straight, you've got to try to get a win the best way you can."
Under the circumstances, the Indians (34-35) will gladly focus on the final score.
The turning point for the Tribe came in the seventh inning, when the Red Sox turned things over to lefty Craig Breslow. Asdrubal Cabrera and Michael Brantley opened the inning with consecutive singles, putting runners on the corners with no outs. With Boston holding a 2-1 edge, Kipnis rolled over a pitch and sent it bouncing to second baseman Dustin Pedroia.
Rather than concede the run and go for a double play, Pedroia quickly fired the ball to catcher A.J. Pierzynski in an effort to nab Cabrera at the plate. The throw arrived on time, but Pierzynski lost the ball on the tag attempt for an error, allowing Cabrera to slide in safely to pull the game into a 2-2 deadlock.
"I think, like everyone else, we thought he was going for the double play," Kipnis said. "But Pedey is about as heads-up a defender as they come. He saw that he had a chance to get him at home. Probably, if [Pierzynski] caught the ball and held on to it, he might've got him."
Red Sox manager John Farrell did not question Pedroia's decision.
"Pedey feels like he's got a chance to cut the runner down at home," Farrell said. "The throw was on the backhand side to A.J. just enough that he can't field it cleanly, but you can't second-guess that. That's a good, aggressive defensive play."
Breslow retired the next two batters before walking David Murphy to load the bases, convincing Farrell to summon Junichi Tazawa from the bullpen. Carlos Santana was not able to deliver a game-changing hit, but the first baseman did draw a five-pitch walk, forcing in a run and giving the Indians a 3-2 lead.
"He's starting to look like Carlos," manager Terry Francona said, "which really, really should help us."
All Cleveland managed in Peavy's six innings was an RBI double from Cabrera in the third. The Indians had seven hits and 11 baserunners during the right-hander's time on the hill, but they lacked the necessary timely hits to break things open in that span.
House gave the Tribe a solid performance, turning in 5 1/3 innings and limiting Boston's lineup to just two runs on 95 pitches. David Ortiz came through with an RBI double in the first inning to give the Red Sox a 1-0 lead, but the lefty settled down and cruised through the fifth without facing any more harm. With one out and a runner on third in the sixth, House was pulled in favor of Axford.
"He stayed out there and kept them off the board for the most part," Francona said of House. "I thought he did a pretty good job."
After walking Mike Napoli, Axford induced a grounder off the bat of Jonny Gomes. Cabrera gloved the roller at short and flipped it to Kipnis at second for an out, but the duo was unable to complete a double play. Gomes narrowly beat the relay throw to first base from Kipnis, allowing Pedroia to score from third to give the Red Sox a short-lived 2-1 advantage.
From there, Francona went from Kyle Crockett to Bryan Shaw to Cody Allen (seven saves this season), piecing together the final three innings to collect the win. Francona felt the victory would not have been possible without Kipnis' impressive double play in the eighth.
With Pedroia on first base, Ortiz smoked a pitch from Shaw into the shift, where Kipnis made a quick stab at the hard-hit hopper. The second baseman then fired to third baseman Lonnie Chisenhall, who stepped on second and completed the twin killing with a relay throw to first.
"That saved the game," Francona said.
Cleveland will take it.
"A win is a win," Kipnis said, "but after the little skid we've been going through, to have this kind of win is what we needed."
Jordan Bastian is a reporter for MLB.com. Read his blog, Major League Bastian, and follow him on Twitter @MLBastian. This story was not subject to the approval of Major League Baseball or its clubs.