Mets offense shut down by stellar Padres pitching
Wheeler allows four runs on six hits over just five innings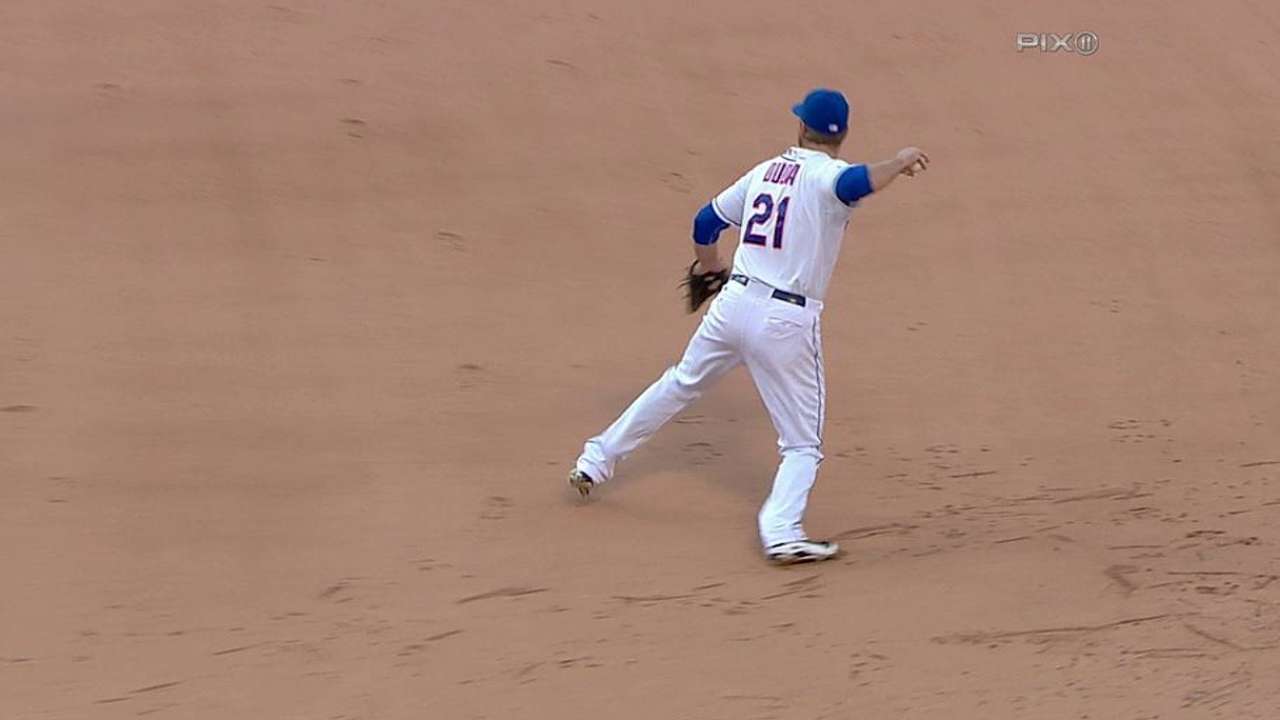 NEW YORK -- As Chris Young walked slowly and knowingly back to the Mets' dugout in the ninth inning Saturday evening, the sentiment from the Citi Field crowd was unmistakable. Boos rained down on Young, who had just struck out for the fourth time in as many trips to the plate in New York's 5-0 loss to the Padres, and he was the scapegoat for another hapless offensive effort from the Mets.
The boos grew louder as the game went on, and maybe no one heard them as clearly as Young himself.
"[He felt] just like anybody else would feel," Young said, subdued but even-keel. "You're out there busting your butt, trying to do your best. As a player, that's all you can do. You really can't control anything else.
"There's a lot of negative energy coming my way. I have to be a professional and continue to keep pushing and playing hard for this team. You hope that some of them can turn that negative energy into positive energy to support us and to help us fight through this."
Saturday's loss brought Young's struggles to new depths. His average is down to .196, OPS to .596 and strikeout rate to one in every five at-bats. Young is still getting regular playing time, too, with Juan Lagares and Eric Young, Jr. both on the disabled list.
Those aren't exactly the results Young or the organization expected when the outfielder signed a one-year, $7.25 million contract last winter.
"Chris has worked hard at trying to do some things, and I can tell you he's very disappointed after hitting the ball hard [Friday] night," manager Terry Collins said. "[Young is] trying to make an impact, trying to get himself back going again. I'm sure he's real frustrated."
Young was the lone target of crowd's explicit displeasure, but he certainly wasn't the only Met complicit in the loss. New York struck out a combined 13 times -- nearly half of its total outs -- and recorded two hits. One was Ruben Tejada's infield single to lead off the home half of the first, the second was Lucas Duda's bloop to shallow left field that barely fell in fair territory in the ninth. For 8 1/3 innings in between, the Mets were held hitless.
Collins credited Padres rookie right-hander Jesse Hahn for much of that. In just his second Major League start, Hahn tossed six scoreless while allowing one hit and three walks. Five of his seven strikeouts came on swings and misses on his vicious curveball.
"He pitched really well, made some critical pitches," San Diego manager Bud Black said. "He had a good curveball, the fastball had tremendous movement. It was cutting, it was running, it was sinking."
The Mets helped Hahn out by squandering two prime scoring opportunities in the first four innings. In the first, Duda lined out with runners on the corners and two outs. Three frames later, the Mets put their first two batters on before Hahn struck out the side, including Matt den Dekker with the bases loaded.
The team finished 0-for-6 with runners in scoring position and left seven men on base.
"The way they threw the ball mixed in with some poor at-bats, they were able to throw up a lot of zeroes," said David Wright, who is mired in a 5-for-44 (.114) slump since the start of June.
The opposite was true of the Padres' offense, which plated three two-out runs. Mets right-hander Zack Wheeler turned in his second sub-par outing in a row, allowing four runs on six hits and three walks.
The turning point came in the first inning. With two outs, Smith singled and Chase Headley walked. Yonder Alonso doubled to plate the former, and the latter scored on Wheeler's wild pitch. San Diego tacked on a run in the third when Everth Cabrera -- who singled and stole second -- scored on Headley's single, then another in the fourth on Hahn's looper to right.
The Padres' five runs were as many as they had scored in their previous three games combined.
"It's not fun," Wheeler said. "I'm leaving it up a little bit, and the sinker's not working for me. I didn't have a comfortable rhythm out there today. So I didn't do very well."
The Mets will try to take the rubber game Sunday afternoon, and a victory would give them their first series win in four tries this month.
"It was just one of those days where we had a couple of chances early and the strikeouts come back to bite us," Collins said. "They bit us again today."
Tim Healey is an associate reporter for MLB.com. This story was not subject to the approval of Major League Baseball or its clubs.