Hahn does it all in first Major League victory
Headley helps spark Padres offense with pair of RBIs, walks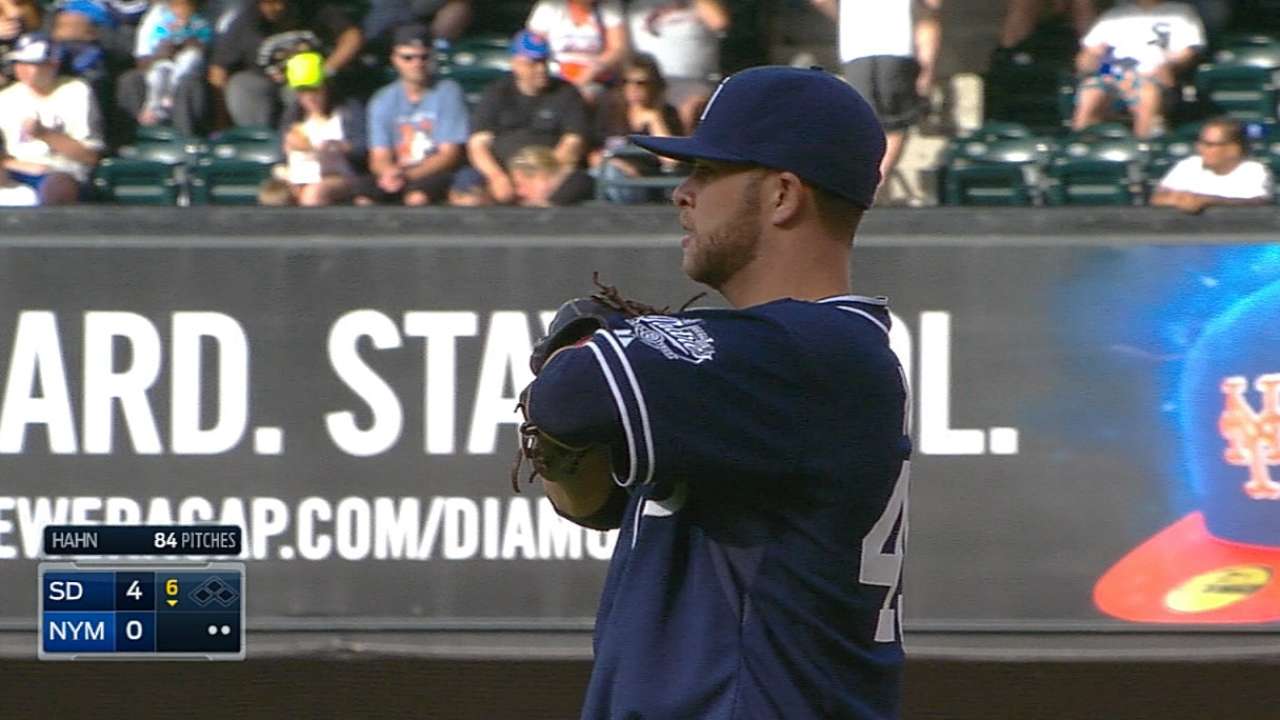 NEW YORK -- When Jesse Hahn made his Major League debut at Petco Park on June 3, his parents couldn't make the trip to see him. He didn't finish the fourth inning against the D-backs and was sent back down to Double-A San Antonio to work on his endurance. According to manager Bud Black he "literally ran out of gas." Eleven days later, after just one Minor League start, Hahn emerged stronger than ever.
On a sunny day at Citi Field, Hahn dominated in the same confines that his former high school teammate Matt Harvey did all last year. Appearing more poised and relaxed, Hahn took the mound already supplied with a two-run lead and with his parents and Connecticut-based family and friends just several rows above his dugout. He didn't look like a rookie this time.
Aided by some late-afternoon shadows, the right-hander puzzled Mets hitters for six strong innings, not allowing a run on just one hit, outpitching Mets righty Zack Wheeler and earning the first Major League win in a 5-0 Padres victory.
"I was very relaxed this time," said Hahn. "This time I went out there, I stayed focused, stayed calm and pitched my game."
"It was a good game for Jesse," said Black. "I know he had some people down from Connecticut and he responded, it was great. He pitched really well [and] made some critical pitches."
Picking up the win wasn't his only first. In the top of the fourth, with the Padres already leading, 3-0, Hahn stuck his bat out and blooped a single to right field to score Cameron Maybin from second, his first hit and RBI in the big leagues.
"That was great," said Hahn, who admitted it was his first hit since high school. "It was good to get the RBI and I think the pitcher did most of the work. I just threw the bat out there and luckily got a hit."
Still, it was his heroics on the mound that caught everyone's eye, snapping unsolvable mid-70's curveballs to Mets hitters. His biggest test -- after completing only 3 2/3 innings his first start -- came in the fourth inning. After hitting David Wright and walking Bobby Abreu, Hahn proceeded to strike out the side, getting Lucas Duda, Chris Young and Matt den Dekker each to whiff on his signature curveball. He started the fifth with two more strikeouts, totaling seven for the day.
"The curveball was great today," said Hahn.
"No matter how prepared you are for it, I don't know if you're going to be able to hit it," said catcher Yasmani Grandal. "He was able to locate it down in the zone, and whenever he wanted it for a strike, he was able to do so."
The word to describe Hahn, which kept coming up in the Padres' locker room, was composure. Hahn was a sixth-round selection by the Rays out of Virginia Tech in the 2010 First-Year Player Draft after suffering from a torn ulnar collateral ligament that required Tommy John surgery. Since joining San Diego, the Padres have slowly been building back up his stamina.
"The thing about Jesse we knew in Spring Training -- he doesn't scare off, he's a guy that doesn't back down," Black said. "It was good to see him make some pitches, throw the breaking ball for a called strike and come through in a way where we needed it."
Hahn was helped with early run support, too. For the third straight game, the Padres jumped out to a 2-0 lead over their opponent. Yonder Alonso took Wheeler's first-pitch fastball to left-center field to plate Seth Smith with two outs. Grandal didn't have to swing to score Chase Headley, who walked in the inning, from third when Wheeler spun a slider that skipped away from Taylor Teagarden to the backstop, letting in the second run.
In the third, another two-out RBI came from Headley, singling to left to score Everth Cabrera from second. The Padres were pesky against Wheeler, forcing him to labor through 100 pitches over just five innings, fouling off pitches and working deep counts. Headley finished a productive day by homering to right-center in the eighth off Gonzalez Germen to tack on another insurance run.
"I'm really trying to make it a priority getting into some better counts and hadn't really succeeded," Headley said. "Finally today I get ahead in the count and that really gives you some leeway to take a more aggressive swing."
The Padres are now 22-1 when leading after six innings thanks to their bullpen. Dale Thayer, Joaquin Benoit, and Huston Street provided three scoreless innings to close out the combined two-hitter and preserve Hahn's first Major League victory.
The win stopped the Padres' five-game losing streak. It also allowed Hahn to begin Father's Day on the right foot. After the game he planned to give the ball from his first hit to his dad as an early present.
"It was awesome," said Hahn. "It was a dream come true for him. I know it."
Jake Kring-Schreifels is an associate reporter for MLB.com. This story was not subject to the approval of Major League Baseball or its clubs.