Brewers come to terms with top three Draft picks
Lefty Medeiros, shortstop Gatewood, outfielder Harrison among top 50 taken overall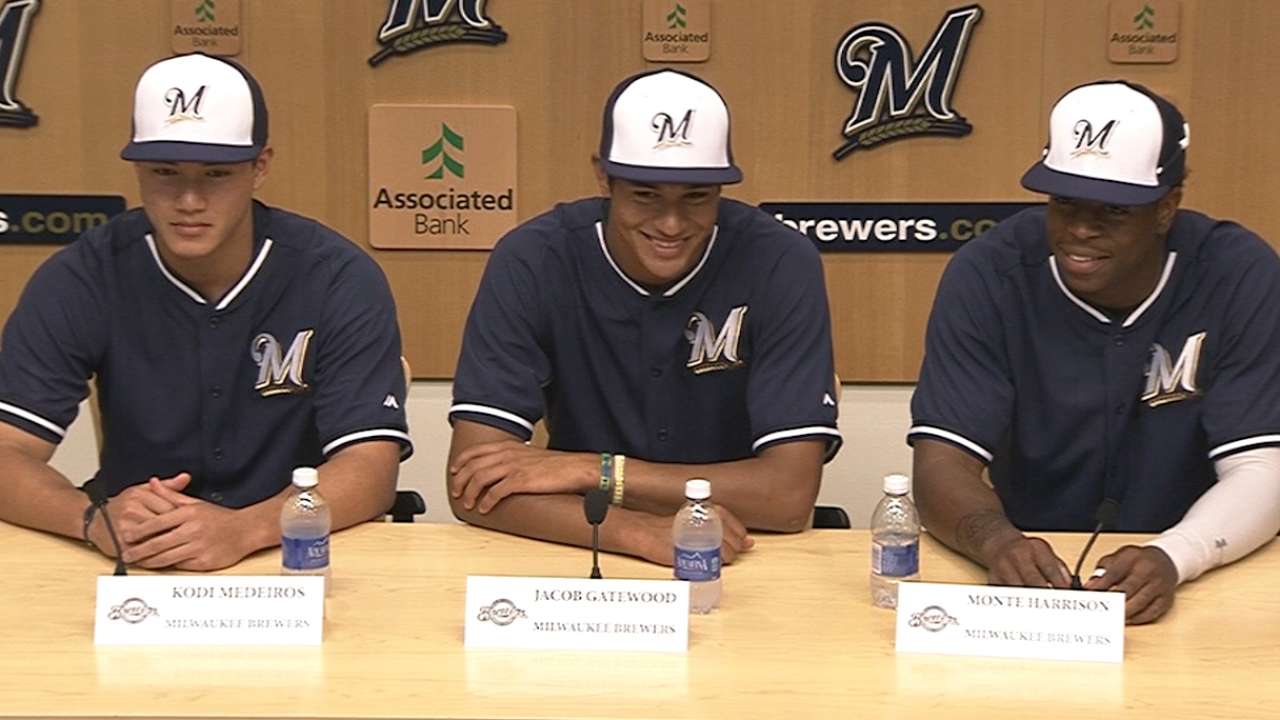 MILWAUKEE -- The Brewers' top three picks from this month's First-Year Player Draft formally signed their contracts and got a taste of the Major Leagues at Miller Park on Saturday.
Now it's off to Arizona, where left-hander Kodi Medeiros, shortstop Jake Gatewood and center fielder Monte Harrison, all of 18 years old, will begin what history suggests will be a long road to the big leagues.
The Brewers are willing to wait.
"We have a young club at the big league level," said general manager Doug Melvin, "with [Jonathan] Lucroy, [Jean] Segura and Scooter Gennett and [Carlos] Gomez and [Ryan] Braun and Khris Davis and some of our pitching. So drafting three young high school players like this, we really felt it was a nice fit for our organization.
"When you're a younger player, there's a lot of development required before you get to the big league level. We're willing to give these guys an opportunity to go out there and learn the game and how it's played the right way."
The trio will be well-compensated for their work. Medeiros agreed to a $2.5 million bonus, plus $240,000 for future college expenses, according to MLB.com's Jonathan Mayo. His bonus was slightly below the slot figure assigned to the Draft's 12th overall pick, but the Brewers went over slot to sign 41st overall pick Gatewood ($1.83 million) and 50th overall pick Harrison ($1.8 million).
That $6.13 million total was $839,100 over the total value assigned those three picks, but the Brewers were able to save elsewhere in the top 10 rounds to avoid penalties imposed by Major League Baseball for clubs that overspend.
During an introductory press conference on Saturday, Melvin sent the newest Brewers on their way with a bit of advice.
"The game is baseball, the job that you are going to take on, is going to be an emotional roller coaster," Melvin said. "Don't let it get to you."
They will begin their professional careers in the rookie-level Arizona League at premium positions -- Medeiros as a left-handed starting pitcher, Gatewood at shortstop and Harrison in center field.
Medeiros, a 6-foot-2 native of Hilo, Hawaii, went 7-1 with a 0.97 ERA in eight games as a senior at Waiakea High School. He is the highest-drafted player to be picked out of high school from Hawaii.
Gatewood batted .389 with nine doubles, five home runs and 28 RBIs as a senior at Clovis (Calif.) High School, and drew looks because of his height (6-foot-4) and his power. He won the junior portion of the Home Run Derby at the 2013 All-Star Game at Citi Field, and won the Baseball Factory Home Run Derby at the Under Armour All-America Game at Wrigley Field a month later.
Harrison hit .429 with 11 doubles, two homers, 33 RBIs and 24 stolen bases as a senior at Lee's Summit (Mo.) West High School. He had an offer to play baseball and football at the University of Nebraska, and was widely expected to be a tough sign for the Brewers.
Instead, he was the first of the trio to have a deal reported publicly.
"It was definitely not that hard," Harrison said. "I'm a baseball player. I knew what I really wanted to do."
The trio had a busy 24 hours. They arrived at Miller Park on Friday, while the Brewers were hosting dozens of former players for an unveiling of the Wall of Honor at Miller Park.
"To get to meet Hank Aaron was pretty crazy," Gatewood said. "I still can't believe we got to meet him."
A day later, they met the current crop of Brewers, with Medeiros playing catch with the pitchers in the outfield before observing Kyle Lohse's regular bullpen session, and Gatewood and Harrison taking batting practice from Brewers manager Ron Roenicke.
The hitting session started modestly. Gatewood didn't hit a ball out of the cage until Roenicke's eighth pitch. Between rounds, Roenicke put a hand on Gatewood's shoulder and privately shared a few words.
In their final rounds of swings, each player sprayed line drives all over the field and hit a ball over the fence.
"I actually felt a little more nervous this time than at the All-Star Game," Gatewood said. "You want to impress your future teammates. But my dad has always told me, 'Pressure is a privilege.' I didn't hit as well as I would like to, but I just really enjoyed it."
Said Roenicke: "It's hard. You come out here, everybody's watching you, you've got a bad background [because of the mid-afternoon glare], you're trying to impress somebody -- which they don't need to now. I was trying to groove it in as well as I could."
The Brewers also on Saturday announced they had signed catcher Matt Martin (27th round) from Wake Forest University and left-hander Carlos Leal (34th round) from Delta State University.
All of the deals have not been announced yet, but according to MLB.com's own reporting, other news reports and players' own social media, the Brewers have now signed all of their Draft picks through Round 11. The club, which is often slow to make signings official, says it has signed 22 players overall.
Adam McCalvy is a reporter for MLB.com. Read his blog, Brew Beat, and follow him on Twitter at @AdamMcCalvy. Caitlin Swieca is an associate reporter for MLB.com. This story was not subject to the approval of Major League Baseball or its clubs.